INTERVIEWS: AZZEDINE ALAÏA
Alaïa in the skin
Azzedine Alaïa is one of the greatest couturiers of our time and one of the most discreet. He who wanted to be a sculptor, instead models the bodies of women with his dresses like a second skin. Exclusive interview. - Isabelle Cerboneschi
6 May 2009
Photo: © Buonomo & Cometti
"Women who indulge in Alaïa do not want to heal. There is only the banking prohibition that can overcome this addiction.
Paris, in a small street of the Marais, a place of perdition for the girls. I say girls because you have to go beyond all prejudices about age, shape, or lack thereof, attitude and appearance, to understand how much we are running to waste in this place: Moussy, then. A discreet door, like a warehouse door, which it used to be; we sound, we enter, and there, we are fucked. Whether one is good or bad fucked elsewhere. We are at Azzedine Alaïa, said the Master, one of the greatest fashion designers, even if his small size would tend to prove the opposite.

Suspended, in the middle of the brick walls, the works of Julian Schnabel - one of his friends - dresses, jackets, skirts, coats that have the power to sublimate the body of a woman, provided that it be ready for that. On the condition of accepting to turn into an anatomical bomb, but a modest bomb, in black, white, beige, without the artifice of a deep neckline, just by the magic of some tightening here and there which have the same effect an intervention of cosmetic surgery, sometimes at the same price, but perfectly absorbable. With seams like scars, stitched, braided, beautiful to fall, too. Women who indulge in Alaïa do not want to heal. There is only the banking prohibition that can overcome this addiction.

It is with the Master that we have an appointment in this month of January, a week after the 2009 spring-summer fashion shows. He is in full preparation of his collections. He has not been in Fashion Week for a little more than ten years. But he shows his creations when he is willing and to whom he decides. He chooses his audience, his dates, the moment when he decides that a dress is ready to be launched in the world. In fact, it is absolutely everything, from the boss to the cut, the fittings and the sewing.

He is the absolute monarch at home. Even if, financially speaking, we can not speak of independence. In 2000, he made an agreement with Patrizio Bertelli, managing director of Prada and joined the group. In 2007, he bought back his shares to sell them to the Richemont group. As he says today, a fashion designer can not survive without a financial partner. He just had the luxury of choosing.

We have an appointment, therefore, for lunch in his mansion, although we do not know how to describe this place that shop, hotel, workshop, office, house, gallery. Three buildings united in one, with this large kitchen open to those he invites, around the huge table. Didine, the "baby" St. Bernard of a few months who is not far from being tall as a pony, is slumped behind the couturier dressed in his eternal Chinese costume. Umm, the cat with the character of dog, is not invited to the meal. Oum in honor of Oum Kalthoum, obviously.

Azzedine Alaïa arrived in Paris in 1957 at an unspecified age, or rather, say he was, but he is not, because the age, "it's in the head" and there are too many official birth dates flowing to trust (1936, 1939, 1940?). On the other hand, the fact that this Tunisian, son of farmers, did fine arts in Tunis, arrives in Paris at the end of the 50 years in a France that is not ready to welcome abroad (to read Camus if ever), is not trivial.

He was first welcomed by a large French family, that of the Marquise de Mazan, before becoming the steward of the Countess of Blégiers, which he keeps the children and a very beautiful memory. He also drew her dresses. He has rubbed shoulders with the high society of this Gaullist France, has made friends with Louise de Vilmorin, and, in another style, more jovial but not less free, with Arletty. He worked at Dior (five days), at Guy Laroche (two seasons), at Thierry Mugler (until the end of the 70 years).

In 1981, when he launched his brand, he understood that the times had changed and that the healthy bodies of the 80 years had a great need to exult. This was the advent of what is called the body consciousness, a fashion that was successful for this man who dreamed of being a sculptor. He has dressed Greta Garbo, Tina Turner, Grace Jones ... But we are not going to remake his story, better listen to him tell stories himself, in this language that smells all the suns, and the sea and the dusty earth villages of North Africa. A language that he had the good taste not to have tamed, or hidden under layers of sharp spoken to blend in the scenery of a Paris he loves so much. He had the elegance of not trying to go unnoticed, not to try to round off the angles, except those of the hips of women and their rear, which obsess over him. His voluble patter, with accent, leads us to elsewhere crushed with light, to the south anyway, where the carrots are eaten strewn with cumin.

Subtle transition to return to the table: we dreamed of a tajine and had lunch with a salad with fresh herbs and a roast mash prepared by his cook, red fruits and cottage cheese for dessert. There was talk of dogs, cats, friends - so, talking about friends, Naomi (Campbell) made a phone call, but he said he will call her back - and we laughed a lot. Because, even though Azzedine Alaïa was in full preparation for his collections and there was a palpable tension at the table, he is a perfect host: the kitchen door is made to let people in, not the worries ...

IC: When you wear one of your clothes, you get the impression that anything can happen, even a man in her life ...
Azzedine Alaïa: Ah! it's done for, I believe!

It is rare to find a garment that makes you want to dance.
I think a lot about the woman who will wear it. I never make a projection on me, on the fact that fashion, it is me who manufactures it, that it belongs to me. I do not think either in terms of trend or modern or non-modern. I am the moment, but above all I think of women, and how they could feel good and beautiful. It's so important a garment!

They talk about us even before we have opened our mouths. Sometimes, we have the impression that they are woven contradictions your dresses: they are modest, and at the same time they hide nothing ...
Something needs to happen with a garment, that it triggers something. When I think of a garment, I imagine a woman when she walks, when she enters a place, when she is with her children, when she is with her husband ...

A sculptor starts from a material and models a form that seems ideal to him, while you leave the body that you resculpt. You choose to constrict it to a certain place, to relax here, to show there ...
I try to leave her free at the same time, but I have to fix the body.

Compared to an ideal?
No. When we design a garment on a particular person, it must also go on all bodies.

But it's not always the case.
We sometimes think that a dress will not go well on this or that person, and finally the result is fantastic! The woman who wears it is already free of her body, her faults, everything. She does not care about other people, even if she is pissed off. It gives courage to other women.

Your dresses mark a size that sometimes does not exist, draw a curve. This is how you like women's bodies, all curves?
Yes. I wanted to do sculpture when I was at the Ecole des Beaux-Arts. It comes from there, my interest for the curves of the body. And it is also very Mediterranean this passion for the size, the fall of the kidneys, the behind ... Everyone tells me that my rear is pretty. When I was little, I followed the women from behind to look at them better. Because in front I was embarrassed and I did not want to embarrass them by my way of observing them. I noticed very early that when you look at a woman, there are certain looks ... Women know immediately if there is admiration, affection. They feel like an animal. And I, even the Sisters of Sion in Tunis, found that they were elegant, with their dress of good sister, their cornet, their belt with the cross hanging down. I thought it was sexy to die! And we could barely see the ankle! I followed them from behind; like that, I could see how they walked, how the clothes moved. When I'm in Arab countries, I look at women's backs because, if I look at them from the front, I get bawled! That's why all my backs are good (laugh).

Is there a woman you have not already dressed and who would you dream of creating an outfit?
Frankly, I assure you, I do not have that thought. When you're a designer and you're ready-to-wear, you dream of dressing all women! I like when a woman comes to the shop. That desire comes from her. It's even better than when you say, "Ah! I would like to dress this person! "

What is your vision of elegance?
Elegance, we find it in any branch, any environment, any place. I can find very elegant people in Barbès. Some kids, even thugs, have a kind of elegance.
I also admire the court of England. For me, it's the perfect elegance. But it can be perfect also in the suburbs. I do not differentiate between elegance. The peasants are of a crazy elegance; the military are elegant; in Pigalle, the whores, there are some who have a certain elegance. Since there are people from a big family who have no elegance. In India, people are very elegant, while some live in excruciating poverty. Elegance is not a question of education, culture or means. You have to be as natural as possible.

During a period of crisis, as we go through it, we need more than usual clothes that are timeless. But you, for example, have never stopped selling some models, which have become classics.
Yes always. I do not differentiate between clothes. Today, we can not work as before. When I started, every season, we dropped everything and started from scratch. There was not a single piece of clothing that was picked up the next season. Today, it's better to redo them. In any case, they will be different. Every time I redo a model, the pattern is different, the material is different and the proportions change. So, it's seen and not seen at once.

You speak of matter; Now we can imagine what the discovery of Lycra represented for you.
Before, to have dresses close to the body, it was necessary to put pliers. With Lycra, no need to put a sheath to tighten the waist and at the same time the body of women remains more free. Even if they are tight, they can walk. Once I had made a dress that was barely wide like that (he spreads his hands twenty centimeters). When I saw her hanging, all narrow, on her hanger, it looked like a Giacometti. But the material was so supple and elastic that the girl managed to get in ... Everything was in the material and the way it was cut.

Your dresses are like a second skin. Have you ever wanted to go even further, to make a skin dress, which would be a perfume in fact? Who would dress, but without fabric?
It's the woman herself who can create that effect ... I have the memory of clients, when I made tailor-made, who put themselves completely naked in front of me and yet who did not look naked. They undressed so naturally, as if I was not there or someone I knew very well. That's a dressed nudity. Some women, however, when they raise their skirts like that, they cause a scandal!

Excuse me, I did not speak well I spoke of a desire to make a perfume that would be like a virtual dress ...
Every time I was asked, I said I would like it to be like mineral water. We would not feel it, but we would feel a presence. Yet I am from North Africa, I come from a Mediterranean country that likes perfumes. But me, the strong perfumes, I do not like them at all. I would like a perfume that we can not say what it is. You arrive and you are fresh at any time, like after the shower.

A brand new baby smell actually ...
Almost. A new skin ...

You were one of the first with Thierry Mugler, with whom you worked, to choose to exhume the female body that had been buried under the loose tissues in the 70 years.
When I started in ready-to-wear, I dressed women, many women of the world, who were well known. But being all day long with fat women, old people who told me: "You make me a tailor, you make the pass like that, it must be good ..."! So, I said to myself: "If a girl has a nice body, we have to see it!"

But how did this fashion of "body consciousness" come about? At the time it was totally against the current ...
It was the time when boys and girls were dressed the same: the sizes were no longer marked, they were straight, like those of boys, no longer tight. A freedom that was not one, because, when nothing is held, it is the body that lets go and we start to grow and we do not realise it, because we have pants wide, men's clothes ... And the woman forgets her body.

Yes, but your clothes, you still have to be pretty sure of your body to wear them ... Yes, but you have to be sure of yourself too, and do not worry about others and what they can think. There are women who are embarrassed by the way they are seen in the street. But it's better to be bothered by someone following you in the street, because the day you change sides when you see yourself, you will not be happy either! So it's better for someone to run behind you! To my friends, who have 16 girls, I tell them: "Let her let off steam with this body! It's very short this passage in the life of a woman ... "They have this perfect body, no worries, no wrinkles, no blues, they can spend the night awake, they have the shape , health, they have everything, while they enjoy the maximum! You have a beautiful body, so you seduce with it, and the day it does not go, you cover yourself! Or you are an old woman and you continue (laugh) ... I have customers who are not all young and continue to put underpants. They are like a girl who starts in life, because there is no age for clothes. There is no age for everything in reality. You are attacked by age, but, internally, you are well. It's the health that lets you go. So as long as you do, you have to make the most of it.

Age, finally, it's in the head ...
It's in the head, yes. I say to women: "Unwind, show yourself, do everything!" There are some clients who say to me, "Ah! me, at my age, I do not put on sleeveless dresses anymore! ... "Just put a sleeveless bodysuit underneath or a t-shirt. And put on your dress!

You have the art of pushing women to dare.
Because my career was made by women.

When you worked for Guy Laroche, I read that you were also steward of the Marquise de Mazan?
I stayed for a short time with the Marquise de Mazan, but I spent five years with the Countess de Blégiers and I have a great memory of it. I stayed in touch with them. She had a little girl, Diane. When I arrived, she was 4 years old and her brother Guy had 7. I took care of them, I kept them, I walked them. At the time, it was the end of the war in Algeria and this French family, this big family, received me. I lived in the apartment, with the children, in a period that was not favorable for an African. Well they never asked me questions, never tried to know where I came from! I lived four years of happiness ...

But it was also a world and a time, which no longer exist today ...
Everything can exist. We must be attentive at all times and observe life as it is, take the periods as they are. The past, we know it, the future is obscure, we do not know anything at all. You must never be sure what will happen. Me, every time I make a small project to go on vacation.

Do you go on vacation often?
I do not go! For three years. Last time, everything was ready: suitcases, bags ... Five times I changed the ticket! At the fifth time, I said no: there was only a day or two left to go. Which holiday? It was no longer worth going there ... And it was not even a vacation, it was to visit the family. I have a house for twelve years at Sidi Bou Saïdbut I never lived there. And if I never go out of my life, well, it does not matter! She existed, she is in my head. I am not someone who is attached to things, I am only passing through the places. I'm not envious at all, that's why I'm rid of everything. I do not like the word owner. I prefer to be in space for a period of my life.

Here in this Marais building, are you occupying? Like your cats?
Like everywhere. My cats, and my friends, and the people who work with me ... We share all the places, we live in them. Those who work with me spend more time here than with their children, their husbands ... The place of work must be always treated, because one spends more time there than at home. At home, what is it? You come home, you are already exhausted by work, you prepare dinner, then you have to go to bed, get up early and go back to work. It's easy for women. Fortunately, they are stronger than men. They faint for a yes, for a no, but they are strong (laughs). I went to the opera one evening gala and suddenly I see a woman I know very well, very cold, always covered with furs, who always complains to catch cold at the slightest draft. It was snowing, it was cold, and she was wearing an evening dress, I think Dior. She gets out of the car, she throws the coat, her dress was completely low-cut.
On the stairs, I grabbed her and I said: "I thought you were chilly!" She answers me: "Fool, it is necessary that one sees my dress! ..." She was there in full stream of air, with the snow and everything, and she just wanted us to see her dress!

Did you think, when you arrived in Paris, that you would become a fashion designer?
I did not have the idea of ​​being a fashion designer at all. I wanted to live in Paris and I was happy about anything.

In the XNUMX years, you made a mini-collection for Tati: it was the high fashion that flirted with the cheapest brand of the market. You were a precursor: today, many designers and creators work with H&M . What did you learn from this collaboration, if you learned anything from it?
I learned a lot of things. It happened thanks to my friend Julian Schnabel. He wanted tarpaulin with the famous big barnyard pattern. This motif, in fact, was that of the store of a French bistro, which was there before Tati, and that Tati bought and used as an emblem for his brand. In short, they gave him canvas and Julian Schnabel painted on it. Seeing this painting, I said to myself: "Well, that's pretty cock-foot, and if I used it for jeans?" I phoned Tati and asked them if they wanted to give me some canvas. I was told, "But with pleasure!" They asked me if I could make a collection for them. I said that it would be too expensive things and that it would not stick with their image. So I offered them to make a t-shirt, sneakers and a bag, for free. They were happy. Soon after, it happened in the newspaper Elle.

And what did you bring?
Another thought of fashion. It fascinated me, this store, because every time I went to Tunisia, there were Tati bags all over the plane. The poor workers stuffed them with things to bring home. It's insane the success of this bag! Now it's H & M. I love H & M.

Would you draw pieces for H&M?
I would, yes. But right now, I do not have time.

You talk about time, but when do you consider that a collection is completed?
Never! Me, I assure you that whoever says that it is accomplished ... Maybe he has a genius in the head, so that everything is achieved ...

Your dream would be to never give up a dress?
No, my dream would be to make a dress without having to calculate time, or worry about when it should be finished and presented. That's the dream! But today, it is not possible. So it's better to dream.

Can a designer still survive today without financial support?
No, that's not possible. When I started, yes. But it's a struggle too: you can not do this, you're on the nerves, you can not afford to manufacture, you can not afford to order fabrics ... When we make a collection, it you have to spend a lot. Even for mannequins, today is not easy. We do the fitting on a person for a month. Which young person can afford this? Except if it's a girlfriend of his, or if you give him a free model. Even the big ones today are forced to be in a group.

You were allied with the Prada group, then you bought back your share; now, you are allied with the Richemont group. Even if this group is more established in watchmaking than in fashion, its president, Johann Rupert apparently leaves a lot of independence to the brands of the group ...
Yes. I really like this character, he is visionary, he has a direction of his own. Regarding independence, it was also true with Prada: I was free ... The proof is that I always made my shoes at home. Someone talked about divorce: it was not a divorce at all. I am always friends with them. There are very few people with whom I do not get along very well, very little. Those who I definitely do not get on with are not numerous.

It always takes a little no to have a lot of yes ...
(Laughs.) I do not like human stupidity. But I like beings. Every time I meet someone new, I tell myself that I will learn something with him.

What is the most beautiful life lesson you have ever received from anyone?
I can not speak of a lesson, but of what I have been able to catch or see, things that feed, where we say that, if there was not this, I might not have do that ... When I was little, if my grandmother, my grandfather, police officer, had not been free enough, and if I had not had a fantastic childhood I do not know ... My grandfather took me to the cinema once a week, I saw the film four times, he came to pick me up at the last session. I saw all the movies, I learned songs and costumes by heart. There was also a midwife in Tunisia, who was French. I was going to spend the Saturday with her, I had lunch and I slept at her place. And when I arrived in Paris, I met Louise de Vilmorin. I could not hope better as a meeting, as a French woman!

- You are in full preparation of your collections; you have not been in the sewing and ready-to-wear fashion calendar for ten years. The rhythm of all these collections has become very strong: there are ready-to-wear, couture, Cruise collections, precollections ...
We must end this period of debauchery of clothes. This crisis should lead to the realisation that this rhythm must change. Journalists who want to follow all the news of this trade thoroughly spend more time on the move than writing!

But for fashion designers and designers too, this pace is frantic. Does it not kill the imagination?
There is no rest time between the collections. That's why fashion goes around like this.

By presenting your collections at your own pace, you have offered yourself the luxury of time.
Yes, and despite that, I have less time. I do not make a show, but it's the same: four collections in the year is a lot. And we are not many: at the studio, I have only one assistant.

But you do exactly what you like, as you want. Are you a happy man?
Yes, I am someone really always happy, I thank Heaven ... And I meet interesting people, it's a lot! That's why I do not have the time. For the family, friends, people I want to see often enough, we have dinners or lunches here: this is the only free time I have.

The people who love you come to you.
They are coming. I say I'm traveling on my chair at the studio (laughs).

There was a little book by Xavier de Maistre, from the end of the eighteenth century, which was called Voyage autour de ma chambre.
Yes, it's a little me. Do you know the luxury I would like to have? It's someone who would read to me! Because I do not have time to read at all. I work up to 3 h-4 am in the morning. If I want to read, my eyes burn and I can not. So, with me, a book, it stays open for a year so that I can finish it. I am waiting to go to London by train or plane to read. And on the plane, when I'm tired, I sleep. So I take two or three books and I read two lines of one or the other and I go around like that. Maybe the only time available is when I'm sick ... But someone who reads for you, ah! happiness! That's a luxury to die for!

You should ask.
But I can not for now. The person should watch from midnight to 3 am: it will not hold up! I must find a beast that likes to watch, or has insomnia (laughs). I had an assistant whom I took with me to Italy, because he was reading well. And while I was working, he was reading. The poor man: after four days, he was KO. And in the morning, instead of sleeping, he did not want to leave me alone. So I said, "Take the books to the factory and read to us."

Which book would you like to be read?
There are many!

A whole literature to catch up ...
Even if I do not catch up, it does not matter. I tell myself that someone else has read it and that's good. I let him know more, I do not know him. (And he starts to laugh ...)

A version of this article appeared in the Hors-Série Mode du Temps May the 6 2009
Alaïa in the skin
6 May 2009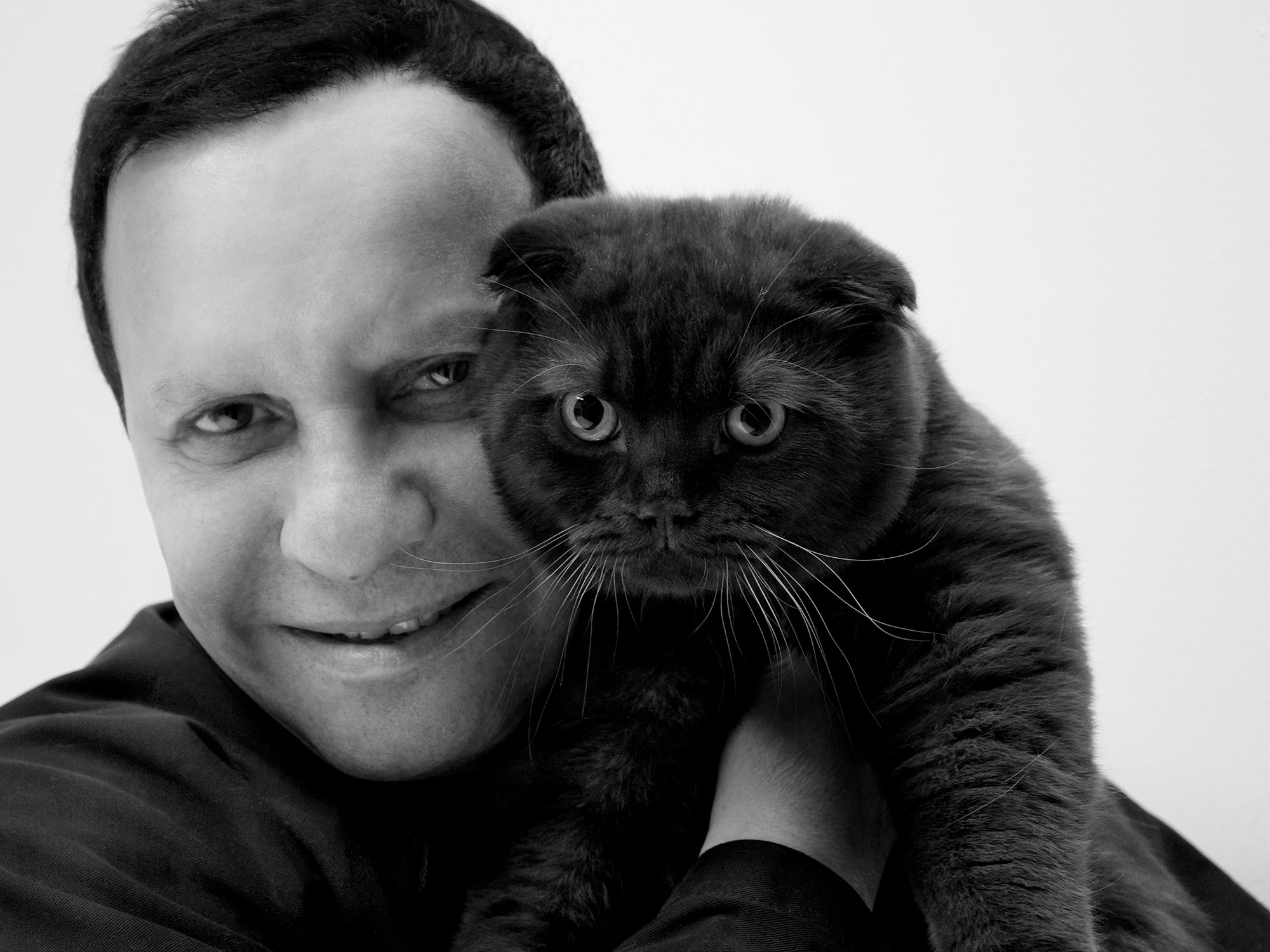 Azzedine Alaïa is one of the greatest couturiers of our time and one of the most discreet. He who wanted to be a sculptor, instead models the bodies of women with his dresses like a second skin. Exclusive interview. - Isabelle Cerboneschi
A
Paris, in a small street of the Marais, a place of perdition for the girls. I say girls because you have to go beyond all prejudices about age, shape, or lack thereof, attitude and appearance, to understand how much we are running to waste in this place: Moussy, then. A discreet door, like a warehouse door, which it used to be; we sound, we enter, and there, we are fucked. Whether one is good or bad fucked elsewhere. We are at Azzedine Alaïa, said the Master, one of the greatest fashion designers, even if his small size would tend to prove the opposite.

Suspended, in the middle of the brick walls, the works of Julian Schnabel - one of his friends - dresses, jackets, skirts, coats that have the power to sublimate the body of a woman, provided that it be ready for that. On the condition of accepting to turn into an anatomical bomb, but a modest bomb, in black, white, beige, without the artifice of a deep neckline, just by the magic of some tightening here and there which have the same effect an intervention of cosmetic surgery, sometimes at the same price, but perfectly absorbable. With seams like scars, stitched, braided, beautiful to fall, too. Women who indulge in Alaïa do not want to heal. There is only the banking prohibition that can overcome this addiction.

It is with the Master that we have an appointment in this month of January, a week after the 2009 spring-summer fashion shows. He is in full preparation of his collections. He has not been in Fashion Week for a little more than ten years. But he shows his creations when he is willing and to whom he decides. He chooses his audience, his dates, the moment when he decides that a dress is ready to be launched in the world. In fact, it is absolutely everything, from the boss to the cut, the fittings and the sewing.

He is the absolute monarch at home. Even if, financially speaking, we can not speak of independence. In 2000, he made an agreement with Patrizio Bertelli, managing director of Prada and joined the group. In 2007, he bought back his shares to sell them to the Richemont group. As he says today, a fashion designer can not survive without a financial partner. He just had the luxury of choosing.

We have an appointment, therefore, for lunch in his mansion, although we do not know how to describe this place that shop, hotel, workshop, office, house, gallery. Three buildings united in one, with this large kitchen open to those he invites, around the huge table. Didine, the "baby" St. Bernard of a few months who is not far from being tall as a pony, is slumped behind the couturier dressed in his eternal Chinese costume. Umm, the cat with the character of dog, is not invited to the meal. Oum in honor of Oum Kalthoum, obviously.

Azzedine Alaïa arrived in Paris in 1957 at an unspecified age, or rather, say he was, but he is not, because the age, "it's in the head" and there are too many official birth dates flowing to trust (1936, 1939, 1940?). On the other hand, the fact that this Tunisian, son of farmers, did fine arts in Tunis, arrives in Paris at the end of the 50 years in a France that is not ready to welcome abroad (to read Camus if ever), is not trivial.

He was first welcomed by a large French family, that of the Marquise de Mazan, before becoming the steward of the Countess of Blégiers, which he keeps the children and a very beautiful memory. He also drew her dresses. He has rubbed shoulders with the high society of this Gaullist France, has made friends with Louise de Vilmorin, and, in another style, more jovial but not less free, with Arletty. He worked at Dior (five days), at Guy Laroche (two seasons), at Thierry Mugler (until the end of the 70 years).

In 1981, when he launched his brand, he understood that the times had changed and that the healthy bodies of the 80 years had a great need to exult. This was the advent of what is called the body consciousness, a fashion that was successful for this man who dreamed of being a sculptor. He has dressed Greta Garbo, Tina Turner, Grace Jones ... But we are not going to remake his story, better listen to him tell stories himself, in this language that smells all the suns, and the sea and the dusty earth villages of North Africa. A language that he had the good taste not to have tamed, or hidden under layers of sharp spoken to blend in the scenery of a Paris he loves so much. He had the elegance of not trying to go unnoticed, not to try to round off the angles, except those of the hips of women and their rear, which obsess over him. His voluble patter, with accent, leads us to elsewhere crushed with light, to the south anyway, where the carrots are eaten strewn with cumin.

Subtle transition to return to the table: we dreamed of a tajine and had lunch with a salad with fresh herbs and a roast mash prepared by his cook, red fruits and cottage cheese for dessert. There was talk of dogs, cats, friends - so, talking about friends, Naomi (Campbell) made a phone call, but he said he will call her back - and we laughed a lot. Because, even though Azzedine Alaïa was in full preparation for his collections and there was a palpable tension at the table, he is a perfect host: the kitchen door is made to let people in, not the worries ...

IC: When you wear one of your clothes, you get the impression that anything can happen, even a man in her life ...
Azzedine Alaïa: Ah! it's done for, I believe!

It is rare to find a garment that makes you want to dance.
I think a lot about the woman who will wear it. I never make a projection on me, on the fact that fashion, it is me who manufactures it, that it belongs to me. I do not think either in terms of trend or modern or non-modern. I am the moment, but above all I think of women, and how they could feel good and beautiful. It's so important a garment!

They talk about us even before we have opened our mouths. Sometimes, we have the impression that they are woven contradictions your dresses: they are modest, and at the same time they hide nothing ...
Something needs to happen with a garment, that it triggers something. When I think of a garment, I imagine a woman when she walks, when she enters a place, when she is with her children, when she is with her husband ...

A sculptor starts from a material and models a form that seems ideal to him, while you leave the body that you resculpt. You choose to constrict it to a certain place, to relax here, to show there ...
I try to leave her free at the same time, but I have to fix the body.

Compared to an ideal?
No. When we design a garment on a particular person, it must also go on all bodies.

But it's not always the case.
We sometimes think that a dress will not go well on this or that person, and finally the result is fantastic! The woman who wears it is already free of her body, her faults, everything. She does not care about other people, even if she is pissed off. It gives courage to other women.

Your dresses mark a size that sometimes does not exist, draw a curve. This is how you like women's bodies, all curves?
Yes. I wanted to do sculpture when I was at the Ecole des Beaux-Arts. It comes from there, my interest for the curves of the body. And it is also very Mediterranean this passion for the size, the fall of the kidneys, the behind ... Everyone tells me that my rear is pretty. When I was little, I followed the women from behind to look at them better. Because in front I was embarrassed and I did not want to embarrass them by my way of observing them. I noticed very early that when you look at a woman, there are certain looks ... Women know immediately if there is admiration, affection. They feel like an animal. And I, even the Sisters of Sion in Tunis, found that they were elegant, with their dress of good sister, their cornet, their belt with the cross hanging down. I thought it was sexy to die! And we could barely see the ankle! I followed them from behind; like that, I could see how they walked, how the clothes moved. When I'm in Arab countries, I look at women's backs because, if I look at them from the front, I get bawled! That's why all my backs are good (laugh).

Is there a woman you have not already dressed and who would you dream of creating an outfit?
Frankly, I assure you, I do not have that thought. When you're a designer and you're ready-to-wear, you dream of dressing all women! I like when a woman comes to the shop. That desire comes from her. It's even better than when you say, "Ah! I would like to dress this person! "

What is your vision of elegance?
Elegance, we find it in any branch, any environment, any place. I can find very elegant people in Barbès. Some kids, even thugs, have a kind of elegance. I also admire the court of England. For me, it's the perfect elegance. But it can be perfect also in the suburbs. I do not differentiate between elegance. The peasants are of a crazy elegance; the military are elegant; in Pigalle, the whores, there are some who have a certain elegance. Since there are people from a big family who have no elegance. In India, people are very elegant, while some live in excruciating poverty. Elegance is not a question of education, culture or means. You have to be as natural as possible.

During a period of crisis, as we go through it, we need more than usual clothes that are timeless. But you, for example, have never stopped selling some models, which have become classics.
Yes always. I do not differentiate between clothes. Today, we can not work as before. When I started, every season, we dropped everything and started from scratch. There was not a single piece of clothing that was picked up the next season. Today, it's better to redo them. In any case, they will be different. Every time I redo a model, the pattern is different, the material is different and the proportions change. So, it's seen and not seen at once.

You speak of matter; Now we can imagine what the discovery of Lycra represented for you.
Before, to have dresses close to the body, it was necessary to put pliers. With Lycra, no need to put a sheath to tighten the waist and at the same time the body of women remains more free. Even if they are tight, they can walk. Once I had made a dress that was barely wide like that (he spreads his hands twenty centimeters). When I saw her hanging, all narrow, on her hanger, it looked like a Giacometti. But the material was so supple and elastic that the girl managed to get in ... Everything was in the material and the way it was cut.

Your dresses are like a second skin. Have you ever wanted to go even further, to make a skin dress, which would be a perfume in fact? Who would dress, but without fabric?
It's the woman herself who can create that effect ... I have the memory of clients, when I made tailor-made, who put themselves completely naked in front of me and yet who did not look naked. They undressed so naturally, as if I was not there or someone I knew very well. That's a dressed nudity. Some women, however, when they raise their skirts like that, they cause a scandal!

Excuse me, I did not speak well I spoke of a desire to make a perfume that would be like a virtual dress ...
Every time I was asked, I said I would like it to be like mineral water. We would not feel it, but we would feel a presence. Yet I am from North Africa, I come from a Mediterranean country that likes perfumes. But me, the strong perfumes, I do not like them at all. I would like a perfume that we can not say what it is. You arrive and you are fresh at any time, like after the shower.

A brand new baby smell actually ...
Almost. A new skin ...

You were one of the first with Thierry Mugler, with whom you worked, to choose to exhume the female body that had been buried under the loose tissues in the 70 years.
When I started in ready-to-wear, I dressed women, many women of the world, who were well known. But being all day long with fat women, old people who told me: "You make me a tailor, you make the pass like that, it must be good ..."! So, I said to myself: "If a girl has a nice body, we have to see it!"

But how did this fashion of "body consciousness" come about? At the time it was totally against the current ...
It was the time when boys and girls were dressed the same: the sizes were no longer marked, they were straight, like those of boys, no longer tight. A freedom that was not one, because, when nothing is held, it is the body that lets go and we start to grow and we do not realise it, because we have pants wide, men's clothes ... And the woman forgets her body.

Yes, but your clothes, you still have to be pretty sure of your body to wear them ... Yes, but you have to be sure of yourself too, and do not worry about others and what they can think. There are women who are embarrassed by the way they are seen in the street. But it's better to be bothered by someone following you in the street, because the day you change sides when you see yourself, you will not be happy either! So it's better for someone to run behind you! To my friends, who have 16 girls, I tell them: "Let her let off steam with this body! It's very short this passage in the life of a woman ... "They have this perfect body, no worries, no wrinkles, no blues, they can spend the night awake, they have the shape , health, they have everything, while they enjoy the maximum! You have a beautiful body, so you seduce with it, and the day it does not go, you cover yourself! Or you are an old woman and you continue (laugh) ... I have customers who are not all young and continue to put underpants. They are like a girl who starts in life, because there is no age for clothes. There is no age for everything in reality. You are attacked by age, but, internally, you are well. It's the health that lets you go. So as long as you do, you have to make the most of it.

Age, finally, it's in the head ...
It's in the head, yes. I say to women: "Unwind, show yourself, do everything!" There are some clients who say to me, "Ah! me, at my age, I do not put on sleeveless dresses anymore! ... "Just put a sleeveless bodysuit underneath or a t-shirt. And put on your dress!

You have the art of pushing women to dare.
Because my career was made by women.

When you worked for Guy Laroche, I read that you were also steward of the Marquise de Mazan?
I stayed for a short time with the Marquise de Mazan, but I spent five years with the Countess de Blégiers and I have a great memory of it. I stayed in touch with them. She had a little girl, Diane. When I arrived, she was 4 years old and her brother Guy had 7. I took care of them, I kept them, I walked them. At the time, it was the end of the war in Algeria and this French family, this big family, received me. I lived in the apartment, with the children, in a period that was not favorable for an African. Well they never asked me questions, never tried to know where I came from! I lived four years of happiness ...

But it was also a world and a time, which no longer exist today ...
Everything can exist. We must be attentive at all times and observe life as it is, take the periods as they are. The past, we know it, the future is obscure, we do not know anything at all. You must never be sure what will happen. Me, every time I make a small project to go on vacation.

Do you go on vacation often?
I do not go! For three years. Last time, everything was ready: suitcases, bags ... Five times I changed the ticket! At the fifth time, I said no: there was only a day or two left to go. Which holiday? It was no longer worth going there ... And it was not even a vacation, it was to visit the family. I have a house for twelve years at Sidi Bou Saïdbut I never lived there. And if I never go out of my life, well, it does not matter! She existed, she is in my head. I am not someone who is attached to things, I am only passing through the places. I'm not envious at all, that's why I'm rid of everything. I do not like the word owner. I prefer to be in space for a period of my life.

Here in this Marais building, are you occupying? Like your cats?
Like everywhere. My cats, and my friends, and the people who work with me ... We share all the places, we live in them. Those who work with me spend more time here than with their children, their husbands ... The place of work must be always treated, because one spends more time there than at home. At home, what is it? You come home, you are already exhausted by work, you prepare dinner, then you have to go to bed, get up early and go back to work. It's easy for women. Fortunately, they are stronger than men. They faint for a yes, for a no, but they are strong (laughs). I went to the opera one evening gala and suddenly I see a woman I know very well, very cold, always covered with furs, who always complains to catch cold at the slightest draft. It was snowing, it was cold, and she was wearing an evening dress, I think Dior. She gets out of the car, she throws the coat, her dress was completely low-cut. On the stairs, I grabbed her and I said: "I thought you were chilly!" She answers me: "Fool, it is necessary that one sees my dress! ..." She was there in full stream of air, with the snow and everything, and she just wanted us to see her dress!

Did you think, when you arrived in Paris, that you would become a fashion designer?
I did not have the idea of ​​being a fashion designer at all. I wanted to live in Paris and I was happy about anything.

In the XNUMX years, you made a mini-collection for Tati: it was the high fashion that flirted with the cheapest brand of the market. You were a precursor: today, many designers and creators work with H&M . What did you learn from this collaboration, if you learned anything from it?
I learned a lot of things. It happened thanks to my friend Julian Schnabel. He wanted tarpaulin with the famous big barnyard pattern. This motif, in fact, was that of the store of a French bistro, which was there before Tati, and that Tati bought and used as an emblem for his brand. In short, they gave him canvas and Julian Schnabel painted on it. Seeing this painting, I said to myself: "Well, that's pretty cock-foot, and if I used it for jeans?" I phoned Tati and asked them if they wanted to give me some canvas. I was told, "But with pleasure!" They asked me if I could make a collection for them. I said that it would be too expensive things and that it would not stick with their image. So I offered them to make a t-shirt, sneakers and a bag, for free. They were happy. Soon after, it happened in the newspaper Elle.

And what did you bring?
Another thought of fashion. It fascinated me, this store, because every time I went to Tunisia, there were Tati bags all over the plane. The poor workers stuffed them with things to bring home. It's insane the success of this bag! Now it's H & M. I love H & M.

Would you draw pieces for H&M?
I would, yes. But right now, I do not have time.

You talk about time, but when do you consider that a collection is completed?
Never! Me, I assure you that whoever says that it is accomplished ... Maybe he has a genius in the head, so that everything is achieved ...

Your dream would be to never give up a dress?
No, my dream would be to make a dress without having to calculate time, or worry about when it should be finished and presented. That's the dream! But today, it is not possible. So it's better to dream.

Can a designer still survive today without financial support?
No, that's not possible. When I started, yes. But it's a struggle too: you can not do this, you're on the nerves, you can not afford to manufacture, you can not afford to order fabrics ... When we make a collection, it you have to spend a lot. Even for mannequins, today is not easy. We do the fitting on a person for a month. Which young person can afford this? Except if it's a girlfriend of his, or if you give him a free model. Even the big ones today are forced to be in a group.

You were allied with the Prada group, then you bought back your share; now, you are allied with the Richemont group. Even if this group is more established in watchmaking than in fashion, its president, Johann Rupert apparently leaves a lot of independence to the brands of the group ...
Yes. I really like this character, he is visionary, he has a direction of his own. Regarding independence, it was also true with Prada: I was free ... The proof is that I always made my shoes at home. Someone talked about divorce: it was not a divorce at all. I am always friends with them. There are very few people with whom I do not get along very well, very little. Those who I definitely do not get on with are not numerous.

It always takes a little no to have a lot of yes ...
(Laughs.) I do not like human stupidity. But I like beings. Every time I meet someone new, I tell myself that I will learn something with him.

What is the most beautiful life lesson you have ever received from anyone?
I can not speak of a lesson, but of what I have been able to catch or see, things that feed, where we say that, if there was not this, I might not have do that ... When I was little, if my grandmother, my grandfather, police officer, had not been free enough, and if I had not had a fantastic childhood I do not know ... My grandfather took me to the cinema once a week, I saw the film four times, he came to pick me up at the last session. I saw all the movies, I learned songs and costumes by heart. There was also a midwife in Tunisia, who was French. I was going to spend the Saturday with her, I had lunch and I slept at her place. And when I arrived in Paris, I met Louise de Vilmorin. I could not hope better as a meeting, as a French woman!

- You are in full preparation of your collections; you have not been in the sewing and ready-to-wear fashion calendar for ten years. The rhythm of all these collections has become very strong: there are ready-to-wear, couture, Cruise collections, precollections ...
We must end this period of debauchery of clothes. This crisis should lead to the realisation that this rhythm must change. Journalists who want to follow all the news of this trade thoroughly spend more time on the move than writing!

But for fashion designers and designers too, this pace is frantic. Does it not kill the imagination?
There is no rest time between the collections. That's why fashion goes around like this.

By presenting your collections at your own pace, you have offered yourself the luxury of time.
Yes, and despite that, I have less time. I do not make a show, but it's the same: four collections in the year is a lot. And we are not many: at the studio, I have only one assistant.

But you do exactly what you like, as you want. Are you a happy man?
Yes, I am someone really always happy, I thank Heaven ... And I meet interesting people, it's a lot! That's why I do not have the time. For the family, friends, people I want to see often enough, we have dinners or lunches here: this is the only free time I have.

The people who love you come to you.
They are coming. I say I'm traveling on my chair at the studio (laughs).

There was a little book by Xavier de Maistre, from the end of the eighteenth century, which was called Voyage autour de ma chambre.
Yes, it's a little me. Do you know the luxury I would like to have? It's someone who would read to me! Because I do not have time to read at all. I work up to 3 h-4 am in the morning. If I want to read, my eyes burn and I can not. So, with me, a book, it stays open for a year so that I can finish it. I am waiting to go to London by train or plane to read. And on the plane, when I'm tired, I sleep. So I take two or three books and I read two lines of one or the other and I go around like that. Maybe the only time available is when I'm sick ... But someone who reads for you, ah! happiness! That's a luxury to die for!

You should ask.
But I can not for now. The person should watch from midnight to 3 am: it will not hold up! I must find a beast that likes to watch, or has insomnia (laughs). I had an assistant whom I took with me to Italy, because he was reading well. And while I was working, he was reading. The poor man: after four days, he was KO. And in the morning, instead of sleeping, he did not want to leave me alone. So I said, "Take the books to the factory and read to us."

Which book would you like to be read?
There are many!

A whole literature to catch up ...
Even if I do not catch up, it does not matter. I tell myself that someone else has read it and that's good. I let him know more, I do not know him. (And he starts to laugh ...)

A version of this article appeared in the Hors-Série Mode du Temps May the 6 2009