Artica Arbox, no gender mode
Irène Roth, the creator of the brand Artica Arbox presented her first spring-summer 2019 collection in Paris. A "gender fluid" line aimed at no particular sex, or rather aimed at both genders and all those who are below and beyond. Meet. - Isabelle Cerboneschi, Paris.
6 June 2019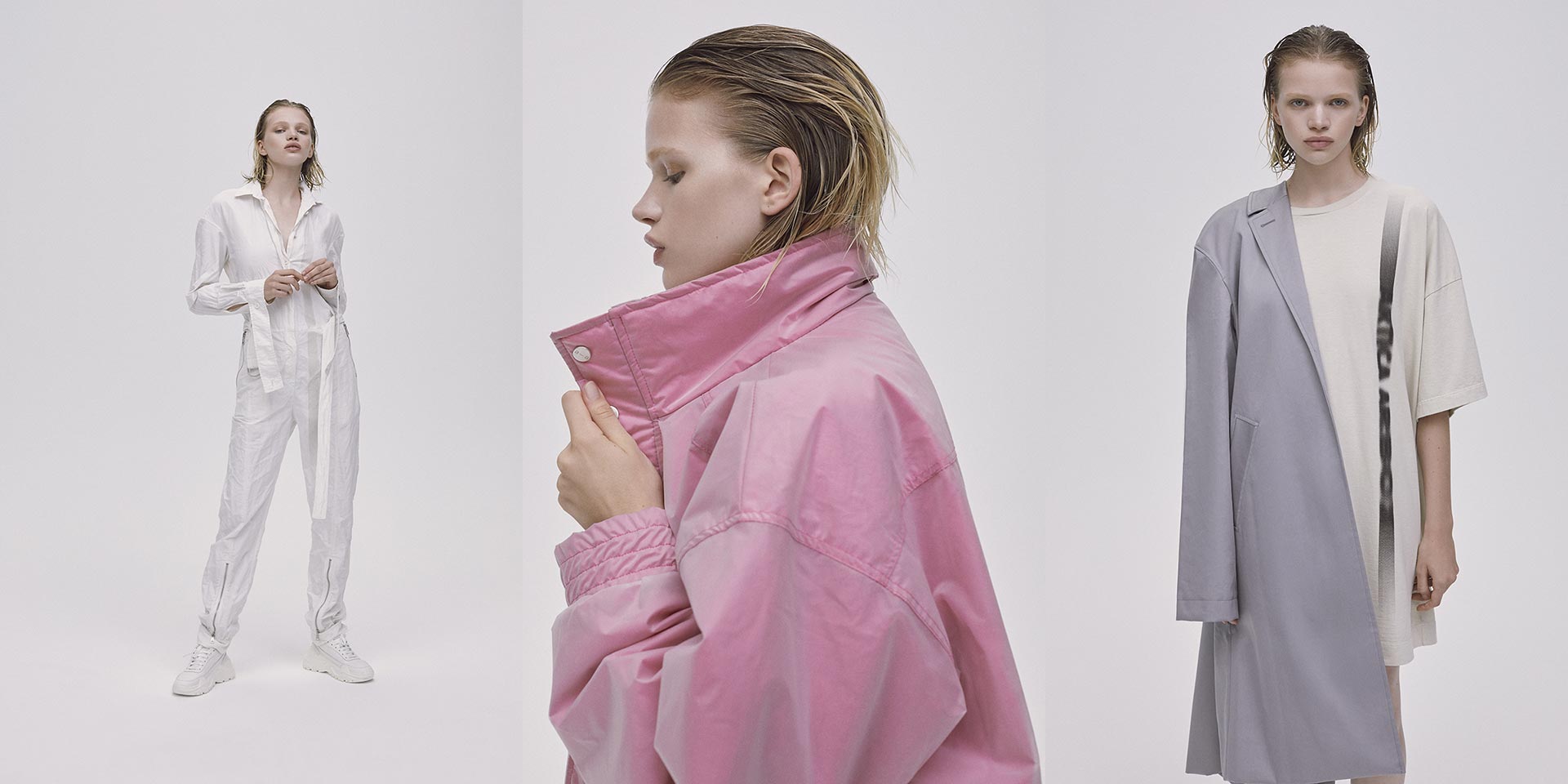 After only one presentation in Paris, Irene Roth created the buzz with her brand Artica Arbox. She does not come from the seraglio, but from the film industry (Sony Pictures), in the fields of advertising and marketing. Nothing to do with fashion, but this first career gave her the sense of the times and the art of communication and I find it quite admirable that a woman, in her XNUMXs, decides to launch her own fashion brand while behind her, there are all these young graduates of fashion schools who dream of launching their brand. Her advantage is her experience as an entrepreneur. And this can only be learned over the years.

Brands, old and new, are made and unmade (undone?) quickly, and it took a lot of conviction to get started and present a first line of clothing in Paris, considered the capital of fashion. Based in Los Angeles, Irene Roth was convinced that there was room on the checkboard for a quality streetwear brand, made in an Italian workshop, with a touch of tailoring and a pinch, or rather, a big handful of "American touch ".

Her line picks up some streetwear codes, which have been seen everywhere for several seasons, to the point that we call for the return of the fitted out costume, total monochrome looks in franked hues: Malabar pink, canary yellow or blue Klein. The long denim overcoat is worn on nylon pants. She has designed athletic silhouettes, flowing pieces that slip on quickly, to go quickly to a pilates class, or to a management committee of a self-created company. A genderless collection that fits the era.

Irene Roth has a sense of timing and launches her brand as society begins to integrate this notion of "gender fluidity". A concept that magazines began to talk about as a "societal phenomenon" in XNUMX, even though the reality in question dates back to the origin of the world. But at the beginning of the world, there were no social networks to drum up the existence of a new gender, which is not really one and which gathers people who have chosen to be who they want, regardless of their original gender. People moving from one genre to another, feminine, masculine, coming back without stopping there. In general, they belong to the generation of Millennials (which were born roughly between XNUMX and XNUMX) and to Generation Z (from XNUMX to the present). Surprisingly, these non-binary people emerged in the era of binary language.

Now, Irene Roth falls pretty well with her unisex fashion, this blue for girls and pink for boys, and vice versa. "In fact it was the goal," says Irene Roth. Whatever the genre, or the characteristics of each, I wanted to create a line to which people can subscribe and use
it as a means of personal expression. There is always a duality in all what we are and what we do: we can be hard but soft, women have masculine qualities and men are no longer afraid of their feminine aspects. I wanted to encompass this spirit in the collection and the most natural progression to this was to create pieces that could be interpreted by either men or women. I grew up in CKOne's Calvin Klein era, but this idea of one garment for two genres came too soon. "

"Before I wanted to create a brand, I noticed that, unlike before, people do not dress anymore for work or weekends. They dress to express their identity, for comfort. Their wardrobe is designed according to that. But my dream was to be able to express myself through the creation of a clothing brand. What was important to me was comfort. Then my line should fit into a pre-existing wardrobe. It was not meant to address a particular feminine or masculine gender, and finally, there had to be some color! It all started like this. "

Pink is unisex at Artic Arbox, "because it's my son's favorite color. He is 9 years old, he is what you would consider as a typical boy, he plays sports, skateboard, but his favorite color is pink. And why not? Incidentally, Irène Roth found the name of her brand thanks to her children: "They use these nicknames Artica and Arbox when they play superheroes together," she says.

IIrene Roth spent five years concocting her recipe before meeting the future CEO of her brand, Cristiano Minchio, the former CEO of Yeezy and Vivienne Westwood US, in a factory in Florence. "I wanted my brand to have a solid foundation: it was important to me that the clothes were well made. When a customer touches the fabric, they should understand that these are quality products and that it's not just a story of design, spirit or branding. I wanted to honor the craftmanship. But I was lucky enough to work with an Italian factory that believed in my project. I will not say that the beginnings were easy: they had no reason to work with me because they already work with all the great brands that we know. But they supported me, they invested time, energy, knowledge. A blessing! And it was thanks to them that I met Cristiano Minchio. There was the right chemistry between them, the spring-summer collection has been launched. We look forward to her future collections…
Artica Arbox, no gender mode
6 June 2019
[Click on the image to see the gallery]
Irène Roth, the creator of the brand Artica Arbox presented her first spring-summer 2019 collection in Paris. A "gender fluid" line aimed at no particular sex, or rather aimed at both genders and all those who are below and beyond. Meet. - Isabelle Cerboneschi, Paris.
After only one presentation in Paris, Irene Roth created the buzz with her brand Artica Arbox. She does not come from the seraglio, but from the film industry (Sony Pictures), in the fields of advertising and marketing. Nothing to do with fashion, but this first career gave her the sense of the times and the art of communication and I find it quite admirable that a woman, in her XNUMXs, decides to launch her own fashion brand while behind her, there are all these young graduates of fashion schools who dream of launching their brand. Her advantage is her experience as an entrepreneur. And this can only be learned over the years.

Brands, old and new, are made and unmade (undone?) quickly, and it took a lot of conviction to get started and present a first line of clothing in Paris, considered the capital of fashion. Based in Los Angeles, Irene Roth was convinced that there was room on the checkboard for a quality streetwear brand, made in an Italian workshop, with a touch of tailoring and a pinch, or rather, a big handful of "American touch ".

Her line picks up some streetwear codes, which have been seen everywhere for several seasons, to the point that we call for the return of the fitted out costume, total monochrome looks in franked hues: Malabar pink, canary yellow or blue Klein. The long denim overcoat is worn on nylon pants. She has designed athletic silhouettes, flowing pieces that slip on quickly, to go quickly to a pilates class, or to a management committee of a self-created company. A genderless collection that fits the era.

Irene Roth has a sense of timing and launches her brand as society begins to integrate this notion of "gender fluidity". A concept that magazines began to talk about as a "societal phenomenon" in XNUMX, even though the reality in question dates back to the origin of the world. But at the beginning of the world, there were no social networks to drum up the existence of a new gender, which is not really one and which gathers people who have chosen to be who they want, regardless of their original gender. People moving from one genre to another, feminine, masculine, coming back without stopping there. In general, they belong to the generation of Millennials (which were born roughly between XNUMX and XNUMX) and to Generation Z (from XNUMX to the present). Surprisingly, these non-binary people emerged in the era of binary language.

So, Irène Roth falls pretty well with his ungendered fashion, this blue for girls and this pink for boys, and vice versa. "In fact it was the goal," says Irene Roth. Whatever the genre, or the characteristics of each, I wanted to create a line to which people can subscribe and use it as a means of personal expression. There is always a duality in all that we do: we can be hard but soft, women have masculine qualities and men are no longer afraid of their feminine aspects. I wanted to encompass this spirit in the collection and the most natural progression to this was to create pieces that could be interpreted by either men or women. I grew up in the era of Calvin Klein, CKOnebut this idea that he had of a single garment for two kinds came too soon. "

"Before I wanted to create a brand, I noticed that, unlike before, people do not dress anymore for work or weekends. They dress to express their identity, for comfort. Their wardrobe is designed according to that. But my dream was to be able to express myself through the creation of a clothing brand. What was important to me was comfort. Then my line should fit into a pre-existing wardrobe. It was not meant to address a particular feminine or masculine gender, and finally, there had to be some color! It all started like this. "

Pink is unisex at Artic Arbox, "because it's my son's favorite color. He is 9 years old, he is what you would consider as a typical boy, he plays sports, skateboard, but his favorite color is pink. And why not? Incidentally, Irène Roth found the name of her brand thanks to her children: "They use these nicknames Artica and Arbox when they play superheroes together," she says.

IIrene Roth spent five years concocting her recipe before meeting the future CEO of her brand, Cristiano Minchio, the former CEO of Yeezy and Vivienne Westwood US, in a factory in Florence. "I wanted my brand to have a solid foundation: it was important to me that the clothes were well made. When a customer touches the fabric, they should understand that these are quality products and that it's not just a story of design, spirit or branding. I wanted to honor the craftmanship. But I was lucky enough to work with an Italian factory that believed in my project. I will not say that the beginnings were easy: they had no reason to work with me because they already work with all the great brands that we know. But they supported me, they invested time, energy, knowledge. A blessing! And it was thanks to them that I met Cristiano Minchio. There was the right chemistry between them, the spring-summer collection has been launched. We look forward to her future collections…