Mythical
November 15 2017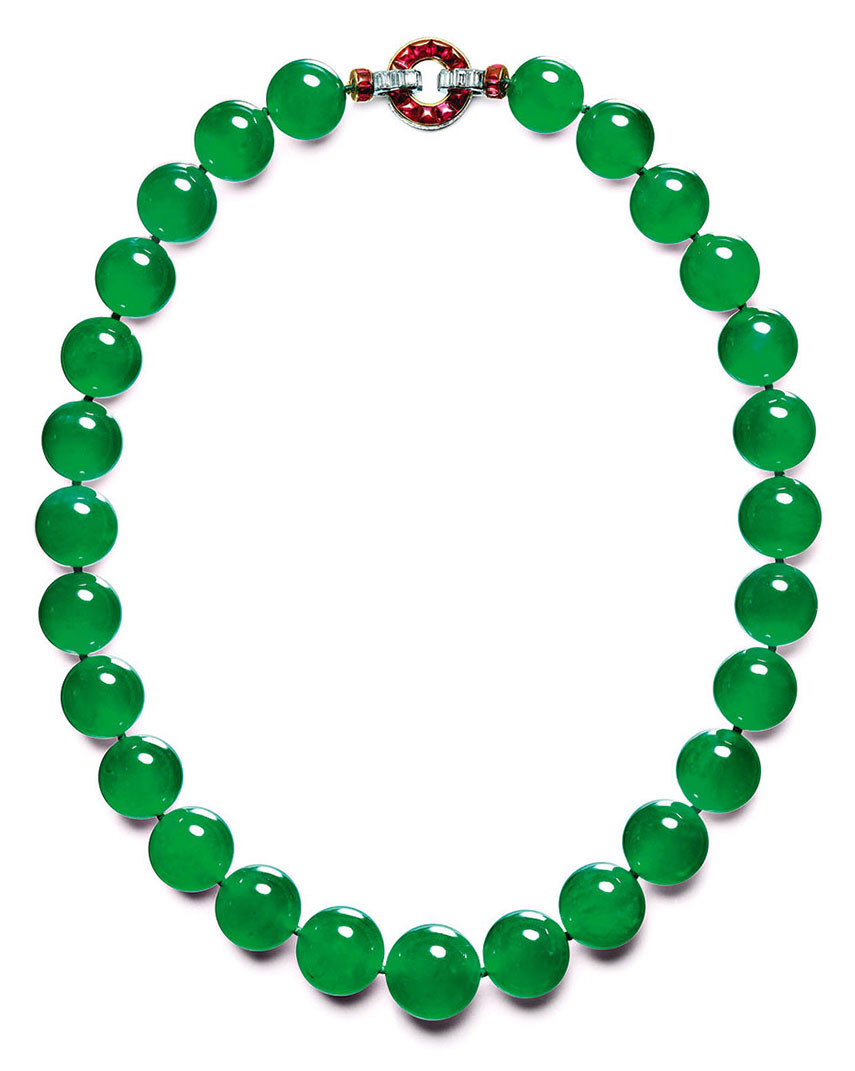 The strange destiny of Barbara Hutton's jade necklace.
E
n 2015, on the occasion of an exhibition at the Baur Foundation in Geneva, which brought together the collections of this Far Eastern art museum with a selection of jewels from the Cartier Collection, I was given to discover Barbara Hutton's legendary jade necklace. Made up of twenty-seven jadeite pearls (a variety of jade) of unparalleled purity and closed by a clasp set with rubies and baguette diamonds, the jewel lay sheltered from a window in the private salons of the Cartier shop. Each pearl, whose diameter varies between 15 and 19 mm, has a hypnotic beauty. But before ending up in the Cartier collection, this necklace knew a shaken destiny.

He is known as his most famous owner, Barbara Hutton. The one that was nicknamed later the poor little girl rich is born in 1912. His mother, Edna Woolworth, was the daughter of Franklin Winfield Woolworth who had founded the FW Woolworth Company in 1911 and made a fortune with this chain of cheap stores known as Five-and-Dimes Stores (5 dollars 10 hundred). His father, financier Franklyn Laws Hutton, co-founded the brokerage firm EF Hutton & Co with his brother Edouard Francis Hutton.

When she was only 4 years old, Barbara Hutton saw what no child should see: the lifeless body of her mother who had just committed suicide. After discovering her husband's infidelity, Edna had poisoned herself by taking strychnine. To avoid the scandal, it was decreed that it was an accidental death.

Quickly remarried, Frank Hutton, with his new wife Irene, let the child grow up without tenderness. It is the grandfather of the child who took care of her. In 1919, when the latter died, Barbara Hutton was raised by housekeepers before being sent at the age of 12 years to a boarding house for well-born girls, Miss Porter's School, in Farmington, Connecticut.

POOR LITTLE RICH GIRL
Despite the immense fortune left to him by his grandfather - 25 millions of dollars - to which were added 2,5 million inherited from his mother, that his father made fruitful on the stock market, he lacked the essential: love. Unsure of herself, left behind by her father, Barbara Hutton quickly became the scapegoat of the other students of this institution reserved for elites.

There was one person in his entourage who played a valuable role throughout his life: his aunt, Marjorie Merriweather Post, the second wife of his uncle EF Hutton. Over the years, this philanthropist, as generous as she was discreet and one of the greatest fortunes in America, played the role of replacement mother for the teenager. Marjorie Merriweather Post had herself endured a mother-in-law whom she hated and understood Barbara Hutton's deep despair, frequent mood changes, tantrums, compulsive shopping. She tried to give it a family structure, inviting her on vacation, traveling, or in one of her many properties, having as much tenderness as she was able to give. Marjorie Merriweather Post was in the eyes of Barbara Hutton the kindest person in the world.

Barbara Hutton's life was a result of disappointments, unfortunate marriages (there were seven) of divorces, tragedies, bad investments, scams, domestic violence and all kinds of abuse, all of which watered by alcohol. The only man who sincerely loved her was the actor Cary Grant whom she had married in 1942 and divorced in 1945.

LOVER OF STONES
Barbara Hutton spent lavishly: a compulsion she never wanted, or tried to undo. A way to fill his gaps, no doubt. She had a passion for exceptional historical stones. Her collection included the Romanov emeralds, Marie Antoinette's pearl necklace, the Pasha diamond, the ruby ​​necklace of Queen Amelie of Portugal, which she had converted into a tiara, and the famous jade necklace, now owned by Cartier. "The day when Mr. Hubert de Givenchy asked Jeanne Toussaint which of her clients had the most beautiful jewels, this one answered very diplomatically that Barbara Hutton had the most beautiful stones", relates Pierre Rainero, director of the image and Cartier's heritage.

Barbara Hutton also liked jade. She had been introduced to her strange beauty by the owner of Gump's, the famous design and object brand from the Orient that was founded in 1871 in San Francisco. In 1933, on the occasion of marriage with Alexis Mdivani (the first of his seven husbands) Barbara Hutton's father offered his daughter a necklace of 27 exceptional jadeite pearls. "At the time, we did not know the origin of these jade balls, explains Pierre Rainero. But we can only be impressed by their beauty. The eye penetrates the material: they have at once an almost perfect translucency and an intense color, of a very rare green, called "imperial". Song Haiyang, one of the curators of the Forbidden City and jade expert confirms that such quality can only have an imperial provenance, or in any case aristocratic of very high level. The extraction would probably date from the end of the 18th century and the jade would come from Burma. "

The necklace, which had been set up by Cartier, originally had a clasp set with a shuttle diamond. "According to a drawing from our archives, he also had two pompoms set with very beautiful rubies and pearls that went to the back," says the director of the image and heritage of the jeweler. These pompoms have since disappeared. In 1934, Barbara Hutton asked Cartier to transform the clasp, which took its current form. Can we consider this necklace as a Cartier jewel? "Of course! Our signature is the way we do justice to the beauty of the material. This is what we call "essential design". Any superfluous creative hint is meaningless in the face of the beauty of the material, "explains Pierre Rainero.

Barbara Hutton was a loyal, even compulsive customer of the great jewelers. "His salesman at Cartier, rue de la Paix, has given an astonishing anecdote, says Pierre Rainero. One day she warns him that she will be in Paris the following week and that she reserves a surprise. When the day comes, she arrives in a green Rolls: "I had my Rolls painted in the color of my emeralds!" She told him. That was the surprise. Her jewels defined her. And according to those she chose to wear, they characterized the importance she gave to the circumstance. "

THE MARRYING MDIVANIS
Two years after her marriage, Barbara Hutton divorced Alexis Mdivani. But during this short period, the heiress has developed a very close relationship with his sister-in-law, Nina Mdivani. The first felt very lonely and the second had a disproportionate taste for everything that was expensive, starting with jewelry. Both were made to get along.

Alexis and Nina belonged to siblings of five brothers and sisters (also counting Serge, David, and Isabelle) who made the headlines during the 1930 years. Originally from Georgia, all five claimed the title of prince and princess. Years later, their father, Zacharie, was said to be the first man to inherit his nobility title from his sons. We had nicknamed them les Marrying Mdivanis. While "Prince" Alexis Mdivani had married Barbara Hutton, "Princess" Nina Mdivani had become the wife of Denis Conan Doyle, the son of the famous writer and creator of the character Sherlock Holmes after divorcing his first husband, the lawyer Charles Huberich who had taken care of the divorces of two of his brothers.The very interested friendship she has maintained with Barbara Hutton lasted until the death of her, in 1979. The strange destiny of the jade necklace is related to this relationship between the two sisters-in-law. Nina accompanied Barbara Hutton while shopping at Cartier and was offered jewelry on the principle "one for you, one for me", and the "poor little rich girl was happy to run. (...) says Clive Kandel, jewelery expert and jewelry historian on the site jewelsdujour.com. Many Cartier jewels were recognized as belonging to Barbara Hutton at auctions, when they were actually gifts from Barbara Hutton to Nina Mdivani.

THE JADE NECKLACE HIDDEN UNDER A BED
Around 1973, fabulous Cartier jewelry was offered anonymously for sale at an auction in London, to be removed just one hour before it began, the expert continues. The anger of London jewelry merchants was great. This happened again and again. The godson of Princess Nina, whom I met, enlightened me on this mystery: a part of Nina's jewels had been put on sale as collateral for the loans it had received, but Barbara Hutton came to her rescue at the last minute which allowed her to remove her jewelry from the sale, leaving the auction houses without these coins extraordinaryreveals Clive Kandel.

Sadly enough, Barbara Hutton, addicted to alcohol and drugs, was aging badly. While Nina was an old, almost blind, overweight, gray-haired woman who clung to her glamorous past.

London, at the beginning of the 70 years, was not the best place to live: the oil crises, inflation, the governments of the left, ensured equality in the face of misery. (...) Nina Mdivani gradually sold her jewels to guarantee a certain lifestyle. (...) Forgotten by the world, she died in the greatest secrecy. And under his bed was found the famous jade necklace of Barbara Huttonsays Clive Kandel.

This exceptional necklace first appeared on the market when Nina Mdivani's jewelry was sold in 1988, Geneva. He had then reached the sum of 2 million, the highest price ever paid for a Jadeite necklace. Sixteen years later, when it went on sale by Sotheby's Hong Kong in April 2014, it was awarded to the Cartier collection for the sum of 27,4 million dollars: a world record. This is the most expensive piece acquired by the jeweler to date. "This necklace is significant of our philosophy, our sensitivity for a type of beauty that is not part of our Western culture," says Pierre Rainero.

Today, 27 jade pearls are immune to all desires and offer their pure beauty to those lucky enough to see them.

• Poor Little Rich Girl, Barbara Hutton's Life and Legend, C. David Heymann, Rendom House, NY 1983.