Ramon Monegal, perfumes as works of art
The Spanish perfumer was born into perfume: his family had created the company Myrurgia. In 2007, he decided to create his own brand and has since written unique signature perfumes. This lover of rare notes, like the real oud, masters the art of generating strong emotions with his fragrances. Meet. Jo Phillips, London.
14th June 2019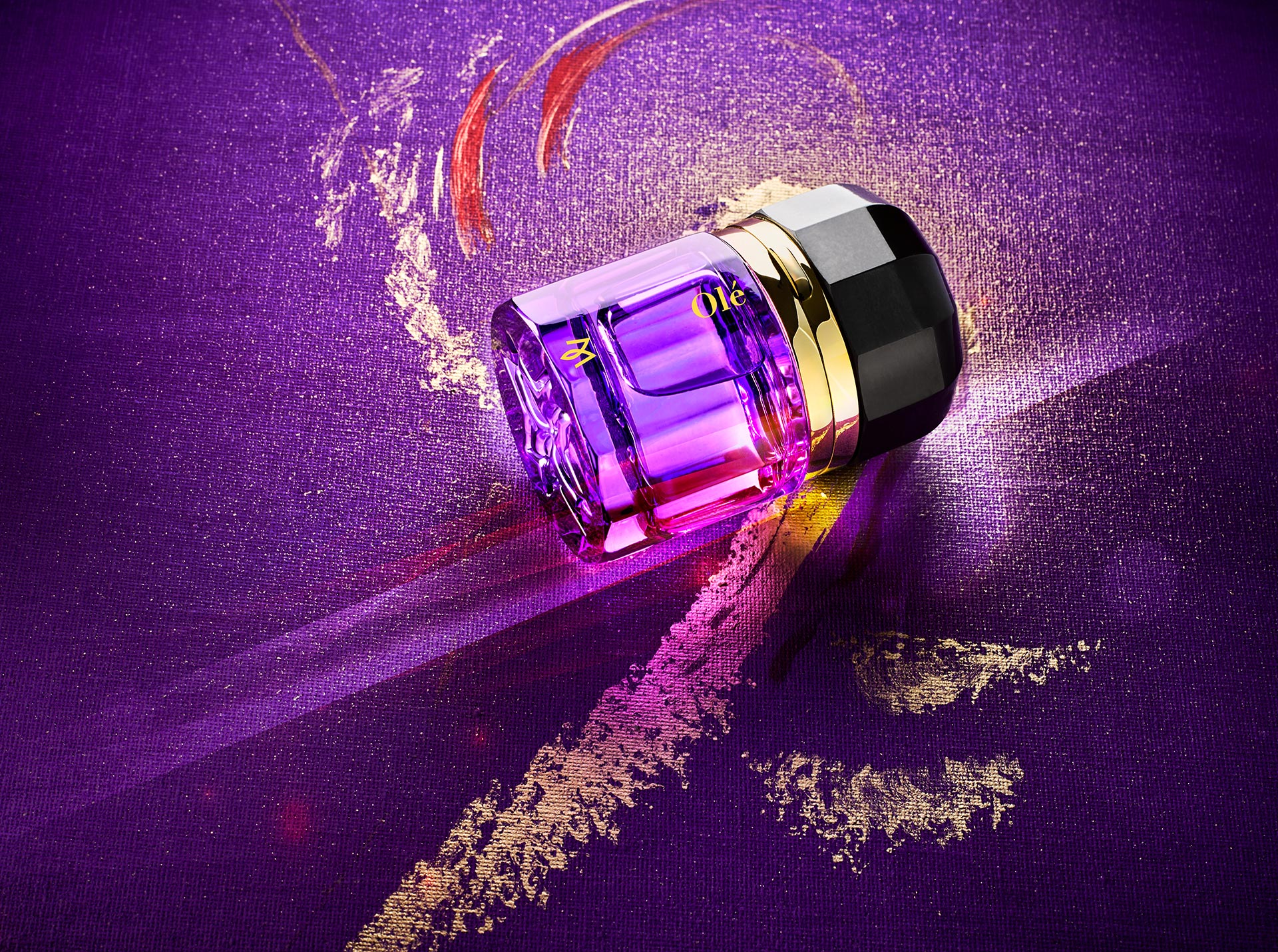 In the field of perfumery, there are many great perfumers but some are more than that: they are artists, a term used too often and with too much flippancy. It is nevertheless the case of Ramón Monegal. The perfume industry is his natural environment. Almost a birthright.

Born in Barcelona in 1951 he is the fourth generation of the family that created the perfume company Myrurgia. This brand was not just the suppliers to the Spanish royal family but also the first company in the world of fragrance to introduce fashion brand perfumes on to the market.

Ramón Monegal was formed at the headquarters of Myrurgia in 1972, where he has completely immersed himself in the intimacy of the most essential scents, such as the mythical infusions of ambergris, Tonka bean, musk, castoreum , civet and divine iris.

Ramón continued his training in Geneva with his mentor, the maître perfumer Artur Jordi Pey, then in Grasse with Marcel Carles and finally in Paris. He managed to train with some of the greatest names in the industry but came home in the end to his beloved Spain, not before studying architecture (and why not) with a course at the Barcelona Design Centre in XNUMX.

He created his first perfume in 1979, which became an unexpected success within Myrurgia. He then took over the creative direction of the company for more than 20 years. In 2000, the Puig group acquired the company, but asked it to continue creating new fragrances.

In 2007, he left the group and, after a period of reflection and experimentation, he started the project he had always dreamed of: creating: his own fragrances and reaching his public directly and living his life as a true perfumer. As well as being a very hands-on perfumer in preparing his creations in all their phases and aspects from conception, design, and communication. His two children joined him in his company to continue the family tradition.

During a first meeting with him, we spoke about the Spanish perfume, less known than his French cousin. However, Spain has a long and royal relationship with perfume, interrupted by the arrival of dictator Francisco Franco, who did not allow the importation of articles into the country.

As a result, perfume manufacturers could only work with ingredients from Spain, citrus fruits. Then began a period when all the Spanish fragrances were colognes, cheap and rather good. At any pharmacist in Spain there were jewels for a fraction of the price of their French, English or Italian cousins. These citrus-based perfumes were fresh, clean and transparent, but had no sensuality, a signature that one finds abundantly in his opus.

Whilst at Myrurgia he was sourcing the best purest ingredients which have stood him in the best place for his own line. For example, knowing what real Oud looks and smells like and knowing that if you find real Oud, it is something very special and because extremely it is difficult to find today.

Ramón Monegal has recently found it and because this ingredient is incredibly rare, he bought the whole lot, not being certain to find one again. During the last 5 to 6 years, he has done a lot of research on Oud. Because the perfumer almost understands at the cellular level the power of these purest ingredients, he has blended five essences of Oud to create a version that he could use in the formula of a unique fragrance. For true fans of Oud, it's time to buy Alhambra Oud Eau de Parfum. A blend of rose, jasmine and orange blossom and the signature note of the Oud wood that crosses the fragrance and brings it richness. The perfumer used
this raw material at all levels of perfume: in the top notes, heart and background. The result celebrates the most subtle elements of this magnificent and rare ingredient. Only an artist could ensure balance throughout all stages of the creation of the perfume.

Olé, his latest album, is a very personal project on which the perfumer spent many years to get where he wanted: a fruity caramel-inspired scent. Olé in Spanish is more than just a hello, it is the expression of an energy, a life force that is an integral part of the passion and creativity that animate the Spaniards, as a great point of exclamation at the end of a passionate sentence. This word comes from the Arabic "wallah" which means "by Allah" and which is the demonstration of wonder, astonishment. "It's like a deep, but very short inspiration," says the perfumer. It is this passion that Ramón Monegal has spent a lot of time trying to capture in his signature inkwell bottle; a perfume that is a fleeting emotion.

Olé begins with a note of ripe fruit composed of date, pineapple and raspberry and a little grapefruit, offering a wave of happiness of vitality from the opening of the perfume. Jasmine, orchid and cedar wood are found in heart notes flower warming the resinous aspect of wood. And for the bottom, there is balsam fir, musk and vanilla. Balsam Fir brings a hint of caramel alongside musk and vanilla that have that sexy touch. We also feel marine notes, as if we were walking along a Spanish coast with flowers and firs whose silage mingles with that of the rough sea. It is a very modern version of a woody floral scent that creates an addiction: a passionate and sexy fragrance.

Among his other new creations, we discover a green floral chypre: The new paradise. This perfume is "an impossible metaphor, a natural utopia, a place of perfection where the best of the world would be contained in a bottle. A balance of well-being and pleasure all brought together harmoniously ", according to the perfumer.

This fragrance begins with citrus top notes - bergamot, orange and mandarin - and figs. In the heart, the majestic jasmine rose and lily of the valley. And in the background, the oakmoss, amber, and musk that bring a depth, a powdery note that complete the fragrance. Both fresh and exhilarating, this enveloping fragrance comforts and leaves an impression of serenity. This young but sophisticated perfume is an excellent introduction for those who do not know the perfumes of Ramón Monegal. After creating many rich and heady flavors rich and deep, the perfumer escape flying into a little more freshness.

And to end this olfactory journey, it's impossible not to mention Hand in Hand, Rose & Oudh that Ramón Monegal describes as a "wild and feline elixir". It is a perfume on opposites; on the purity and sensuality of the rose, and the sexuality and power of the Oud. Where "savagery meets the feline". Rose is not a sexual flower, she is sweet and innocent, she is pure and deep, she is powdery and warm and she is the queen of flowers in perfumery, but she is not sexy. However, here we can grasp all the mastery of the perfumer who placed this sweet rose and alongside the Oud, allowing him to express a completely different facet, to the dangerous beauty. In top note, we find saffron, coriander and geranium, in heart notes, osmanthus, rose and Oud and in the background, notes of leather, musk and vanilla.

Ramón Monegal is not a perfumer whose name appears on all pages of a magazine. He is an artist who creates perfumes as works of love. The work of his life is contained in each bottle-shaped inkwell.

To know more: ramónmonegal.com
Ramon Monegal, perfumes as works of art
14th June 2019
[Click on the image to see the gallery]
The Spanish perfumer was born into perfume: his family had created the company Myrurgia. In 2007, he decided to create his own brand and has since written unique signature perfumes. This lover of rare notes, like the real oud, masters the art of generating strong emotions with his fragrances. Meet. Jo Phillips, London.
In the field of perfumery, there are many great perfumers but some are more than that: they are artists, a term used too often and with too much flippancy. It is nevertheless the case of Ramón Monegal. The perfume industry is his natural environment. Almost a birthright.

Born in Barcelona in 1951, Ramon Monegal comes from a perfumery lineage: his ancestors created the perfume company Myrurgia and he represents the fourth generation. This brand was one of the suppliers of the Spanish royal family. She was also the first company to introduce fashion brand fragrances to the market.

Ramón Monegal was formed at the headquarters of Myrurgia in 1972, where he has completely immersed himself in the intimacy of the most essential scents, such as the mythical infusions of ambergris, Tonka bean, musk, castoreum , civet and divine iris.

Ramón continued his training in Geneva with his mentor, the maître perfumer Artur Jordi Pey, then in Grasse with Marcel Carles and finally in Paris. He managed to train with some of the greatest names in the industry but came home in the end to his beloved Spain, not before studying architecture (and why not) with a course at the Barcelona Design Centre in XNUMX.

He created his first perfume in 1979, which became an unexpected success within Myrurgia. He then took over the creative direction of the company for more than 20 years. In 2000, the Puig group acquired the company, but asked it to continue creating new fragrances.

In 2007, he left the group and, after a period of reflection and experimentation, he launched the project he had always dreamed of: creating his own perfumes, directly touch his audience and live his life as a real perfumer. Prepare your creations in all their phases and aspects, from conception to communication. His perfume collection is a bit like an art gallery, a scene where the artist can show everything he knows how to do. His two children joined him in his company to continue the family tradition.

During a first meeting with him, we spoke about the Spanish perfume, less known than his French cousin. However, Spain has a long and royal relationship with perfume, interrupted by the arrival of dictator Francisco Franco, who did not allow the importation of articles into the country.

As a result, perfume manufacturers could only work with ingredients from Spain, citrus fruits. Then began a period when all the Spanish fragrances were colognes, cheap and rather good. At any pharmacist in Spain there were jewels for a fraction of the price of their French, English or Italian cousins. These citrus-based perfumes were fresh, clean and transparent, but had no sensuality, a signature that one finds abundantly in his opus.

Whilst at Myrurgia he was sourcing the best purest ingredients which have stood him in the best place for his own line. For example, knowing what real Oud looks and smells like and knowing that if you find real Oud, it is something very special and because extremely it is difficult to find today.

Ramón Monegal has recently found it and because this ingredient is incredibly rare, he bought the whole lot, not being certain to find one again. During the last 5 6 years, he has done a lot of research on Oud. Because the perfumer almost understands at the cellular level the power of these purest ingredients, he has blended five essences of Oud to create a version that he could use in the formula of a unique fragrance. For true fans of Oud, it's time to buy Alhambra Oud Eau de Parfum. A blend of rose, jasmine and orange blossom and the signature note of the Oud wood that crosses the fragrance and brings it richness. The perfumer used this raw material at all levels of the perfume: in the top notes, heart and background. The result celebrates the most subtle elements of this magnificent and rare ingredient. Only an artist could ensure balance throughout all stages of the creation of the perfume.

Olé, his latest album, is a very personal project on which the perfumer spent many years to get where he wanted: a fruity caramel-inspired scent. Olé in Spanish is more than just a hello, it is the expression of an energy, a life force that is an integral part of the passion and creativity that animate the Spaniards, as a great point of exclamation at the end of a passionate sentence. This word comes from the Arabic "wallah" which means "by Allah" and which is the demonstration of wonder, astonishment. "It's like a deep, but very short inspiration," says the perfumer. It is this passion that Ramón Monegal has spent a lot of time trying to capture in his signature inkwell bottle; a perfume that is a fleeting emotion.

Olé begins with a note of ripe fruit composed of date, pineapple and raspberry and a little grapefruit, offering a wave of happiness of vitality from the opening of the perfume. Jasmine, orchid and cedar wood are found in heart notes flower warming the resinous aspect of wood. And for the bottom, there is balsam fir, musk and vanilla. Balsam Fir brings a hint of caramel alongside musk and vanilla that have that sexy touch. We also feel marine notes, as if we were walking along a Spanish coast with flowers and firs whose silage mingles with that of the rough sea. It is a very modern version of a woody floral scent that creates an addiction: a passionate and sexy fragrance.

Among his other new creations, we discover a green floral chypre: The new paradise. This perfume is "an impossible metaphor, a natural utopia, a place of perfection where the best of the world would be contained in a bottle. A balance of well-being and pleasure all brought together harmoniously ", according to the perfumer.

This fragrance begins with citrus top notes - bergamot, orange and mandarin - and figs. In heart note, the majestic jasmine, rose and lily of the valley. And in the background, the oak moss, amber and musk that bring a depth, a powdery note that complete the fragrance. Both fresh and exhilarating, this enveloping fragrance comforts and leaves an impression of serenity. This young but sophisticated perfume is an excellent introduction for those who do not know the perfumes of Ramón Monegal. After creating many rich and heady flavors rich and deep, the perfumer chose to fly in a little more freshness.

And to end this olfactory journey, it's impossible not to mention Hand in Hand, Rose & Oudh that Ramón Monegal describes as a "wild and feline elixir". It is a perfume on opposites; on the purity and sensuality of the rose, and the sexuality and power of the Oud. Where "savagery meets the feline". Rose is not a sexual flower, she is sweet and innocent, she is pure and deep, she is powdery and warm and she is the queen of flowers in perfumery, but she is not sexy. However, here we can grasp all the mastery of the perfumer who placed this sweet rose and alongside the Oud, allowing him to express a completely different facet, to the dangerous beauty. Top notes include saffron, coriander and geranium, with notes of heart, osmanthus, rose and Oud and, in the background, notes of leather, musk and vanilla.

Ramón Monegal is not a perfumer whose name appears on all pages of a magazine. He is an artist who creates perfumes as works of love. The work of his life is contained in each bottle-shaped inkwell.

To know more: ramónmonegal.com