How to grow your garden

On a beautiful day in June, two photographers, a mannequin of treasures of jewelry and precious clothing, found themselves in a garden full of poetry for a series of pics. I was there, I saw everything. History (almost) true. - Isabelle Cerboneschi
How to cultivate your garden? To begin with, you have to have a garden, as beautiful as a poem by John Keats, planted with flowers that seem to be there, by chance, but in reality not at all.
Flowers of a light blue like the wings of a dragonfly, and others of a rose a little more supported, as if the petals had been raised in watercolor, some fruits too, red currants well color fresh blood, greenery, boxwood, but not too much, otherwise it is French-style garden, much too ordered to be poetic.
Then you have to think of your wardrobe to garden in beauty: choose only dresses that have already lived, a life, two lives, whatever. Clothes inhabited. To draw on this in the collection of a clothing enthusiast vintage: Marisa Pena.
For example, choose a Christian Dior 70 gold-and-silver Miss Dior lamé dress that goes very well with golden pruning shears. A Nina Ricci sewing set in silk gasar, in two shades of blue to remind those of the sky that day, and ruffles on the arms, which move in the breeze while the water of the watering cane is let out.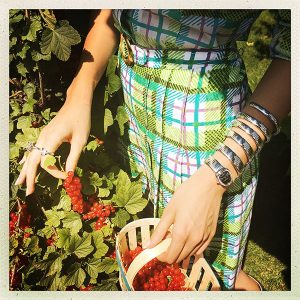 It takes a light pink Courrèges dress, the shade of roses that we will cut to make a bouquet. Then it's time to leave the shades and slicing: choose an embroidered turquoise silk dress to harvest carrots and a Scottish set to pick the currants.
Finally, we must not forget to dress to go out and honor this beautiful and fragile nature. Diving his hand in the treasure chest: coming out of the bracelets Love et Cactus de Cartier, precious animals - butterfly and geckos - designed by Chopard, a Chanel cuff set with diamonds in the shape of Camellia and its matching ring, bracelets Possession of Piaget of all colors and a wristwatch Serpenti Tubogas in steel signed Bulgari who plays the role of the snake of this Eden Geneva.
Finally the various protagonists of this country skit can enter the scene: in the role of the gardener, the beautiful Mathilde de Square Agency, preceded by the scenographers, magicians and image captors of this particular day: the photographers Aimée Hoving et Marc Amiguet.
And when the sun finally fell on the horizon, that the jewels resumed their place in their respective coffers, that everyone left, the roses that had held their breath, wisely, for a whole day, shook their petals , got back to moving in the evening wind, exhaling their scent egoistically for themselves. The bees stalked, the Earth continued to spin and everyone went home, like a treasure in his chest.
NOTES:
Marisa Pena, Flair No3 store, Rue John Grasset 3, 1205 Geneva tel. 41765667307 +