F.P. Journe's FFC BLUE inspired by F.F. Coppola sold for 4.5 million at Only Watch!
For the 2021 edition of Only Watch, master watchmaker François-Paul Journe has offered Only Watch the prototype of a watch whose idea was inspired by Francis Ford Coppola. This timepiece indicates the time with an automaton hand inspired by an iron prosthesis invented by the 16th century surgeon Ambroise Paré. Estimated at between CHF 300,000 and 400,000, it was sold for 4.5 million on 6 November 2021. And that is worth all the watchmaking prizes in the eyes of François-Paul Journe. Isabelle Cerboneschi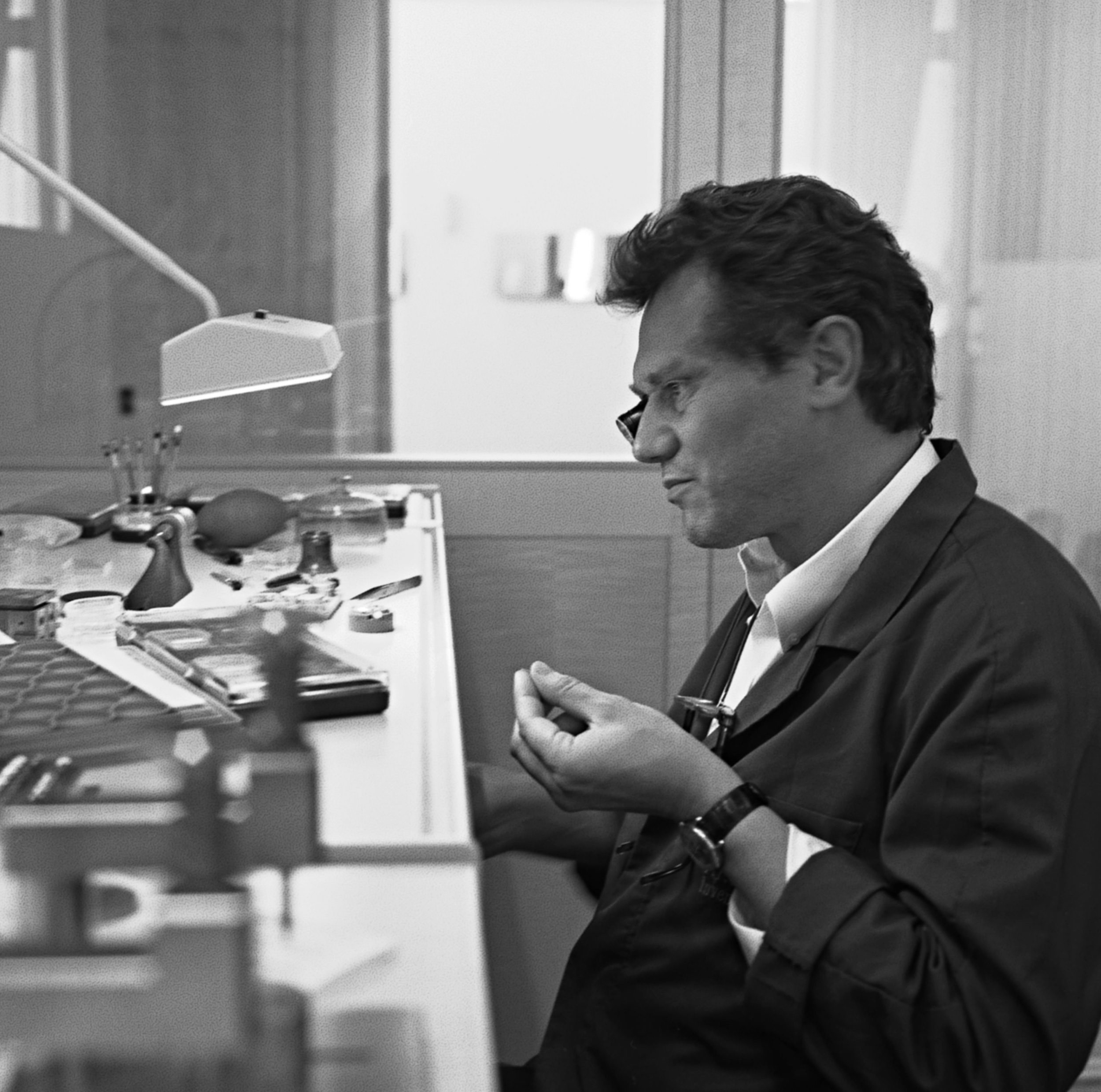 No one expected François-Paul Journe to be in the field of automata, and the discovery of the watch created for the Only Watch auction held on 6 November 2021 leaves one speechless. By way of hour hands, an automaton hand in blue titanium inspired by the first artificial iron hand created by Ambroise Paré, the famous 16th century surgeon, indicates the instantaneous hours, while a disc gives the minutes. Estimated at between CHF 300,000 and 400,000, it was sold for CHF 4.5 million on 6 November 2021. And that is worth all the watchmaking prices in the eyes of François-Paul Journe.
The system for indicating the hours is simple when you understand that the thumb is binary: depending on its position, it can mean 0 or 1. The master pondered the enigma for a long time before discovering how to indicate twelve hours with only five fingers.
The automaton, driven by the 1300.3 calibre of the Octa model which is celebrating its 20th anniversary this year, works with a system of cams that activate levers: one per finger. The difficulty of this piece lies in the fact that the cams must be sufficiently powerful to obtain an instantaneous movement. The secret? An auxiliary spring that winds up in 45 minutes and delivers all the energy every hour. The power reserve of this exceptional timepiece is 140 hours.
"It is an extraordinary idea, the result of a moment spent between a watchmaking genius and a film director. Two master minds reunited. It took François-Paul some time to mature, but he never gives up. For years, he has matured the project and has managed to create something exceptional that once again defies the laws of applied creativity. He is creating a magical moment, while at the same time driving the Only Watch project upwards. He is part of an extraordinary momentum", says Luc Pettavino, the founder of Only Watch.
For its 9th edition, Only Watch hosted 53 unique watches. The selling price of each timepiece is like a barometer of the watch market: the true value of the manufactures is revealed, because the customer is king. Under the High Patronage of H.S.H. Prince Albert II of Monaco, the sale takes place every two years, with almost all proceeds going to research to combat Duchenne muscular dystrophy. The 2021 edition will be phenomenal. There is an extraordinary appetite for fine watchmaking. The moment is very favourable: there is a lot of cash flow and the brands have let loose to create exceptional products. I am very confident about the outcome", said Luc Pettavino two days before Only Watch. In fact, the sale raised over CHF 30 million.
INTERVIEW
How did this idea of collaboration with Francis Ford Coppola come about?

François-Paul Journe: François-Paul Journe: I never had the idea to collaborate with him. In 2009 his wife became a client for him and bought a Resonance. He told me that if one day I came to Napa Valley, he would invite me to his place. In 2012, we were doing the Indianapolis 500 with Jean Alesi and I had asked my partner in the United States to find out if Francis Coppola was visible. We stayed at his place for three days and during a dinner in his kitchen, he asked me if I had ever had the idea of making a watch that would indicate the hours with the fingers of the hand. For him, who is a man of culture, it was an old-fashioned way of counting. He told me that if I made it, I would sell two: one to him and one to his partner. I quickly put this idea out of my mind because I immediately saw all the hassles that could be involved (laughs). Then I had time to think about it and I said to myself that it was Coppola after all. I had seen The Godfather in 1973 when I was fifteen, so it's quite something to collaborate with him. I thought about it and for two years I couldn't think of anything. With two hands, you get to ten o'clock, not twelve. Then one morning I woke up and discovered that the thumb was binary: closed, it represented zero, open, it represented one. I called Francis to tell him and four days later he sent me the finger positions I used for the automaton. All I had to do was get to work.
Why did you choose an automatic system that gives the time instantly?

I like instantaneous movements, I don't like slow things. The difficulty was to make an automaton that works with a minimum of force.
Precisely, how does the mechanism of the automaton work?

The movement of the Octa will arm an auxiliary spring which is released every hour to make the automaton move instantly. But it is impossible to add finger springs because there would not be enough force to move.
The design is inspired by the mechanical hand invented by Ambroise Paré, the brilliant surgeon of the 16th century. Why this reference to this invention?
Francis found it on the internet in 2016. In reality, it was another filmmaker who was supposed to draw the hand, Guillermo del Toro, but since he had 4 Oscars (for "The Shape of Water" in 2018, editor's note), he was no longer reachable. I thought it would make more sense to pay tribute to Ambroise Paré's work and to use the historical drawing of his hand as part of Only Watch: at the time surgery was pure research.
Every two years you create a unique model for Only Watch?
The first time I participated was in 2015, and I created the tourbillon in tantalum and blue dial, which made a good price for the time, then I created a split-seconds chronograph, a unique piece. Finally, two years ago, I launched the Astronomic, in a tantalum case with a blue dial. The customer who bought it ordered a normal astronomical watch from me. And then there is this one. I have to finish Francis' model because I have to go to the United States and I would like to bring it to him.
I'm going to give it to him.
The one that will be sold at Only Watch is the prototype. Do you intend to create several copies?
The one that will be sold is the fourth prototype because the others didn't work. Afterwards, I will make others, but not with the blue dial or the tantalum case. They will be in platinum and gold. We will make about ten a year for those who want to buy it. The most difficult thing is to get the watchmakers to make it: they already have a lot to do. In our collection, there are no simple watches. I think it's better to do a little, but more complicated. You can make a good turnover with more expensive pieces. I'd rather make one Grande Sonnerie than 3,000 chronometers.
What does this sale represent for you and all that is achieved through the sales?
I had not participated in Only Watch before 2015. I already had a charity, the the brain institute in Paris (ICM), since 2004 and I think you have to concentrate on a few causes and do it well. One day, I met Luc Pettavino: the brand was ready and I felt it was the right time. I proposed a concept to him: I was going to create a blue tantalum chronograph with a blue dial and all my watches for Only Watch would be in tantalum with a blue dial. I thought that maybe someone would want to make that collection. A collector bought the first two pieces but not the third. But I keep going: like Tom Thumb, I sow seeds everywhere and wait for them to grow. At some point, there will be someone who will want to collect them all. When I do something I always imagine what will happen next.
What model will you create in two years?

I don't know yet. That watch with the automaton, I didn't even know if it would be ready. I had a plan B, but less original. Nobody expected me to do such thing. I had already created some automaton for musical pocket watches that are now in the collection of the Sultan of Oman, but not for wristwatches. The baptismal name of this piece is Jacques de Vaucanson. He was the greatest manufacturer of automatons reproducing living beings in the late 17th and early 18th centuries.
Will you create one for yourself?

No, I don't have my own watch. I wear the ones from the house. I hope to wear a demonstration model and then it will go into the historical collection.
The Only Watch sale orchestrated by CHRISTIE'S takes place on 6 November at 2pm, at Palexpo, Route François-Peyrot 30 CH-1218 Grand-Saconnex

Article modified on 8 November 2021