"I wanted to open a new chapter, as if I had freed myself"
The Haute Couture week will start in Paris on July 4th. An opportunity to look back at the sculptural collection that Stéphane Rolland has designed for spring-summer 2022. Isabelle Cerboneschi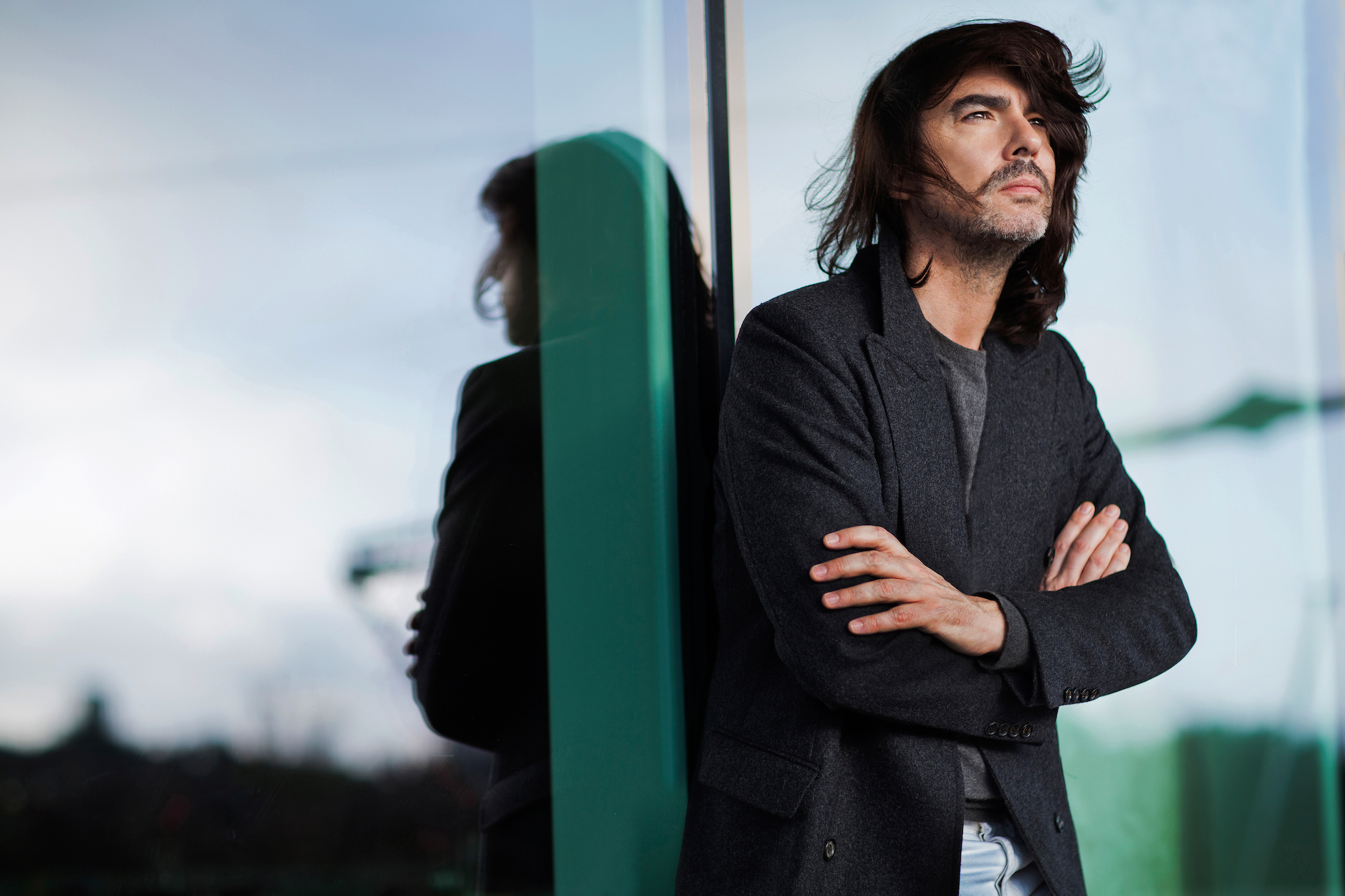 The couturier presented his spring-summer 2022 haute couture collection in Paris in the middle of the Omicron wave. A challenge. If the period was heavy, his clothes seemed to have lightened up and become more fluid. As if Stéphane Rolland, who had accustomed us to more constructed architectural forms, had let something softer and more tender emanate from him. A form of inner liberation that expresses itself through his clothes.
In a long interview conducted by Zoom, Covid obliges, he went back over his career, which began in 1986 at Balenciaga, where he was appointed artistic director for men at the age of 21. Eleven years later, he was head of design at Jean-Louis Scherrer and in 2007, he launched his own brand. Since December 2008, he has had the legally protected designation of haute couture.
Stéphane Rolland's style is unmistakable, with a sense of cut, materials and space that are his signature. For spring-summer 2022, he has imagined voluptuous volumes adorned with oversized jewels set with glass stones. An enchantment.
INTERVIEW
Organising a fashion show in the middle of the Omicron wave must have been a challenge.
Stéphane Rolland : It was pure masochism! But we also do this job to offer pleasure. I'm lucky to have Pierre Martinez at my side, who has accompanied me in my career and who co-directs the company with me. He is as much a businessman as a stylist and the development of a fashion show is a four-way process. Above all, we wanted to generate emotion and the fact that we were organising the finale on La Traviata brought an additional dramaturgy.
You created the Balenciaga men's collections when you were 20 years old and even if you created very different collections for Jean Louis Scherrer during 10 years, we find in your collections this concern for the purity of the line. Was Cristobal Balenciaga your mentor?
I don't know if he is a master thinker, but sometimes you feel connected to one artist rather than another and his language spoke to me straight away. I felt very close to him, even though it may seem presumptuous when you are young and discovering Balenciaga's work. When I looked at his dresses, it was everything I liked: this roundness, this beauty, this arching, the whole architecture around the garment. I wanted to understand why. There was a certain Iberian rigour in him: the interior of his house in Spain was like a convent, with whitewashed walls, figures of Christ in one corner, large solid wood furniture. And at the same time he had a kind of fantasy and madness that made him a personality apart. Strangely enough, I dove in. I felt a total connection. I was madly attracted to Yves Saint Laurent's collections. I found the way he expressed himself sublime. And I was just as fascinated by the audacity, the modernity, of Pierre Cardin, by the freedom of expression of Coco Chanel in her heyday. But Balenciaga was something else. His way of apprehending movement and space is unique. And that is why so many designers have been attracted to his expression. Saint Laurent, Gabrielle Chanel, Hubert de Givenchy, Ungaro, everyone has been imbued with the spirit of Cristobal Balenciaga. I'm on the list because it looked like me.
You use gazar a lot, this sculptural fabric invented for Balenciaga in 1958. It is very much in evidence in the spring summer collection. What does it help you to express?
Gazar is like a wild horse: you have to know how to tame it, and to tame it, you have to understand it, feel it. Once you have done that, it will give you great freedom. You just have to know its faults: when you stroke a gazar, you realise that it is as rebellious as it is generous. It can push you to an opulence you didn't expect. Gazar allows a lively, unique and special expression. It is my favourite material. But you can't make it do just anything. There are cuts and shapes that don't suit it. What I like is its sensuality, its roundness, its generosity and its expressiveness. When I want to achieve a 3D creation, a certain sculptural strength, I turn to gazar. For a few looks in the collection, I used a very thick wool gazar, but it gives a bit of a papal shape. When you have expert hands to cut it, seeing the garment arrive generates an intense emotion.
Since the launch of your brand, you have accustomed us to very sculptural, even architectural, couture. And for spring-summer 2022, you have created a series of very supple caftans. What do you express through this new fluidity?
My caftans, inspired by the Saudi djellabas, are very architectural: they are only square shapes, but cut in supple materials. One feels at the same time the generosity of the movement, the width, the richness of the materials and the simplicity, the rigour of the cut which has the right proportion, the right balance, the right length, sometimes excessive. It's the fact of amalgamating everything that gives these caftans a certain fluidity. But I agree with you: it's a collection that I worked on in lightness, transparency. I wanted to open a new chapter, to lead women towards what they were not used to seeing from me: more transparency, sensuality, as if I had freed myself. I took advantage of this liberation, which took place in my head, to make women benefit from it and to accompany them to more lightness and softness.
Tell us about this sculptural dress.
The idea was to take a block of alabaster, carve it, make a modern sculpture out of it and make it light as whipped cream. At the same time, the movement had to be pretty, the structure had to be very light, it had to be perfectly wearable. These rock dresses were the first to be sold.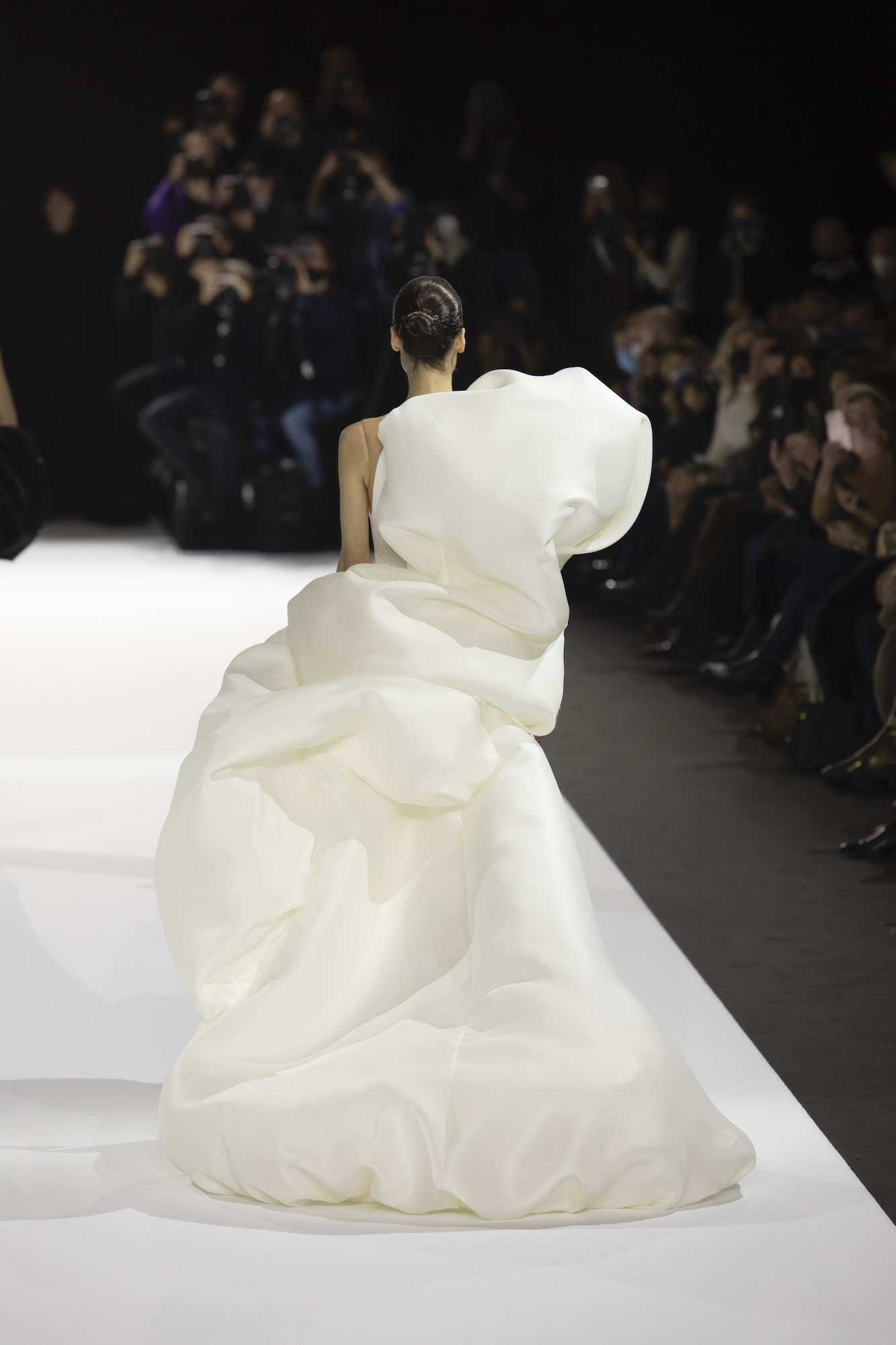 You have paid tribute to the work of the artist Viani. We find in your creations the gesture of this painter with a concern for line and curves. What inspires you in his work?
I love this artist. His art looks simple but it is not at all. When I saw him painting, barefoot, giving his big brushstrokes, I recognized myself in this freedom of movement and mastery. That's how I draw. In his work there is a balance, a strength, a rigour, an Iberian darkness too. This purity that we find in his work is my way of seeing fashion.
With each collection you highlight an art form. And this season, it was the turn of master glassmaker Théophile Caille and his gemstone-coloured glass ornaments. What did you want to express through this very special work?
I had never accessorised my collections so much and rarely did jewellery accompany my dresses. I thought I would take the opportunity to do so this season. In contrast to these steamy dresses, I wanted to make rings and necklaces with giant precious stones. I asked Théophile if he was technically capable of making glass blocks that were not heavy and that reproduced emeralds, citrines and aquamarines. It was not easy: we had to go through the Murano workshops, which delivered extremely late. Once I had received my blocks of glass of each colour, I was able to give them to Théophile so that he could use them to blow the pebbles. These were then passed on to other hands for cutting and then to a jeweller for the metal fitting. These large blocks of crystal were used to break the line and bring a form of fantasy.
How would you define your aesthetic quest?
For me, a straight black velvet sheath with a beautiful accessory is enough for a woman to be extremely elegant. But I work in creation, with a team behind me and I have to go further. I'm currently on a quest for fulfilment and I'm less self-conscious than before. I am perhaps more open than I used to be, more liberated, and above all, I ask myself a little less of these questions that put up barriers.