A night under the stars at 24 Faubourg
When a watch, the Slim d'Hermès Minuit au Faubourg, is the inspiration for a story, even though it plays a secondary role, the result looks like this… Isabelle Cerboneschi
They hold hands as they enter the place they loved in their former lives, before love caught them by surprise, beautifully and without damage. Before a feeling much greater than themselves took their hearts, in a café, on a rainy day, like in those chick lit books that neither of them have ever read.
They met on August 12, 2021, under a grey Parisian sky. They were leaving the Palais Royal-Musée du Louvre metro station. They had both chosen to pass under the well-named Kiosque des Noctambules. They had always been amused by these gigantic necklaces set with glass beads, created by the artist Jean-Michel Othoniel. Except that as soon as they reached the surface, a shower rinsed them off in a few seconds. They both took refuge in the café Nemours, laughing out loud like kids after big mischief. Salome's long black hair stuck to her face like seaweed. As for Paul, he looked like Colin Firth in Pride and Prejudice, with his soaked white shirt moulding his chest.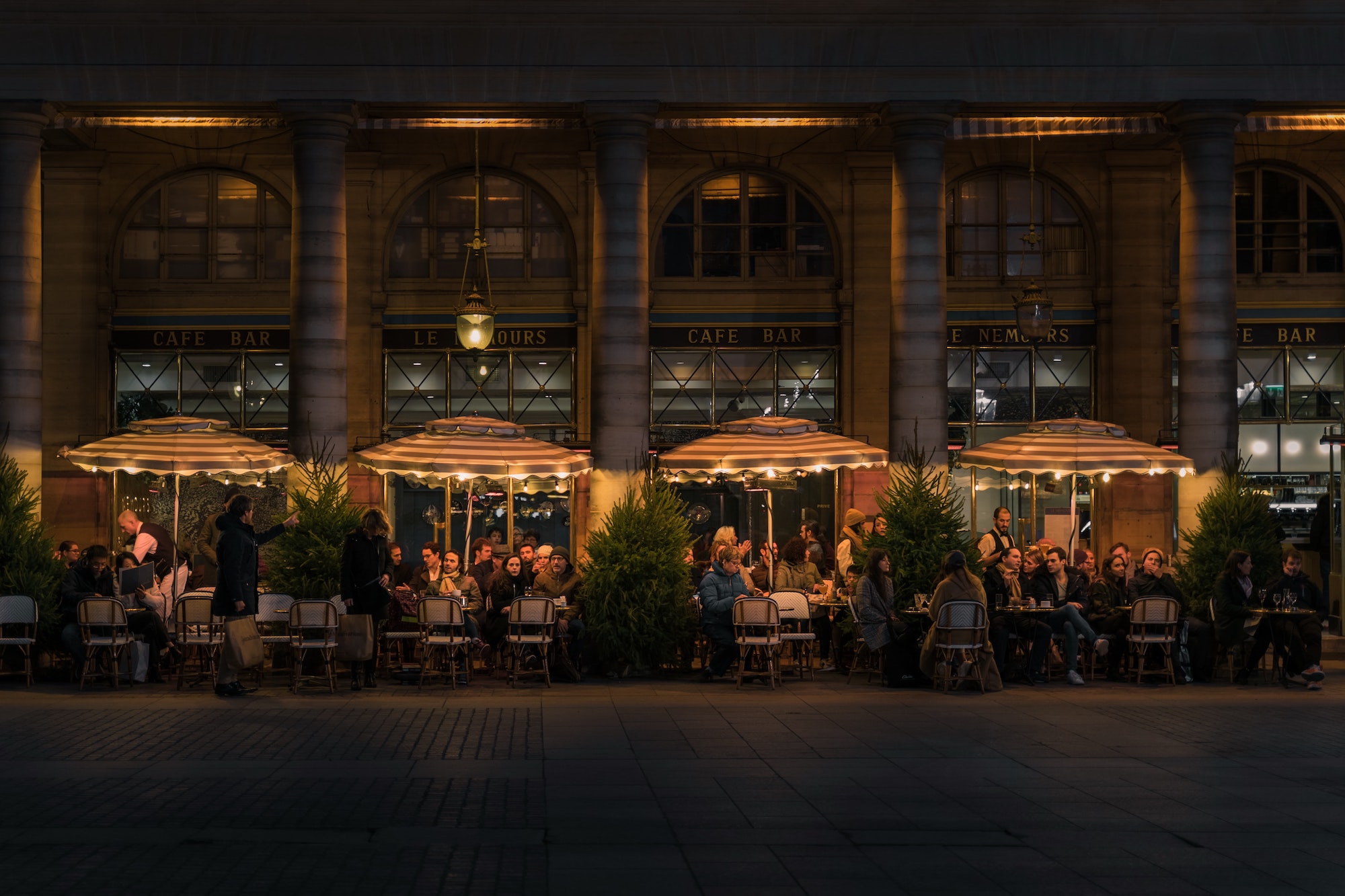 They chose to soak one table only and began to tell each other their stories, in broad strokes, because their daily lives had been unromantic until then. Paul quickly moved on from the data protection company he had set up to talk more about his favourite subject: Jules, his son, whom he had alternated custody of. He had avoided saying anything bad about his ex. Salomé liked this form of elegance. She didn't ask about the reasons for their separation: it was of little importance. She told him about her passion, drawing, which she had managed to make her profession, after spending a childhood filling notebooks with imaginary characters and animals. She did not, however, tell him about the few one-night stands that had filled her nights and her pretty three-room apartment on rue Sainte-Foy since she had separated from the man who should have been the father of her children. A man who had left her precisely because she couldn't have any.
As he listened to her, Paul took her hand and never let it go again. Within an hour, these two had found each other like the last two pieces of a thousand pieces puzzle. They had a life to live together, they knew it, and they had every intention of turning it into a novel worth writing with two hearts and four hands. It was all the rain's fault. "Rainy love, happy love", they said to each other as they left the café.
One year after their meeting, they decided to celebrate their story in their own way. There was one place in Paris that had always fascinated them: the Hermès boutique at 24 Faubourg Saint Honoré, which has existed since 1880. Over the past year, as they told each other about their lives in bits and pieces, they had discovered something not very common. When they were children, they forced their respective parents to make it to the 8th arrondissement to admire the Hermès shop windows. In front of these enchanted universes created by a woman called Leïla Menchari, they invented prodigious adventures. This boutique was like a tale written, not with words, but with objects and colours, a portal that took them to other worlds: an imaginary India, a dreamed Egypt, a reinvented oriental bazaar, an enchanted forest,…
It was thanks to these windows that Salomé had chosen to become an illustrator. She wanted to bring beauty into people's lives. She drew the illustrations for many children's stories, she took part in a few exhibitions which earned her praise in magazines and all this led her to Hermès, for whom she drew patterns intended to become silk scarves. This was one of her greatest prides.
When it came to finding an idea to celebrate that famous day when love and the sky fell on their heads, they had the same idea: why not spend this symbolic night under the stars, on the terrace of the Hermès boutique? This suspended garden on a roof, in the middle of Paris, is a shelter from the world and time.
When she first discovered it, visiting the place during her first mandate, Salomé thought that a mischievous spirit had suspended a house from a hot-air balloon and put it up there, guarded by a stone rider, the figurehead of this flagship shop. With its mown lawn, its rosebushes, its fruit trees, this place was the perfect cocoon to relive the memory of their first kiss. Bivouacking under the stars at 24 Faubourg was the idea. And as it was the night of 12 August, they would no doubt see the Perseids pass by.
What they did to find themselves alone on this enchanted roof will remain a closely guarded secret. The only condition imposed on them was that they had to spend the whole night there. At dawn, they would be picked up. Just before passing their night under the stars, they had the privilege of visiting the secret museum on the second floor of the shop. As soon as they entered, they felt themselves thrown into an imaginary world. Trunks stood alongside boxes of secrets, saddles from Kirghizia set with amber and lapis lazuli, a miniature phaeton, postilion hats, slippers to protect horses' hooves, a case for an apple and even the imperial prince's tricycle. Although fiercely republican, Paul had taken a liking to this unusual three-wheeled horse.
In reality, this timeless place is none other than the Émile Hermès cabinet of curiosities, under the care of Ménéhould de Bazelaire, the director of the house's cultural heritage, but that evening, the lovers had chosen to leave reality at the door. Until the next day.
When they laid down on a large orange plaid, it was 11.55 am on the dial of the Hermès Slim Minuit au 24 Faubourg watch that Salomé had received from Paul as a gift that day. A way of celebrating a year of mad, sweet love. They held hands and looked up at the sky and five minutes later, shooting stars chose to streak the sky. Paul then turned to his lover and asked, "Shall we make a wish?" As if it were necessary…