The secrets of a success story
Valérie Messika launched her brand in 2005 because she couldn't find any jewellery she liked on the market. With her rings and bracelets designed as fashion accessories, she has won over Beyoncé, millennials, and a whole tribe of women. Last July, she launched a high jewellery collection with a set created around a family of diamonds all from a 110-carat rough. How did she get there? Isabelle Cerboneschi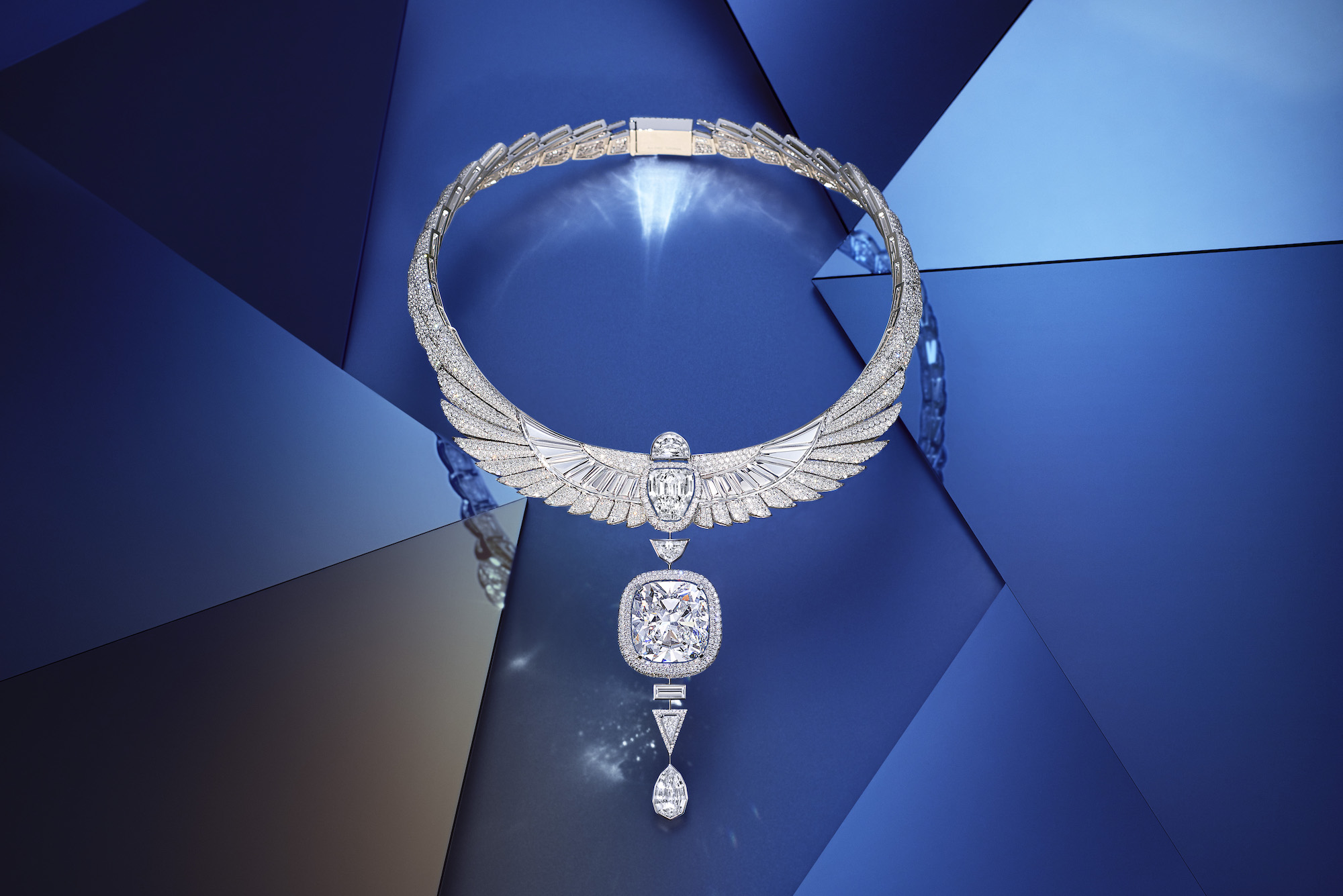 Valérie Messika was born into the world of precious stones: her father, André Messika, a great diamond dealer, introduced her to diamonds at a very early age: like a child's game, he helped her sharpen her eye.
After studying communication at the Celsa Sorbonne in Paris, Valérie Messika did a replacement in the marketing department of the watch and jewellery section of Chanel. It was 1999, a century was coming to an end and a career in the world of luxury and beauty could very well have opened up before her. But this was without the power of filiation. Her father, a well-known actor in the diamond trade since 1972, wanted his daughter to be with him in order to prepare for the future. Valérie Messika did not say no and discovered the world of diamonds in the best way possible: with a master.
In 2003, her father left for Israel to develop his profession and become a sightholder*. This is the moment that Valérie Messika chose to design jewellery, by positioning herself where there was no other house at the time. She did not aspire to become a new Tati Or, or even try to enter the very closed circle of the great jewellers: she wanted to create jewellery that was rock'n roll, to her taste, that could accompany women day and night and at accessible prices. In 2005, she launched the brand that bears her name: Messika.
Last July, Valérie Messika presented "Beyond the Light" in Paris, a high jewellery collection inspired by ancient Egypt and featuring exceptional diamonds. The centrepiece is a set called Akh-Ba-Ka, created with a family of 15 diamonds, all from a 110-carat rough called Tender Diamond. One of them, a magnificent 33-carat stone, adorns the necklace, which is a reinterpretation of the mythical Egyptian winged scarab.
The rough diamond, which was discovered in Botswana at the Karowe mine owned by the Lucara Diamond mining company, was purchased just before the 2020 lockdown by Ilan Messika, one of Valérie Messika's brothers, for their father's company. When her brother presented her with this extraordinary family of 15 gems, she decided to acquire the set. "I wanted to challenge myself by using all 15 diamonds in one set. It is a real challenge of high jewellery. Not all the stones were the same size: some were very original with more fanciful shapes that were quite surprising. But sometimes the most beautiful creations are born from the unexpected," she explains.
This jewellery brand, which no one expected when it was launched in 2005, has succeeded in making a place for itself in the very closed world of high jewellery. But how did it get there? A look back at a success story.
INTERVIEW
Your father is a well-known diamond dealer. You probably develop a less 'dramatic' relationship with diamonds when they are your playground?
Valérie Messika : It's still very emotional, but it's much less sacred: it's more playful. My attraction to diamonds is a filial bond. It's a little girl's view of a very charismatic father who was passionate about his work. I used to follow him to his offices and, as I was getting bored, he would put me in a corner with diamonds on the table and ask me to sort out the best and the least beautiful stones. I would put diamonds on my fingers and imagine that they could become a ring. When I created jewellery, I kept making the setting disappear and letting the diamond appear on the skin of women, like a tattoo, as if the stone was flying. The first ten years of a child's life leave a lasting impression…
As a child, could you already distinguish a good quality diamond from others?
Yes, I looked at so many diamonds with a magnifying glass that I became obsessed with the details.
You could have continued the family business. What led you to create your own brand in 2005?
I studied communication at the Celsa Sorbonne in Paris (École des hautes études en sciences de l'information et de la communication, editor's note) and I wanted to work in an advertising agency. When I was little I loved watching the Culture Pub programme on the television: I was always fascinated by the power of a logo, the storytelling of brands, the positioning of a slogan, and I was sure that I would work in this field. But as I was my father's eldest daughter, and just after me, I have a disabled brother, I felt the weight of the succession on my shoulders. My father asked me for a year of my life to find out about his business. We travelled the world, we went to India, to Antwerp, we met his clients in the Place Vendôme, the banks, the employees. I followed this passionate and expert entrepreneur until one day, two years later, he explained to me that the diamond business was changing and that if he wanted to survive in this business, he had to move up the diamond chain and go to Israel, which had become one of the largest diamond exchanges.
Then you had the idea of creating a brand that bears your name?
At the time, I thought diamond jewellery was a bit dusty: when my friends talked to me about diamonds, it was to show me their engagement ring. Having studied marketing and communication, I thought there was room for a new, young, cool jewellery brand that would almost be a competitor to the fashion brands with prices between 500 and 5000 euros. The idea was to make a beautiful diamond ring for the price of an accessory and to fill the niche of the easy-to-wear diamond that a woman could afford like a beautiful handbag. My father encouraged me, knowing that I could not have grown up in his shadow. When he left, he set me free. I started without knowing anything about jewellery and setting techniques and this innocence allowed me to push the technical limits, changing proportions and balances, as I did with my shape memory bracelets.
Did you create Messika because you couldn't find a piece of jewellery that suited your state of mind?
I couldn't find anything I really liked, but you could feel a change. Lorenz Bäumer, who designed for Chanel, was creating much more daring jewellery than I was used to seeing. I also loved Victoire de Castellane's designs for Dior. Her world was enchanting and her speech interesting. Tati Or had just set up shop on rue de la Paix, and the Manège à Bijoux was coming to Leclerc. Something was happening in the field and people were talking about it.
Since you started, you chose to work only with diamonds, until 2020 when you introduced colour. Why did you do that?
I introduced colour to replace gold with hard stones such as malachite, onyx, turquoise… I started working with these materials before the lockdown and I released the collection afterwards. These are talismanic jewels where each stone conveys a message: "Be authentic", "Be passionnate", "Be unique". We also had women fill in a questionnaire to see which stone would suit them best. It was a very joyful approach after a grim period.
The Move bracelet, with its mini gold rail where a diamond comes and goes, is your iconic piece. How did you come up with this idea?
Initially, I created a bracelet like a cage with three diamonds. Then I made them move. Then I changed the number of diamonds. I had fun changing it over the years.
You worked at Chanel in the watch and jewellery department in 1999. What did you get out of it?
Working in a house with a soul and a strong history taught me a lot. When I was young, we used to talk a lot about Gabrielle Chanel, her flat at 31 rue Cambon, her suite at the Ritz, her tastes, her objects and her symbolic figures, all this storytelling about a woman who was disruptive in her time. I told myself that if one day I created a brand, I would like a strong message to support it. I was lucky because this message was written naturally through my father's story: I have never stopped defending this positioning around diamonds, this expertise, this transmission. I create in order to make women more beautiful, a little more confident, and to talk about jewellery as a sparkle and not as a tool of power. A jewel is not a logo. Messika is a little extra light that accompanies you. I am lucky enough to be able to dress very versatile women with very different styles, tastes and ages. I make timeless jewellery that pays tribute to the diamond and to the beauty of women.
Speaking of diamonds, do you buy them from your father?
And your company is family-owned?
Have you been approached to sell your company?
Yes, many times. I'm not saying that one day I won't bring in a minority investor in the company for a maximum of 20 or 25%. That will have a boosting effect. But I will certainly not sell my brand to a large group: that would be a betrayal.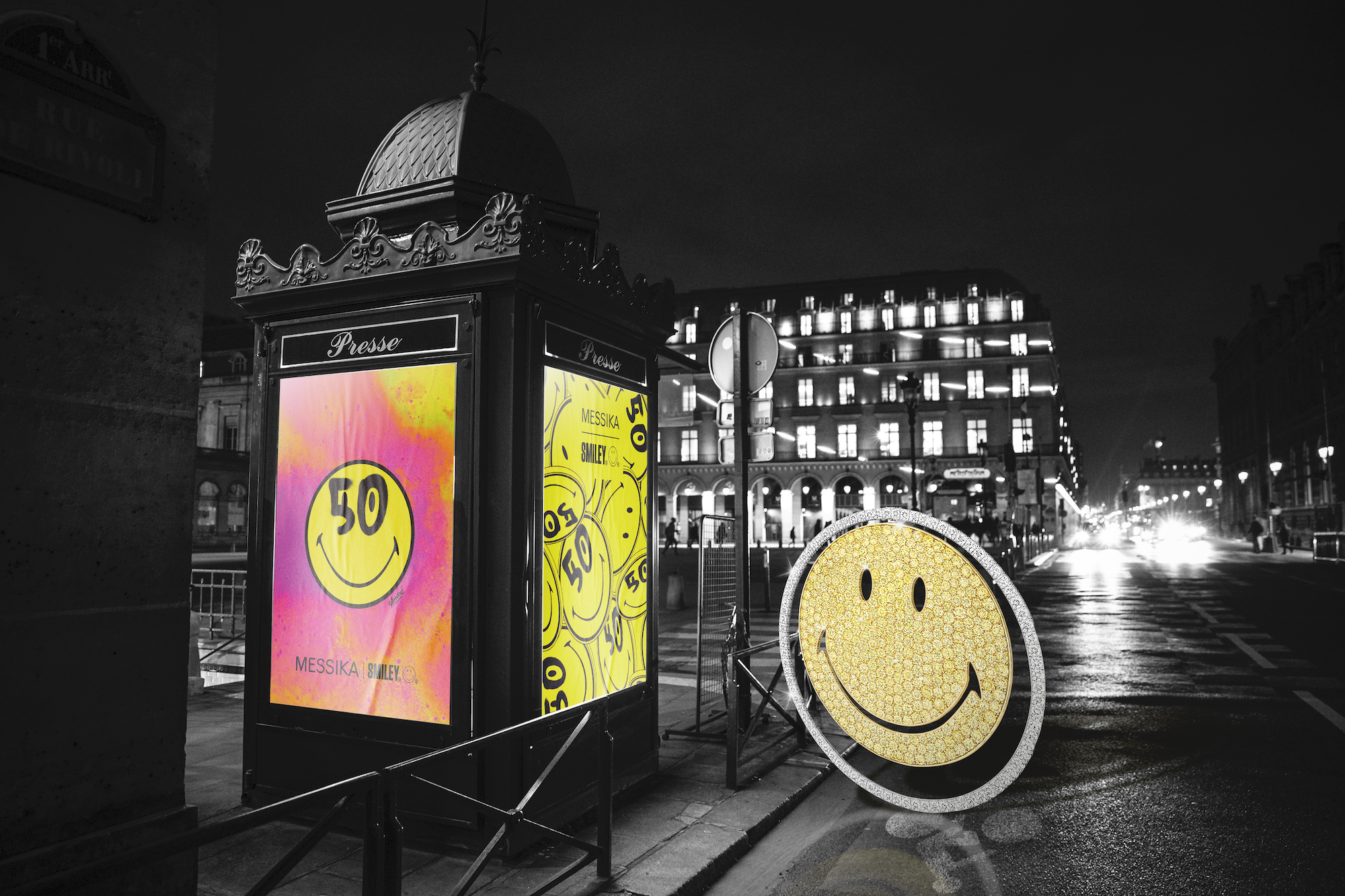 You have a dedicated workshop in Paris, but it probably can't create all your production. Like most brands in the Place Vendôme, you certainly work with independent workshops. Where are they based?
We work with workshops in Besançon, Italy, Portugal, a workshop in India and that's it. But all the prototyping and high jewellery is done in our workshop in Paris. We would not have been able to grow so fast if I had not been surrounded by incredible people who allowed me to have a solid production tool that could follow our evolution.
In 2013, you launched your first high jewellery line. We could no longer talk about everyday wearable jewellery. Was this a natural evolution of your brand?
Yes, but I was nervous. I didn't start with fine jewellery because it was intimidating. When the brand started to have legitimacy, I thought I had access to incredible pieces thanks to my father: so why not try my hand at it? When my second daughter was born, I had just opened my boutique on the rue Saint-Honoré: I finally had a temple to express the full extent of my collections and I decided to create a high jewellery workshop. My father used to send me stones and I no longer created from drawings but composed from the gems.
Nowadays you can't create jewellery without taking into account sustainability and ethics. Do you intend to participate in the Watch & Jewellery 2030 initiative launched by the Richemont and Kering groups?
I would love to. It is essential to think along these lines. I am a mother of two little girls, the world has changed, there is a before and after Covid. I am aware that as a brand I have responsibilities and duties, but this must also be done by the teams. We are already doing the minimum, but the idea is to go much further: to master the issue of 100% traceability, for example. I can't say that I have achieved this goal, but I am working on it. I think that this industry is more responsible in terms of CSR (Corporate Social Responsibility, editor's note) than the clothing world. A piece of jewellery is transformable, polishable, it is transferable, it does not lose its value, the price of diamonds is rising, jewellery is not a disposable consumer good and the mines are more and more controlled…
How do you explain the popularity of your jewellery among millennials?
I don't like to talk in terms of segmentation but your question is interesting because they have participated in Messika's success and allowed it to blossom in this so traditional and closed jewellery environment. We spoke to this new generation who were not jewellery consumers. Ours were quite modern, pure, our offer was accessible and the tone of our communication was in line with fashion codes. All these factors made us attract this population. I was young at the time, I was 29, and I wanted to create cool jewellery that I wanted to wear. It just happened naturally.
According to Forbes, Beyoncé saw your Glam'Azone ring covering two knuckles in one of the windows of the Royal Monceau Hotel where she was staying and you gave it to her. It was a gesture that went down well. Can you say more about it?
I can't say I'm successful only because I'm talented: I'm successful because I have a little bit of talent, because I arrived at the right time and also because the planets aligned. Beyoncé moved to Paris with JayZ at the Royal Monceau in 2015. I heard from her stylist that she saw my ring and fell in love with it. At first I thought it was a joke. Then I decided to give it to her, taking the risk that it was a scam. I didn't have much to lose, and at best I hoped that one day I would get a picture of her with the ring. A few days later, people sent me pictures from Beyoncé's Instagram account showing her fingers with a piece of the ring in front of the Mona Lisa in the Louvre. She didn't tag Messika, obviously, that would have been free publicity, but I decided to send a press release saying that Beyoncé liked a French jewellery brand called Messika that she was going to visit the Louvre with her ring. The news immediately went around the world and it gave me publicity with the designers in Los Angeles where she has such influence. And one thing led to another and we got a lot of new celebrities.
In the video for Beyoncé and Jay-Z's song Apeshit, which was filmed at the Louvre, she is seen wearing your Persian Drops diamond set. How did it go?
It was crazy! I already had a pretty strong relationship with Beyoncé's team when I was asked to lend her the set, but on one condition: that it was without a bodyguard. I didn't know they were going to shoot a video with it: it was done in the greatest secrecy. I only knew that the set was to be delivered to the Georges V hotel. I called my father, not knowing what to do, and he told me that I should trust her and that he was my insurer. The next day I picked up the set at lunchtime, everything went well, and the stylist told me I was in for a great surprise. One Sunday morning I discovered this picture of Beyoncé in a pink suit with my earrings, necklace and Mona Lisa behind her. Just like the first picture she posted with the ring. I would have wanted to write a screenplay, I wouldn't have dared to do something so bold! Beyoncé is so powerful that she could have chosen any brand. It was a huge gift. These are things you can't control: you get lucky and you thank your lucky stars.
* A Sightholder is a trader who can buy a batch of diamonds from the big mining companies 'on sight'. This is a privilege reserved for the most experienced and wealthy traders. Sightholders then offer these diamonds to potential buyers or brokers.