Hear me roar !
A tyrannosaurus growls on a 48mm Arceau Pocket Hermès watch, driven by a minute repeater and tourbillon movement. The T-Rex is made of a leather micro-mosaic, a craft invented in the workshops of Hermès Horloger in Bienne. It contains more than 2000 small squares of different colors. This model was created for the Watches and Wonders virtual show. Enchanted visit of the workshops. Isabelle Cerboneschi
Its name is Aaaaargh! This watch is called Aaaaargh!…
There is only one company in the world that can afford the luxury of naming a timepiece with a cartoon onomatopoeia and that company is Hermès.
It takes a great sense of humor to decorate the cover of a fine pocket watch with the profile of a grumpy tyrannosaurus. This famous T-Rex invited itself into the Hermès watch collections in 2020 and it returns in 2021, but in different colors. A unique piece presented during the Watches and Wonders virtual show. This prehistoric animal, which adorns the Arceau pocket watch, doesn't look like the ones you might come across in a natural history museum. It looks at us with its big bad lizard eye, its mouth wide open, ready to devour anyone who has the strange idea of passing on its way. It is a phantasmagorical T-Rex, straight out of a child's nightmare, or rather from the mind of the English artist Alice Shirley, who drew it.
This graduate of Central St Martins, London, knows how to play with the unconscious of children and adults. She writes children's books and has illustrated Aesop's fables. Hermès has always collaborated with artists to create the wonderful paintings that are the silk scarves. Alice Shirley joined the big family in 2012. She has created wonderful animal scenes including a series with three animals that look like they were caught in action by the wide angle of a camera: there's the Grrrrr! bear, the Awooooo! wolf and the Aaaaargh! T-Rex. "Initially, this motif was used on a cashmere scarf for men, says Philippe Delhotal, creative director at Hermès Horloger. Alice Shirley has a beautiful personality and she has invented an atypical animal world. I often select her designs: they have magnificent colors and presence. A close-up of a tyrannosaurus is very daring! "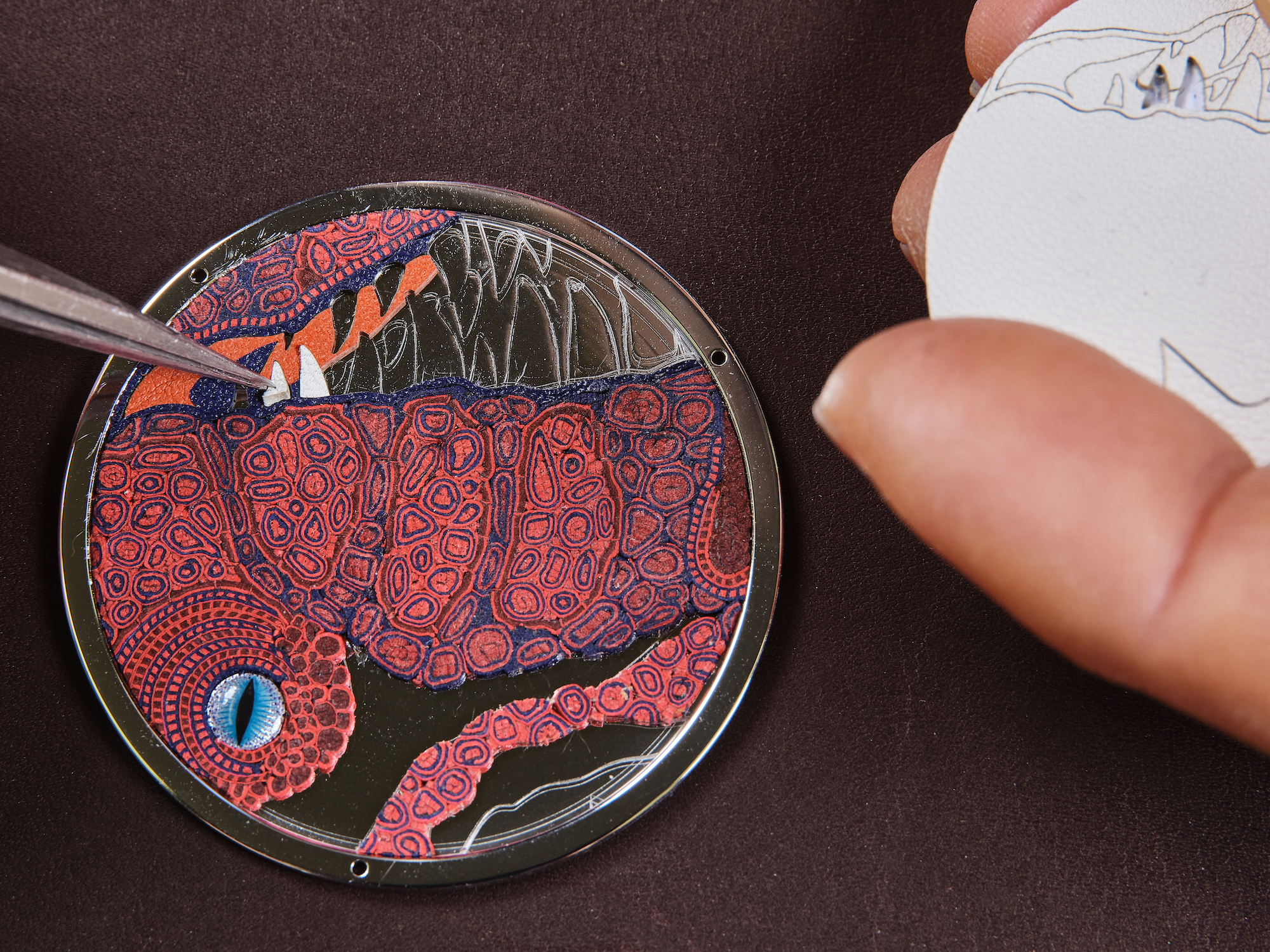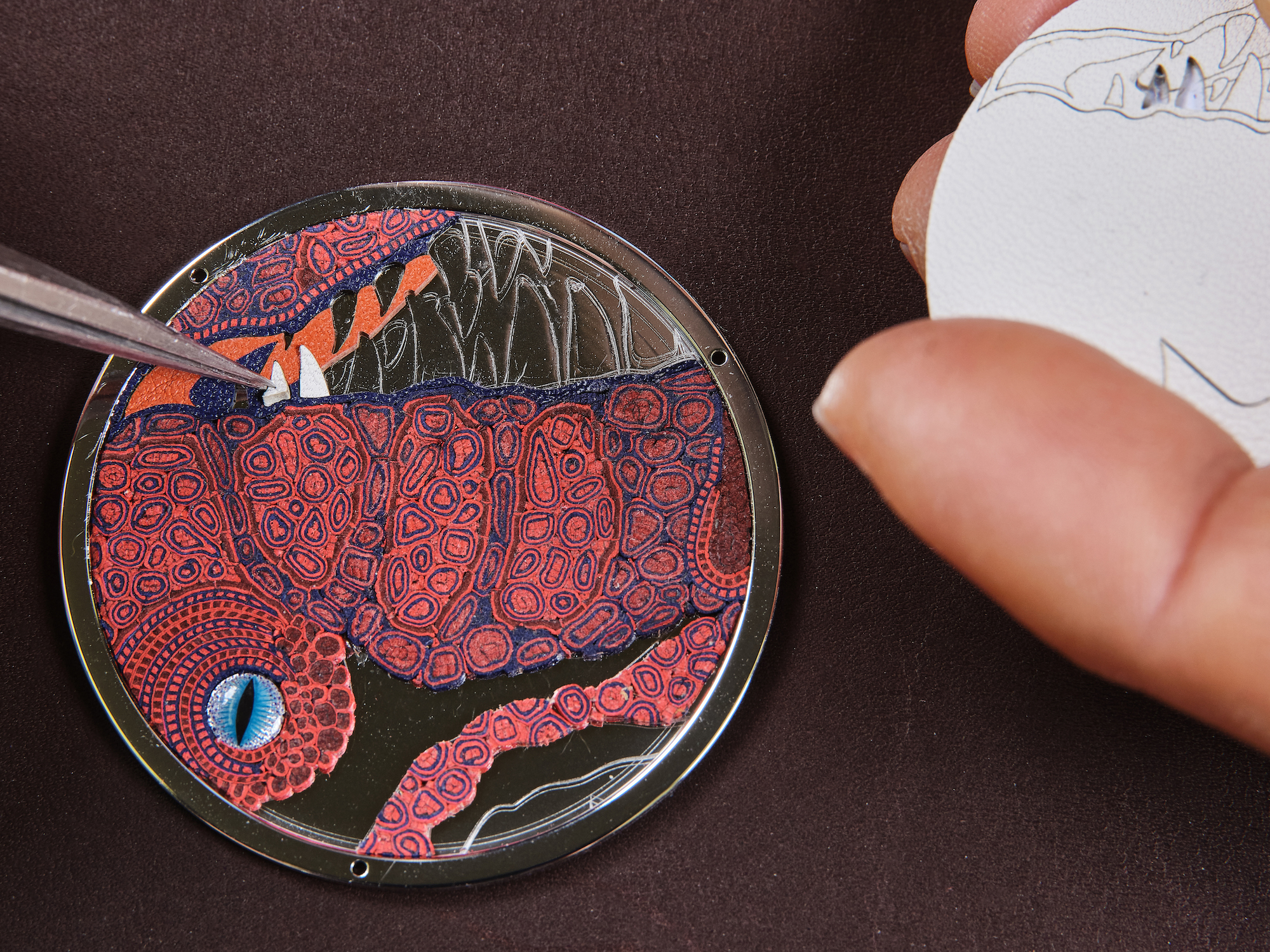 Hermès dares. The company had inaugurated this animal series in 2016 with the bear Grrrrr! painted in enamel on the dial of a Slim watch. In 2019 the Awooooo! wolf left the woods and the workshops in Biel. In 2020 and 2021, it's the T-Rex's turn to make a space-time jump. "We wanted to realize this project with the leather craftsmen and value this workshop. Created in 2008, it is dedicated to production but especially to research and development. Leather mosaic was invented here", says Philippe Delhotal.
Few companies can claim to have invented a new technique in the watchmaking field. Hermès has saddlery know-how that dates back to its creation in 1837. The company is fortunate to work with craftsmen who have such a passion for their work that the word impossible is not a hindrance, but a boost. "We wanted to combine the watchmaking know-how and the craftsmanship of the company," says the creative director.
The model chosen to host this miniature work of art is the Arceau Pocket, a 48mm pocket watch designed by Henri d'Origny in 1978. It is equipped with a H1924 minute repeater and flying tourbillon manufacture movement that was developed with watchmaker Pierre Favre of the Manufacture de Hautes Complications, MHC. "A pocket watch offers a larger surface than other models and has a cover. It makes it easier to express oneself with leather", explains Philippe Delhotal.
The birth of a watch is not a linear process. From the first idea to the final realization, how many trials, disappointments, detours, surprises, discoveries…
The beautiful adventure of Aaaaaarg! begins in Biel, in the leather cellar. When you  follow Isabelle Rivière (head of the leather bracelets workshop) and enter this refrigerated room, you have the feeling of having jumped into an unreal world, a giant painter's palette, but instead of paint, it is skins, all kinds of skins. On orange shelves, pieces of bull, calf, ostrich or alligator from a Louisiana breeding farm are displayed. All the colors of the light spectrum are gathered there. The leathers will be used to make bracelets, pocket watch covers, or boxes. And of course, this precious material is the basis for marquetry and leather micro-mosaics.
"I worked 25 years in the world of bags and, in comparison, watchmaking is the universe of the very small," says Isabelle Rivière. "The watchmaking world is square, hyper rigorous, while the leather world is full of ardor and dust. Normally, they should not be able to work together and yet the collaboration is extraordinary. "
The leather workshop mainly produces custom-made pieces, special orders, à la carte bracelets, and of course, this is a place for improvisation and creation of new techniques.
The magician behind the T-Rex is Elisabeth Chasserot (leather bracelet craftsman). She was the one who created the decoration for the Robe du Soir model, winner of the Métier d'art watch award at the 2018 Geneva Watchmaking Grand Prix. "When I was little," she confides, "I loved to cook and especially to make sweets. We used to make checkerboards out of pink and green marzipan. It inspired me to create leather mosaics." The gifted craftswoman works with few tools: cutters, which allow her to cut very thin strips of material, and a small scalpel. "It is an assembly of several operations that allows me to make these small squares of 0.5 mm that will form the pattern. "
Once she has obtained these micro pieces of leather – she needs more than 2000 to create the face of the T-Rex – she joins them together. A task that requires infinite patience. As for the thick skin of the animal, it is made of scales formed by three layers of leather rolled together. In order to achieve this masterpiece, it was necessary to combine three different crafts: micro mosaic of leather, leather marquetry, which allowed the craftswoman to make the teeth, tongue, lips and forehead, as well as the crest, formed of small scales of alligator, and grand feu enamel has been used for the eye.
"When we receive the indications of the colorists, who mention the precise color of the leathers that we must use, their choices seem obvious, but when we carry out tests, we realize that the Vermillon for example is too flashy, that the Rouge H and the Bleu Encre cancel each other out and that we lose the design of the scales, explains Elisabeth Chasserot. So we need to explore, make multiple attempts to achieve the desired effect. It is a tedious colorimetric research, because empirical."
Watching her work behind her big magnifying glass, while she arranges her itsy-bitsy-mini little squares is striking. We dive into the world of the tiny and the hyper precision. It takes her two weeks of work to prepare the raw material and finish the head of the big tyrant lizard. We should add five years, because Elisabeth Chasserot started developing this technique in 2016. Five years, and 68 million years, to give life to a leather tyrannosaurus…