Caroline Scheufele creates a couture collection in symbiosis with her high jewellery
The co-president and artistic director of Chopard is always where you least expect her. A few days before the closing of the Cannes Film Festival, she presented her first couture collection. An unexpected move for a jeweller. By creating jewellery lines at a time when Chopard was a watchmaking company, by becoming an official partner of the Cannes Festival, by using ethical gold to make the brand more sustainable, she has always taken the world of luxury by storm. Isabelle Cerboneschi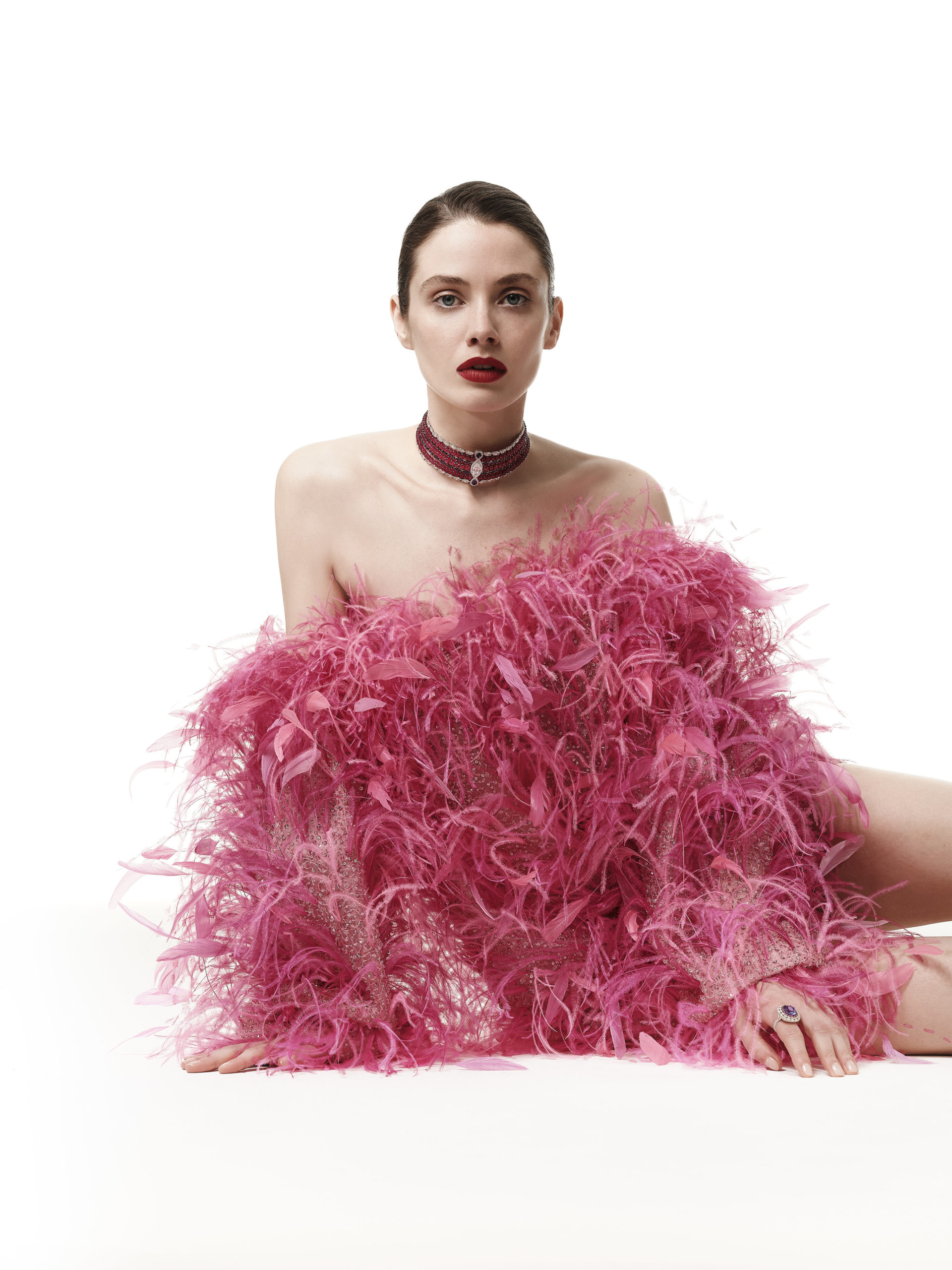 Surprise is one of the driving forces behind Caroline Scheufele, the co-president of Chopard. And just a few days before the closing of the 76th Cannes Film Festival, she surprised everyone with her first couture collection, comprising 50 silhouettes. To wear it, she called on her friends, some of the world's greatest models: Naomi Campbell, Eva Herzigova, Helena Christensen, Natalia Vodianova and Petra Nemcova, to name but a few.
Caroline Scheufele is a fervent fan of couture, and for years I've seen her in the front row of her friend Elie Saab's shows during Paris Fashion Week. The jeweller dreamed of outfits that would be perfect showcases for her jewels. That's what Dior has been doing for the past few seasons, with Maria Grazia Chiuri's creations designed in harmony with the high jewellery collections by Victoire de Castellane. But while we might have expected this from Dior, which is first and foremost a fashion house, no one could have imagined Caroline Scheufele moving in this direction.
"I wanted to create a collection for women who, like me, want to dress in a way that is fully aligned with who they are today", explains Caroline Scheufele. "Women in love with beauty – meaning true beauty, the kind that never goes out of fashion. Pure elegance. Clothes that can be cherished over time, worn in a variety of circumstances and in countless ways, without ever losing their value or relevance. A wardrobe like a jewellery collection, which time makes more and more precious because they are accompanied by slices of life and carry with them experiences, memories and memorable moments. It is this approach to jewellery that I wanted to transpose to clothing."
Having pioneered sustainable fine jewellery by being the first to use Fairmined gold in 2013, and then by creating all her collections with recycled gold, Caroline Scheufele couldn't do otherwise with her Caroline's Couture collection. As the designs are timeless, they can be ordered without any time limit. She chose traditional couture fabrics – duchesse satin, silk chiffon, taffeta and lace. Many of the fabrics were created in the workshops of Jakob Schlaepfer in St Gallen, the historic supplier to the greatest couture houses. The dresses were assembled in several Parisian workshops and the embroidery was done in India, at the Kalhath Institute in Lucknow, set up in 2016 under the impetus of embroiderer and entrepreneur Maximiliano Modesti. "The Kalhath Institute works to strengthen the skills of artisans, to pass on this exceptional know-how in India and to put in place framework conditions that enable artisans to be remunerated at their fair value, and these are exactly the steps we have been taking for several years at Chopard," Caroline Scheufele emphasises.
Caroline Scheufele's destiny is made up of unfulfilled childhood dreams that have given way to a reality far more extraordinary, far brighter than she could ever have imagined. Caroline Scheufele dreamed of becoming a prima ballerina, but her parents, Karl and Karin Scheufele, didn't see it that way. She joined the Chopard family business, passing through all the departments, like her brother, Karl-Friedrich Scheufele. Karl-Friedrich has brilliantly developed the watchmaking part of the business, going so far as to create the L.U.C. manufacture in Fleurier in order to assert his full watchmaking credentials. As for Caroline, she has given the brand a new business: high jewellery. If he is the yin in the duo, she is the yang.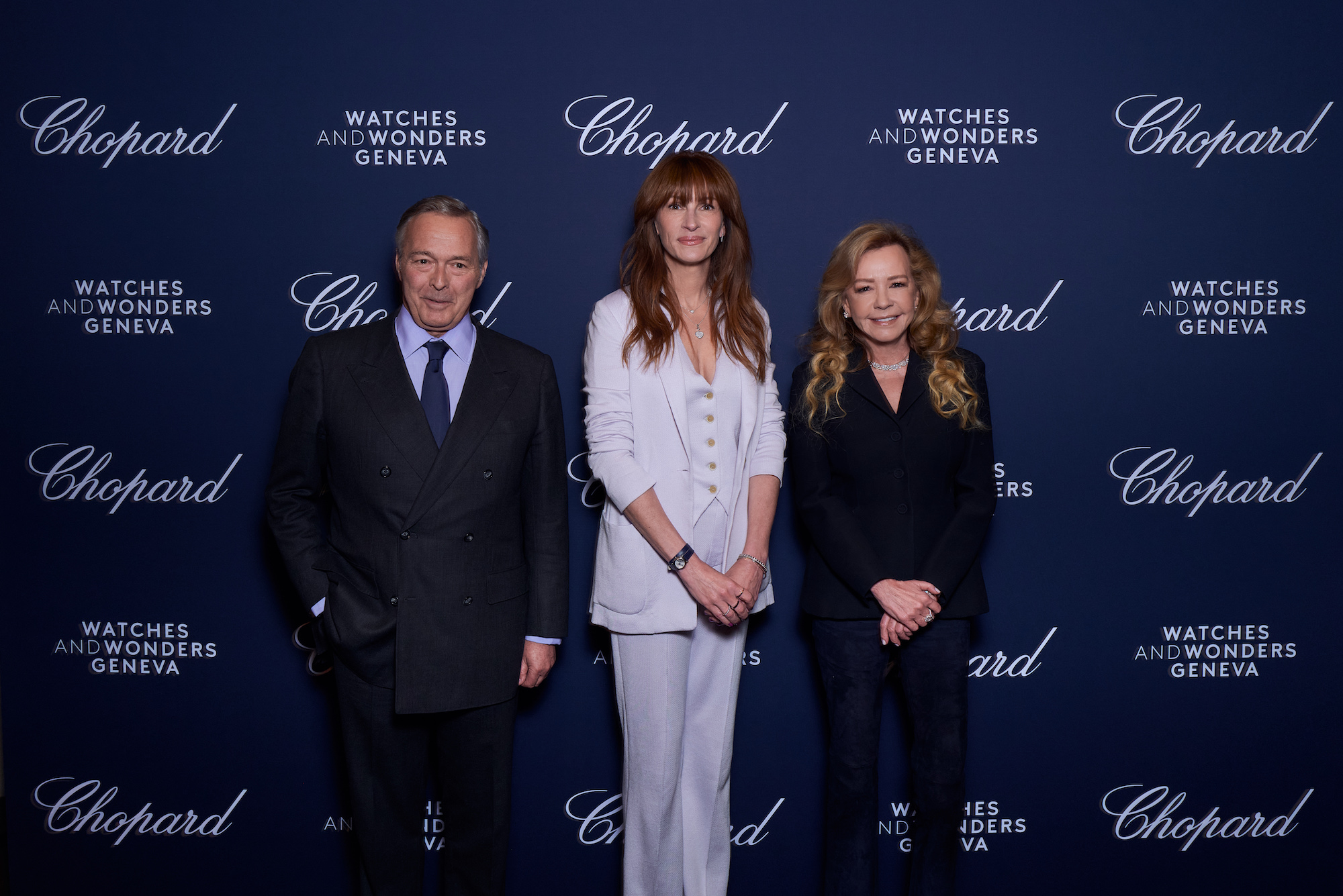 Twenty-six years ago, Caroline Scheufele visited the Paris offices of Pierre Viot, the director of the Cannes Film Festival from 1984 to 2000. At the time, there was no jeweller among the official partners. She asked him to become a partner and redesign the Palme d'Or, which was a misnomer because it was gold-plated. And that's how the Chopard brand entered another dimension: that of the 7th art.
Caroline Scheufele, who learned about fair trade from her friend Livia Firth, founder of the Eco Age agency, was the first jeweller to dare to launch a Green Carpet collection at the Cannes Film Festival: ethical jewellery sets made from Fairmined gold, extracted from a sustainable mine in Colombia supported by the Alliance for Responsible Mining, and adorned with diamonds and coloured stones from operators certified by the Responsible Jewellery Council. The first Fairmined gold bracelet was worn by Marion Cotillard on the red carpet at Cannes in 2013. "We know that no children work in these mines, that the employees have a fixed salary so they can send their children to school, that the mines are safe, so I feel better when I go to bed at night", Caroline Scheufele confided at the launch of this collection. Since then, all Chopard jewellery has been made from ethical gold.
The concern for sustainability affects all areas of creation at Chopard, high jewellery, perfumes and watches. Since 2017, the house has launched a haute parfumerie collection that uses natural ingredients sourced by Firmenich. As for watches, during Watches and Wonders fair in Geneva last April, Karl-Friedrich and Caroline Scheufele announced that they now use 80% ethical steel in the manufacture of Chopard watches. And they aim to use 90% Lucent Steel™ by 2025. To make the announcement, the co-presidents were joined by actress Julia Roberts, the house's ambassador, whom Caroline Scheufele first met at Cannes in 2016.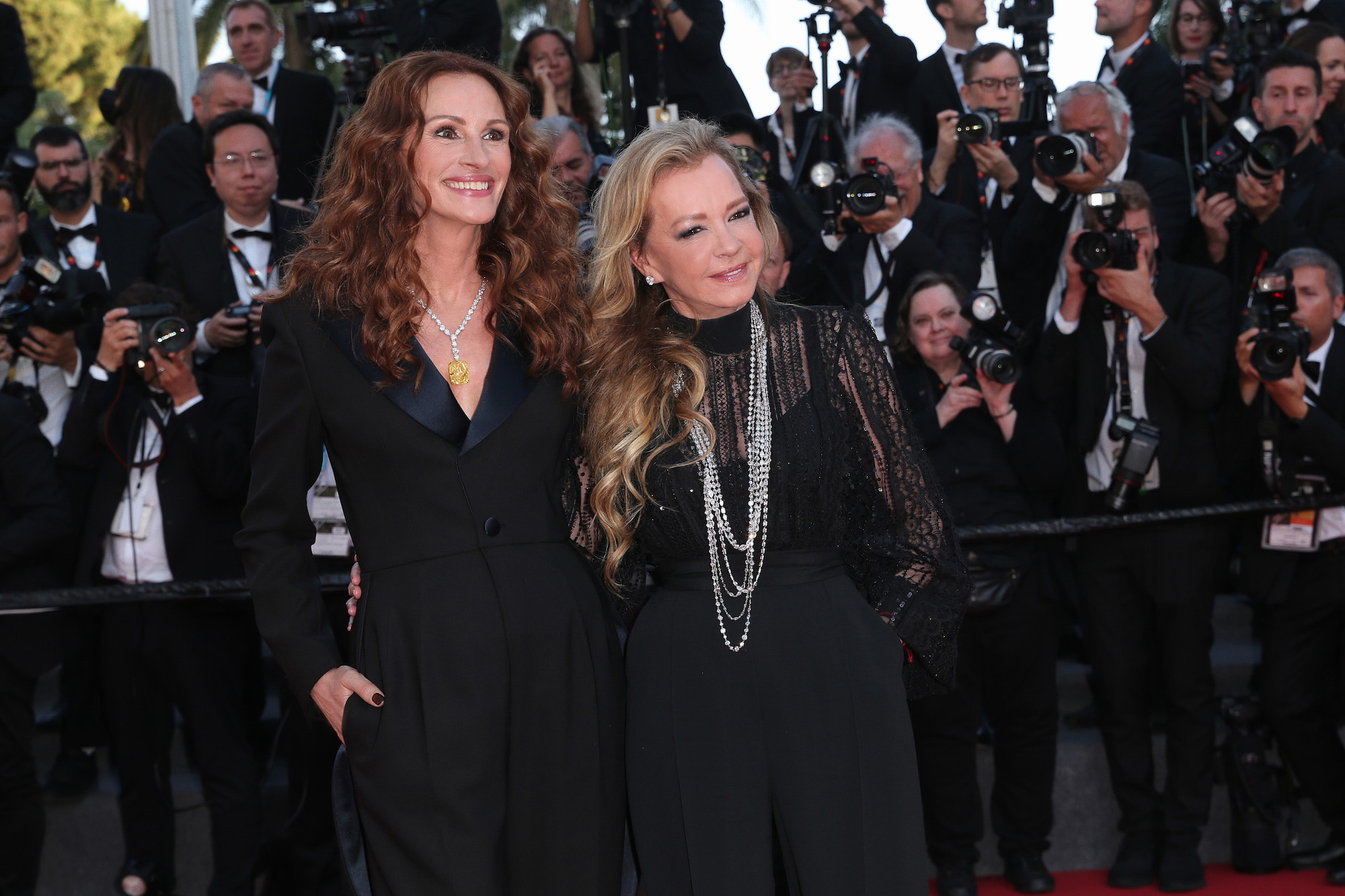 Caroline Scheufele is fascinated by extraordinary stones. She has had a passion for them for as long as her eyes have been able to discern beauty. In November 2015, she was informed of the discovery of a 342-carat rough diamond in a mine in Botswana. From this exceptionally pure gem came 23 diamonds. They were mounted in a set called 'Queen of Kalahari', which was presented in Paris in January 2017. A few years later, in January 2022, the co-president of Chopard unveiled in Paris an exceptional emerald named Chopard Insofu (insofu means "elephant" in the Bemba language), which was discovered in the Kagem mine in Zambia. It is one of the most important ever uncovered, both in terms of its weight (6,225 carats) and its quality.
If the Chopard name now shines all around the world, it is of course due to the irreproachable quality of all the creations leaving the workshops, whether jewellery or watches. But it's also due to the sunny personality of its co-president, her creativity and her sense of marketing. Becoming a partner of Cannes and redesigning the Palm have boosted Chopard's profile. And it's been a challenge too: how do you always live up to the last step of the red carpet?
INTERVIEW
You designed 76 pieces for the 76th Cannes Film Festival. What inspired you to create this collection?
Caroline Scheufele : The theme this year is art in the broadest sense: dance, music, sculpture, writing, cinema, and the pieces are inspired by these different artistic expressions. The necklace with the feathers, for example, evokes writing.
Some of the stones are exceptional. How do they come to you?
I hunt, but people hunt me too. Our partners in the mines and those who work in the rough know that we are looking for unique stones. And because we've been working with them for years, they often offer me a sneak preview.
Speaking of exceptional stones, in January 2022 you presented a 6,225-carat rough emerald in Paris that you named Insofu. What will become of it?
It's being cut, it's taking shape. I'm working on the first drawings. We should be able to present the entire collection in January 2023 in Paris, at the same time as we officially open our hotel.
How many stones will this rough be cut into?
We can't know yet because, unlike the Queen of Kalahari diamond, where we could plan and calculate the number of stones we'd end up with, with an emerald it's impossible. As a diamond is virtually transparent, you can literally get inside it with a scanner, which is not the case with an emerald, because of its garden and its colour. The cutters can't anticipate. They start with the outside and work by feel. When a piece stands out, they ask me if I'd prefer a flat emerald or a pear. Things progress little by little.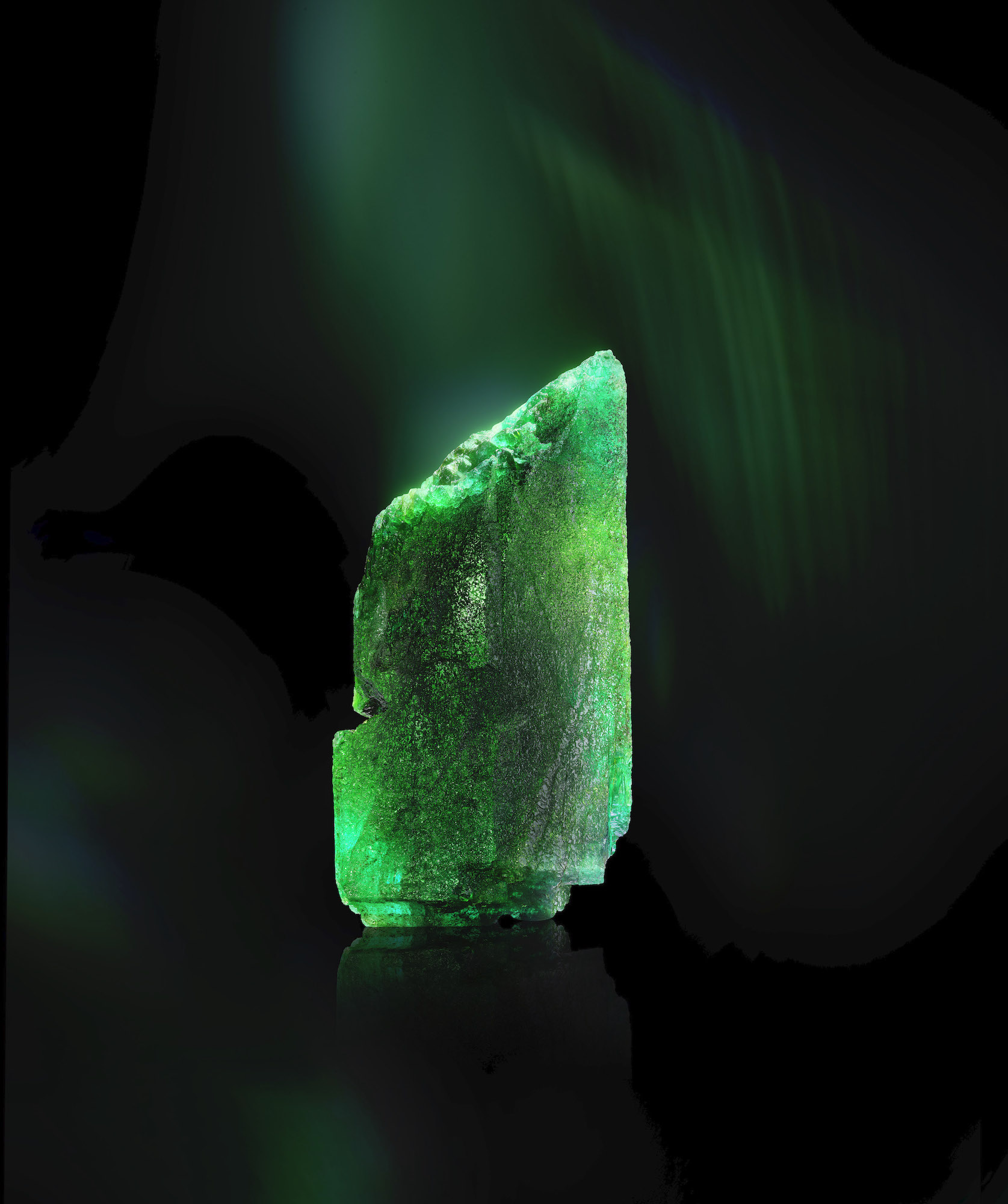 During Watches and Wonders fair, you and your brother Karl-Friedrich held a press conference with actress Julia Roberts about recycled steel. How did she become Chopard's ambassador?
I met her at Cannes in 2016 when she walked up the steps barefoot. She was wearing a Chopard necklace with a huge emerald and she said, "If I wear this necklace, I dont' need shoes". When we started working on the 'pure happiness' advertising campaign, about happiness and women, our marketing department suggested some very beautiful actresses to embody it, but I told them that the most beautiful smile was missing from the table: that of Julia Roberts. I asked them to contact her, because if you don't ask, you don't get. She was delighted, particularly because of our commitment to sustainability and the use of ethical gold in our collections. She started out as the ambassador for Happy Sport watches and now represents the brand and all the women's collections, including the Alpine Eagle, which is unisex. She is very committed and wants to come back to Geneva to discover all our workshops.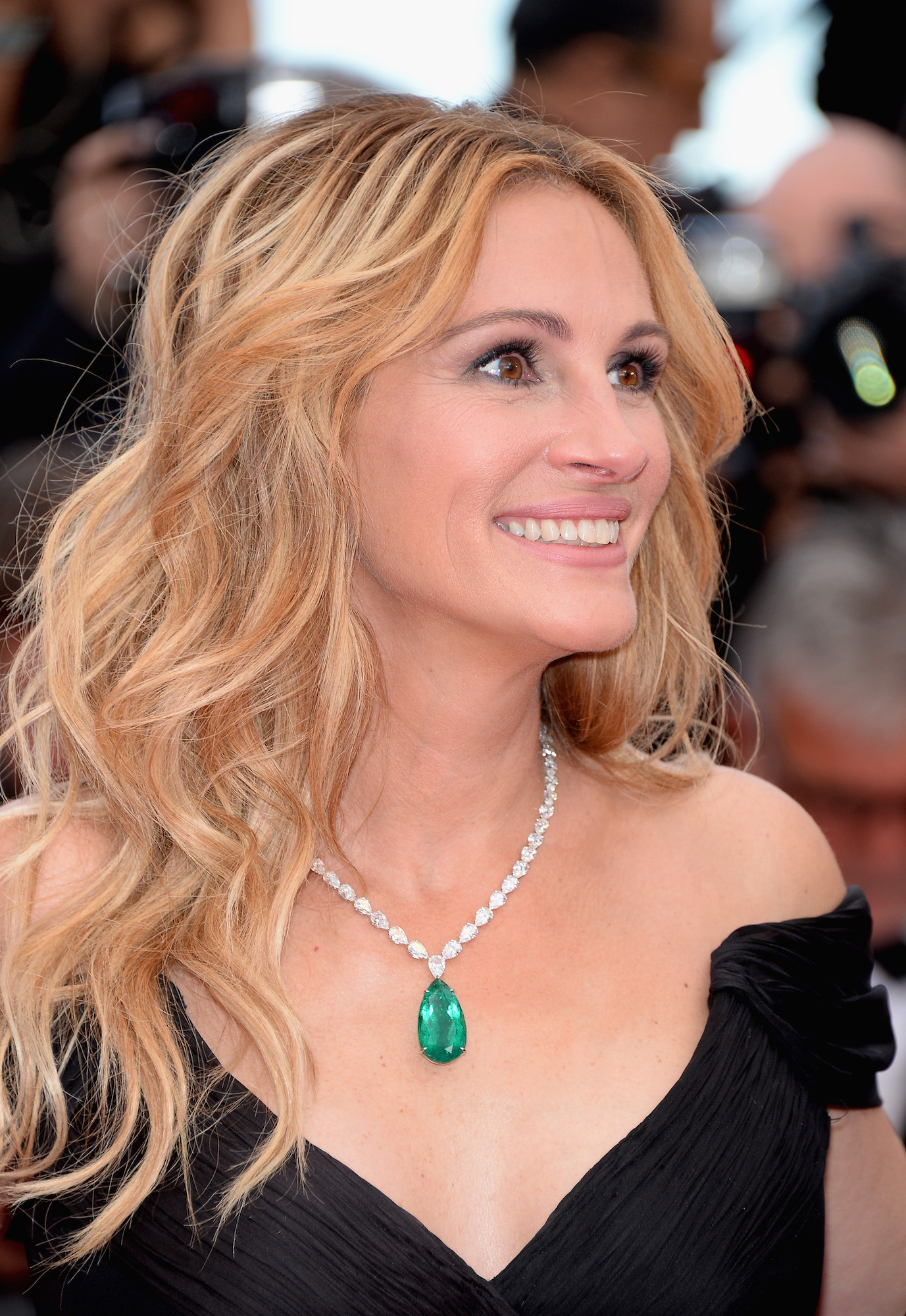 You were the first jeweller to use Fairmined gold in 2013. At the time, some houses didn't believe in it at all. You were a visionary!
When Colin Firth won the Oscar for best actor for The King's Speech in 2011, he was wearing a mechanical L.U.C. watch. I had a coffee with Livia Firth, his wife at the time, who is very involved in sustainable development. She asked me where my gold came from. I told her it came from the bank. But in reality, to be honest, I knew nothing about its origins. She pointed out that there was an ethical fashion scene but no major jeweller working with ethical gold. That was the turning point. She put me in touch with NGOs and various organisations that do due diligence. When I got back to Geneva, I immediately raised the subject with Karl-Friedrich, who is very well versed in protecting nature, and he immediately followed me into a sustainable jewellery and watchmaking journey. We started to work with a mine in Colombia that was in the process of receiving Fairmined certification, employing around 80 people. When the first kilos of gold arrived, we treated them with much more respect than traditional gold. We started with a few sets of jewellery: the first Fairmined gold bracelet was worn by Marion Cotillard on the red carpet in 2013. Little by little, we began to use it in high jewellery, at the same time my brother used it in L.U.C. watches, and now all Chopard production is in ethical gold, whether recycled or Fairmined.
Today, everyone is imitating you. Is it still possible to avoid thinking about the origin of raw materials in the luxury sector?
No, luxury has to be transparent. We have to continue the journey and see it through to the end. Even if there's still a long way to go. It's our values that we're putting forward.
What are the biggest difficulties you face in choosing to work exclusively with ethical materials?
It's a question of time. For our steel watches, we will cover our needs with 80% recycled Lucent Steel™ by the end of the year and we hope to reach 90% by around 2025. We have decided to work with partners who are based in Switzerland and Austria*, close to our own production centres, which reduces transport-related emissions. Using recycled steel allows us to tackle the carbon footprint of our products.
Looking back, what are you most proud of?
There are a few milestones that have marked me and got me where I am today. The first clowns I drew when I was still at school, which led to a collection of jewellery. Then there was the birth of the Happy Sport, the first steel watch with diamonds. At the time people told me I was a bit crazy, but it's one of our flagship collections. And of course our partnership with the Cannes Film Festival and the fact that we redesigned the Palme d'Or. I'm also thinking of the creative journey around the Queen of Kalahari diamond and, of course, the whole adventure around ethical gold.