Chanel by the Seine
Because the theme of Chanel's Fall-Winter 2023/24 Haute Couture collection was Paris and the Parisian woman, Virginie Viard, Artistic Director of the Fashion collections, chose to show it along the banks of the Seine. This collection is not a revolutionary one, but a reminder of Chanel's grammar, elegance, know-how and allure. Isabelle Cerboneschi, Paris
No grandiose decor was needed for the occasion: the backdrop for the Fall-Winter 2023/24 Haute Couture collection show was quite simply the Seine. The Seine, its quays, its cobblestones, and the Eiffel Tower which came into view as the first look appeared, a long, perfectly proportioned navy tweed double-breasted coat worn by Caroline de Maigret.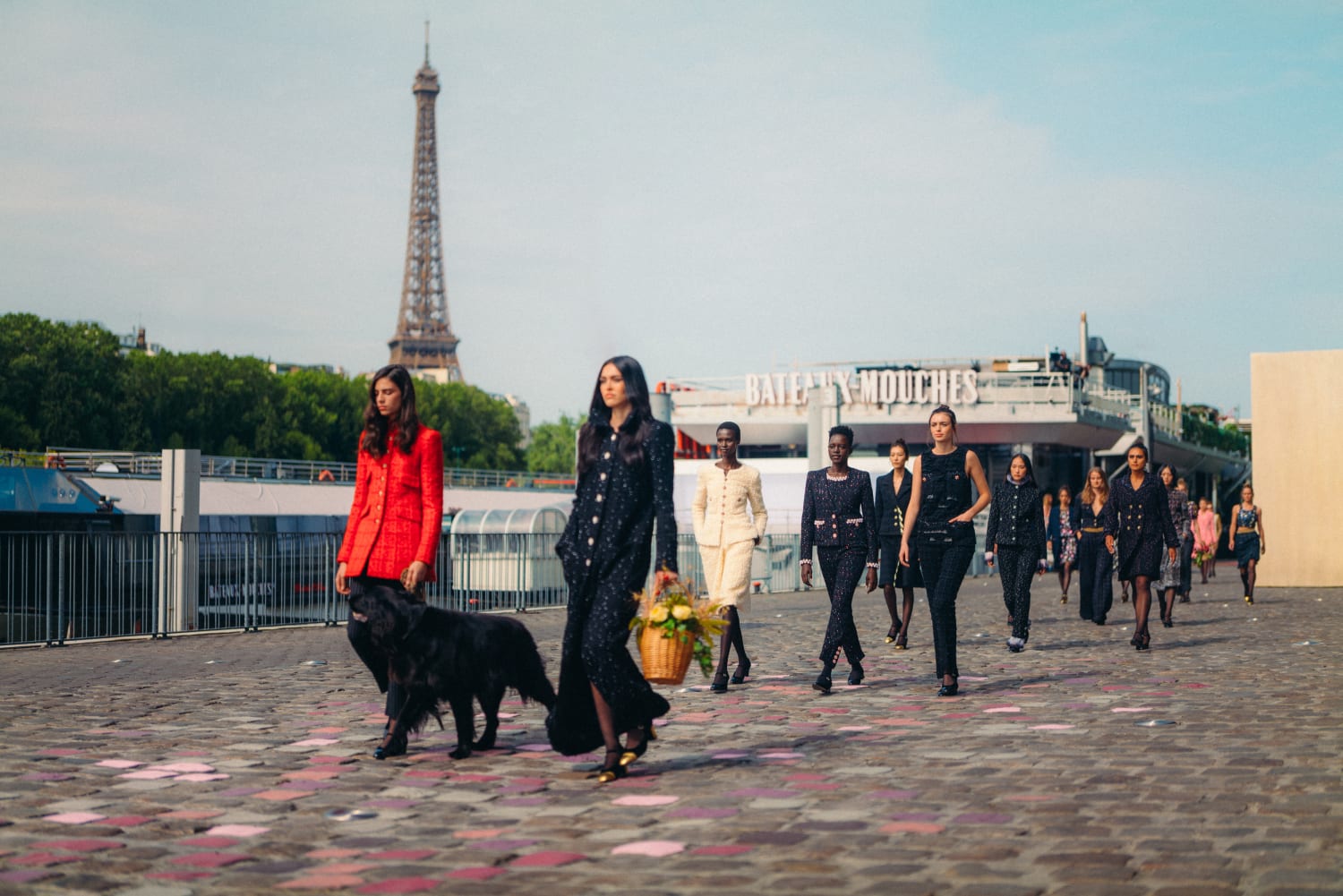 The set for the show consisted of almost nothing: very simple bleachers on the banks of the Seine, the « bateaux mouches » passing by like secondary characters, and a few cobblestones painted in the favourite colours of Virginie Viard, Artistic Director of the Fashion collections: pink, mauve and violet. This absence of decorum, which felt really good, had a positive impact on the guests. The actress Lupita Nyong'o, the rapper Kendrick Lamar, singer-songwriters like Vanessa Paradis or Sébastien Tellier and his wife Amandine de la Richardière, or the designer André, far from protecting themselves in a ViP space, were mingling in the midst of customers and journalists, because it felt just right. It could have been a day like any other, except that Chanel never does anything like any other. "If we're in Paris, and this time we're in Paris itself, on the quayside. The street and the colourful paving stones call for both sophistication and simplicity", wrote Virginie Viard in the show's press release.
For this collection, she was inspired by Paris, the quays of the Seine, a Parisian woman strolling along, even if you're unlikely to come across one with a bouquet in her hand or walking her dog dressed in haute couture. It was a fiction, a dream of Paris. Seen from the stands, the collection was studded with sublime coats, perfectly tailored, high-waisted tweed trousers, dresses in lace as thin as a second skin, and above all, pieces adorned with three-dimensional floral embroidery, like gardens that had grown over dresses and blouses.
To understand what makes Chanel so unique, you have to be able to see the clothes up close. Or be lucky enough, as I was, to discover the tweed samples from the collection woven at Lesage, or the flowers and fruits embroidered in the Montex workshops housed in the le19M building designed by architect Rudy Ricciotti. This is Chanel: an extraordinary expertise. And that's what the many haute couture customers, who came to the workshops at 31 rue Cambon to try on clothes the day after the show, were looking for.
This collection is not an ostentation, it is no longer a revolution. That has already happened twice: when Chanel was founded in 1910 and when Karl Lagerfeld took over in 1983. It's about proposing a timeless style, a unique savoir-faire and a silhouette that is instantly recognisable. "Playing with opposites and contrasts, with nonchalance and elegance, is like standing on a line between strength and delicacy, which, at Chanel, is what we call allure" , Virginie Viard points out.
A few days before the show, Vanessa Paradis posed for the first photos and for the teaser directed by Karim Sadli. She has worn haute couture dresses designed by Karl Lagerfeld and now by Virginie Viard. Virginie Viard hasn't spoken since she was nominated, but Vanessa Paradis speaks very highly of her. "Virginie is a very feminine woman, very close to other women. We always meet up before and after fashion shows, and we spend our time talking, laughing and exchanging ideas," the singer and actress confides in a podcast. "Virginie is someone who loves music and movement, and she includes that in her collections. I have the impression that she understands me, that she understands us all, and that's why her collections appeal to so many generations. The wonderful thing is that she has her creations, her visions, but she wants us to feel good, to feel ourselves, to have fun in the outfits and to be able to move, dance and evolve. I've actually worn her haute couture dresses to concerts! It's wonderful. When you put on a haute couture outfit, you're a bit impressed, it's so precious, you're afraid of damaging it, but after a few hours, this second skin is yours and you can evolve. And they catch the light so well! Your movements are emphasised by these points of light".
Virginie Viard sums it up in these few words: "Handing down emotions, bringing the most unlikely elements together, doing things your own way, just dreaming."