Giorgio Bulgari launches his first jewellery collection
Gianni Bulgari's son has just launched his own jewellery brand, Giorgio B. The collections are inspired by the Streamline of the 1930s. Interview with Isabelle Cerboneschi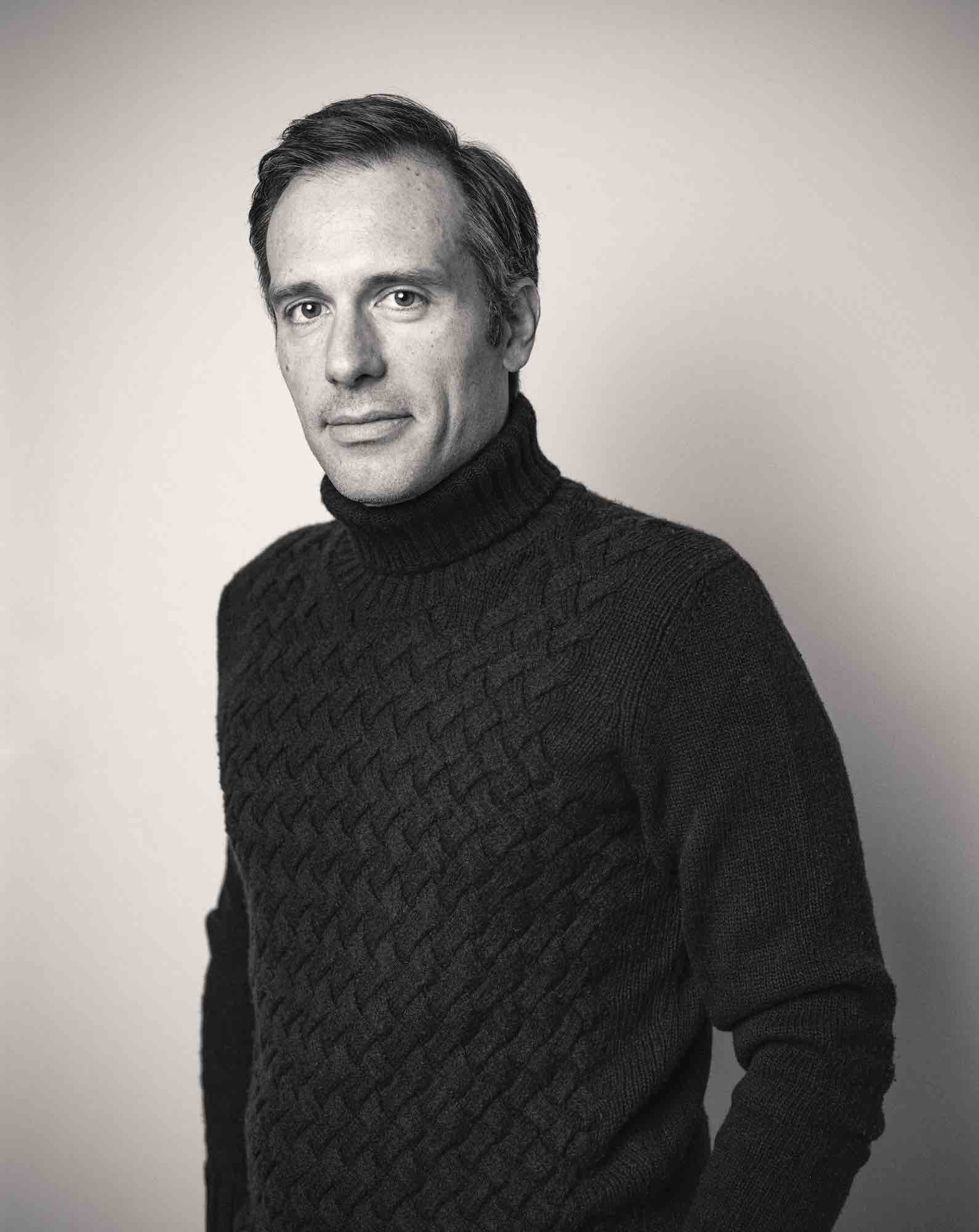 Giorgio Bulgari is a name that is both easy and difficult to live up to when you choose to work in the jewellery industry. It's easy because it represents a line of goldsmiths and jewellers that goes back to 1884, when his ancestor, Sotirio Bulgari, founded his company in Rome. Difficult, because he does not have the right to use his family name in a brand. This was the case for his father, Gianni Bulgari, when he created his company Enigma in 1989, and for his aunt, Marina Bulgari, who founded her company Marina B in 1978. But talent is worth more than a name.
Giorgio Bulgari has been inspired to create jewellery since he was a child. He grew up in this world, surrounded by beautiful objects, works of art, drawings and stones, and admired his father immensely. But this was not the first door he chose to open when he began his career. After studying art history and communications in Boston, he stumbled into the world of finance. For four years, he made a very good living as a trader, then after living in the United States for eight years, he felt the call of Europe. The call of his origins too. Learning the family trade was what he wanted to do from then on.
In 2003, he joined his father at Enigma, and in 2014 he was appointed artistic director of Marina B, a company then owned by Paul Lubetsky, the founder and CEO of Windsor Jewelers in New York. It wasn't until 2017 that he decided to strike out on his own and launch as an independent jeweller. He began by creating jewellery commissioned by clients, and the pandemic gave him the necessary hindsight to consider launching real collections under the Giorgio B brand. The first presentation took place in Saanen in February, in front of a small audience of customers, family and friends, and the official launch took place in London at Dover Street Market in May.
His office in Geneva's Old Town is decorated with locomotives. The Streamline movement, born after the 1929 crisis and led by Raymond Loewy, is an endless source of inspiration, with its curves, smooth volumes, lines and modernity. This spirit can also be found in the Palma collection designed by Giorgio Bulgari. These jewels began to make headlines when Sharon Stone wore a pair of earrings to the Oscars ceremony on 12 March.
When you're launching a brand, you need an excellent network to accessorise a star as untouchable as Sharon Stone. Luckily, Jasmine Vidal, Giorgio B's communications consultant, knows Paris Libby, the artist's stylist, very well. She sent him images of the collections and, two days before the Oscars, he called her back: the diamond-set gold Palma earrings matched Sharon Stone's dress to the Vanity Fair Oscar Party. Two days later, the star wore an unset rose gold version of the same earrings, along with the matching necklace, to the opening of "Shedding", the exhibition of paintings she produced during the confinement, held at the Allouche Gallery in Los Angeles.
Just before starting the interview, Giorgio Bulgari takes the time to prepare two cups of coffee with an Italian coffee maker. "No machines," he says. Then the interview can begin.
INTERVIEW
After completing your studies at the age of 21, you entered the world of finance. What did you learn that you still use today?
Giorgio Bulgari : When I was hired, I was assured that after 3 to 6 months I would be earning a six-figure salary. It was an offer I couldn't refuse: at the time I was living on $1,000 a month. I didn't know anything about this business and I was hungry for knowledge. I was trading on the NASDAQ. It was the end of 1998, the stock market was very volatile and that volatility was a great way to make money. When I received my first cheque in February 1999, it was in six figures. I did that for 4 years. I loved this job: it gave me the desire to be an entrepreneur and helped me to get to know myself better. You learn to manage 'Fear and Greed' and find a compromise between the two. There's an old stock market saying attributed to to London financier Nathan Rothschild: "Buy On The Cannons, Sell On The Trumpets", i.e. buy when everyone else is selling. That takes a bit of courage. Today, finance has become the way in which I look at the world.
You grew up surrounded by drawings and stones, when your father was still working at Bulgari. Did you say to yourself as a child that this was what you wanted to do later?
I always wanted to do this. I admired my father, who was an extraordinary person. His life was like a fairytale, with all the celebrities he met: Grace Kelly, Liz Taylor… He was very charismatic, he knew how to fly planes and drive cars. I wanted to imitate him. He left Bulgari in 1987 when I was ten and went on to create the watch company Enigma.
You are the 4th generation of jewellers to bear the Bulgari name. Do you feel that you are following in the family footsteps?
I have an obligation to do things right because I have a responsibility to my ancestors. But at the same time, I have to find a new aesthetic expression and a language of my own. I think there's a certain correlation between my jewellery and what Bulgari did: stylisation, geometry and volume, for example. These elements are part of my heritage, which I express with a more contemporary vision.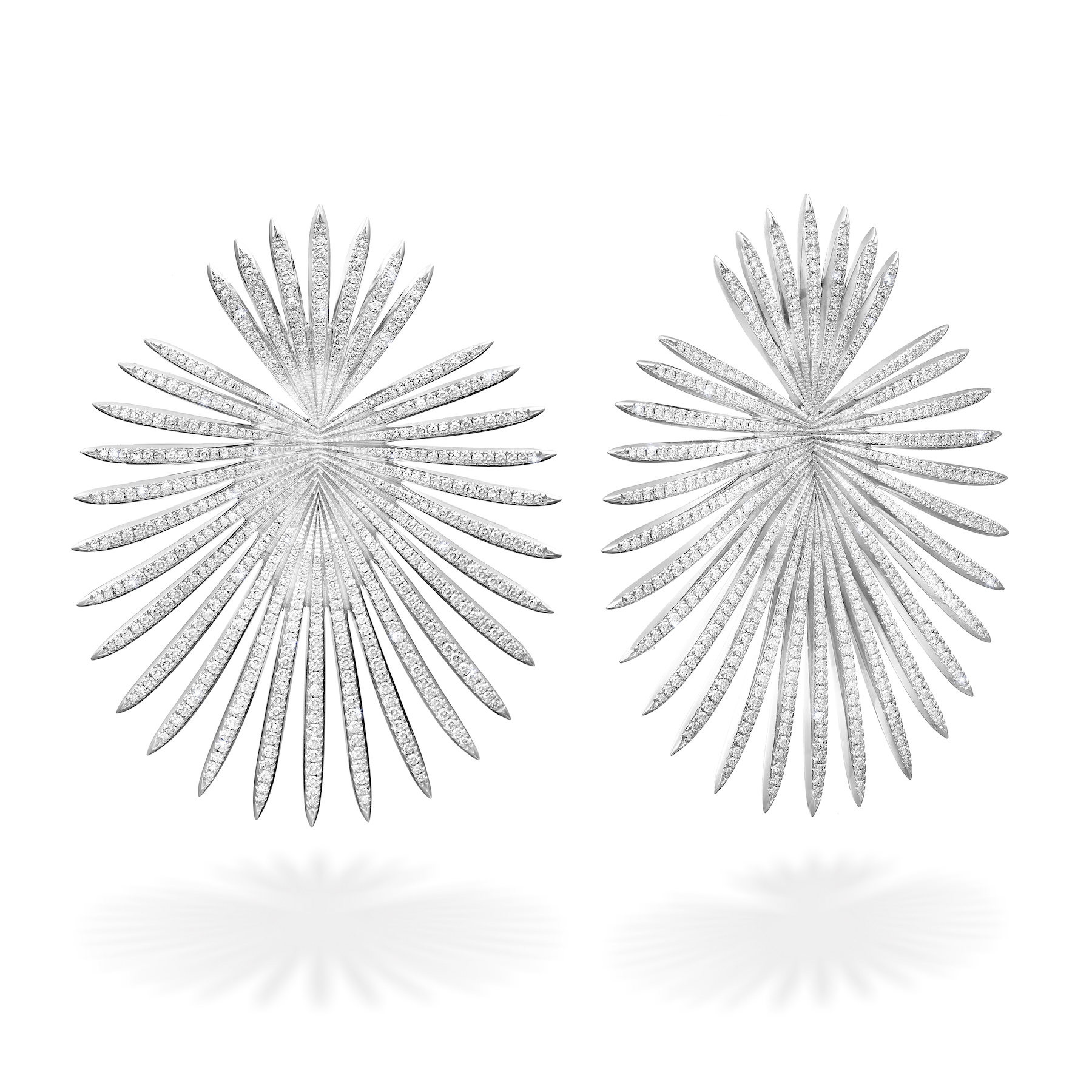 In 2014 you were appointed artistic director at Marina B. Were you chosen for your name, knowing that you would be able to infuse the brand with an identity that is within you?
I think it was. It was an extraordinary lesson because I was able to see and touch all the house's archives. The owner of the brand (Paul Lubetsky, CEO of Windsor Jewelers in New York, editor's note) had kept thousands of drawings and gouaches. The richness of the brand was extraordinary. I kept stylistic elements that I thought were very strong. For example, Marina had created a necklace with triangular diamonds. This triangular shape was very much part of the brand's identity and had to be kept. But I also wanted to take the brand to a new generation. At the time, many customers had experienced Marina B's explosion in the 80s, but by the 2000s, it was a stagnant brand. My aim was to tell the extraordinary story of this great designer who had managed to make high jewellery sufficiently desirable to women that they would buy their own jewels. This was still rare at the time. I made collections that projected the brand into the future. In particular, I created a minaudière in oxidised aluminium, in homage to the fact that she was one of the first jewellers to oxidise gold in the 1970s. It took me six months to find the right material treatment. I worked with the University of Turin to analyse the effects of skin on this oxidation. I drew inspiration from the archives and his creations, while adding my own personal style.
You're still in touch with your aunt: how does she view your creations?
Apart from her creativity, I've learnt a lot from her as a person. I shared a lot of my ideas with her when I was working for the brand that bore her name. She encourages me and that stimulates me, even if she doesn't see all my drawings. She's very important in my life. She saw my wife wearing my jewellery, the Goccia earrings, at a family dinner and complimented me. The collection was born with these pieces by the way: they are enamel applied to resin.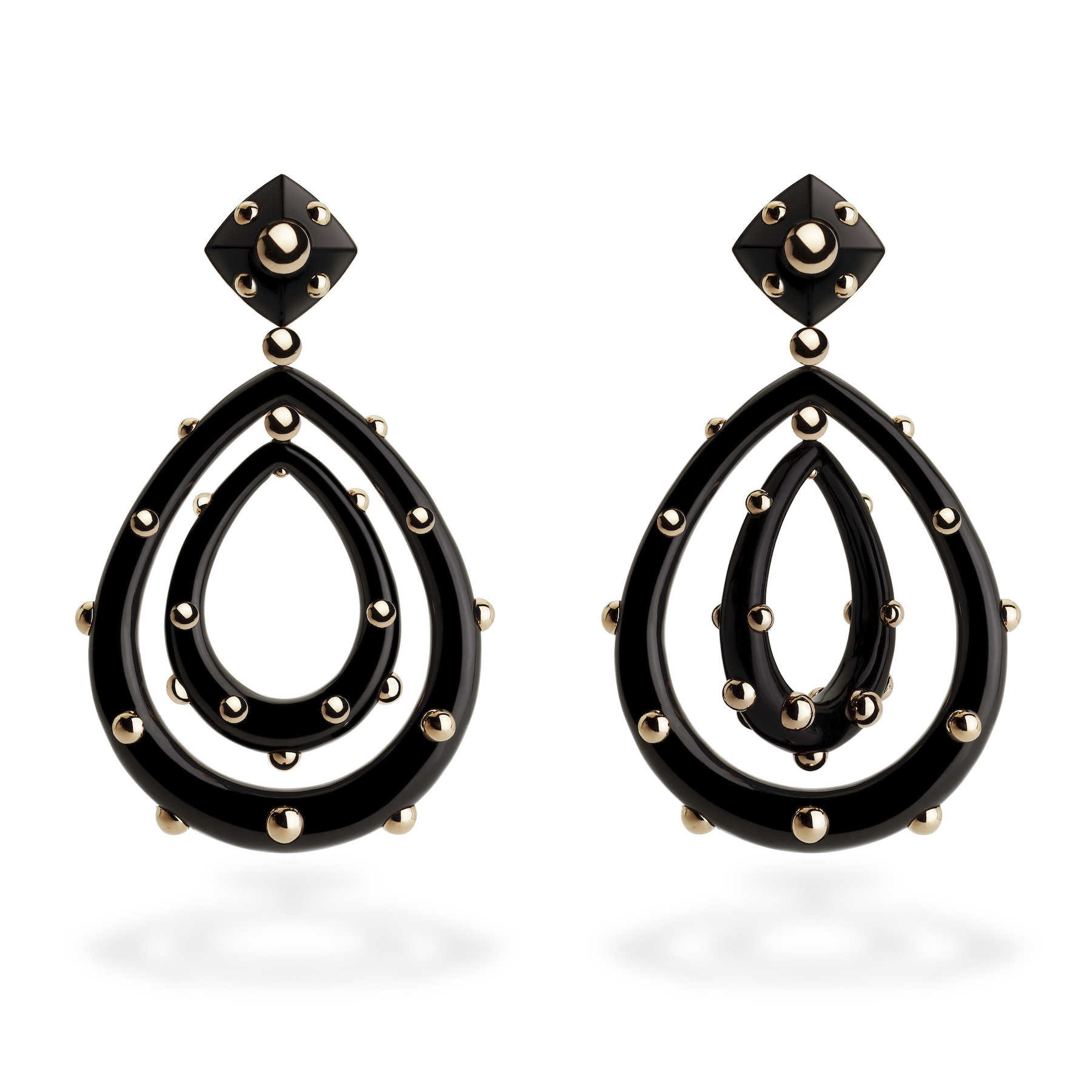 In 2017 you started creating jewellery for private clients. What inspired you to create your own brand?
I was nearly 40 and I wanted to create something that was my own. I started by doing pieces commissioned by customers.  I had already acquired a very large network of gemstone dealers and manufacturers in Italy. I founded my company and delivered my first jewel in September 2017. But when you create commissioned jewellery, there are always facets of the piece that are representative of the customer. So little by little, I got the urge to let my own creativity emerge. I started with one-off pieces that I presented at exhibitions, then I created two collections – Palma and Goccia – which I launched this year. It took me two years.
How did you experience the lockdowns during the pandemic?
It was a period of acceleration for me: 2020 and 2021 enabled me to move forward more quickly. The time we spent at home without travelling certainly crystallised my desire to launch collections.
What would you like to bring to the world of jewellery?
My own vision, my own aesthetic. I like to set stones in an asymmetrical but balanced way. My style is marked by both opulence and purity of line, a treatment of volume that highlights the stones.
Speaking of stones, when you choose them, do you also think about their investment value?
In principle, no. I've even been reluctant to buy stones that I would have liked to acquire but that would have been too difficult to sell to my customers. A year and a half ago, for example, I saw an extraordinary 10-carat cushion-cut tsavorite. I fell in love with it. I flirted with this stone for a while. I showed it to two or three clients who might have been interested, but when I told them the price, they couldn't understand it. It was more expensive than a Colombian emerald, but in my eyes it was rarer and more beautiful. I'd never seen a stone like it! I gave up. It's true that at the time I had a fairly limited clientele. Today, perhaps I'll take the risk… In the end, the stone was bought by a very big brand.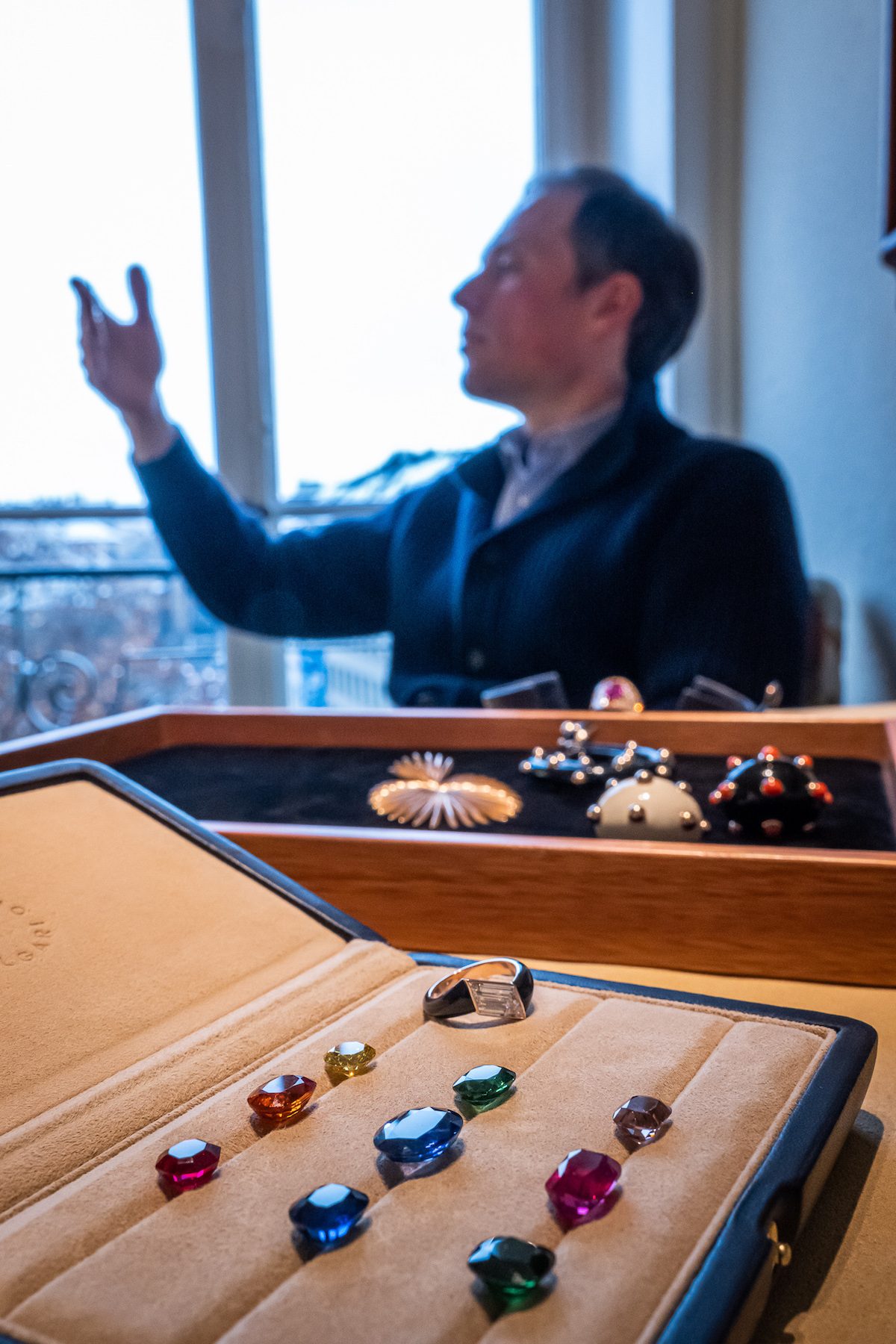 The collection you've called Palma has a Streamline feel to it. Is this an aesthetic that inspires you?

Yes. You've seen my office: it's full of locomotives. Before creating this collection, I had seen drawings of palm leaves in a book I'd been given about Kew Gardens and I thought they would make extraordinary earrings. As for the Palma cuff, it's very 1930s. Industrial designers appeared at the end of the 1920s to give form and beauty to mass-produced objects, even the most trivial ones like a hairdryer. In the case of locomotives, the shape improved their ergonomics: it was both aesthetic and functional. This style, this way of making things essential, influences what I create. The simplest things are sometimes complicated to achieve: you can't hide behind them.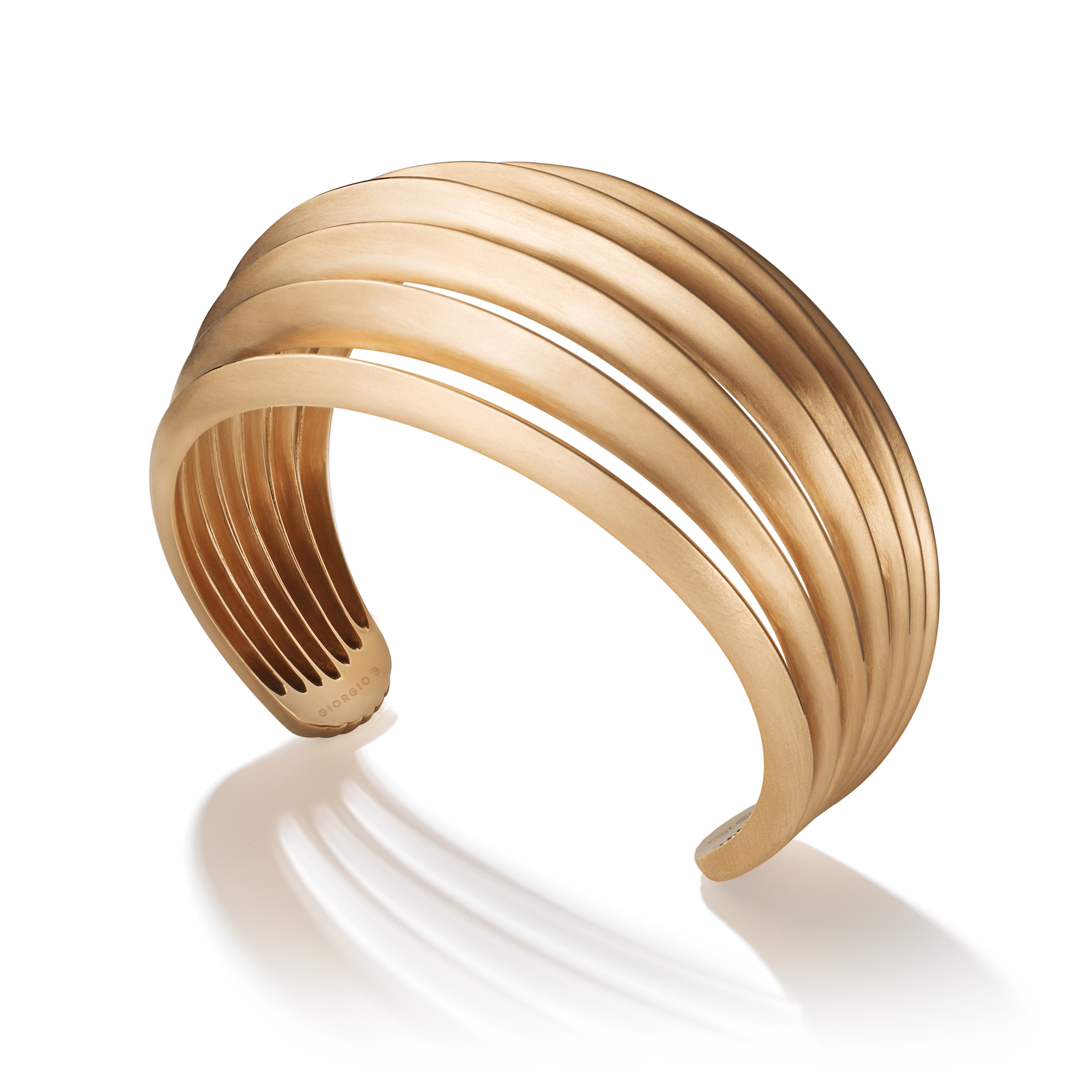 Sharon Stone was the first star to wear your Palma earrings at the Oscar ceremony in March. How did you feel when you saw her?
When I saw the photos, I was delighted by the way she wore them on Oscar night! And two days later, for the opening of her own exhibition of paintings, she wore another pair of earrings with a matching necklace.
What was the greatest lesson you learned from your father, Gianni Bulgari?
That's a difficult question to answer. He and I are so different, but we're also so similar! I was lucky enough to live with my family until I was 17. I was an only child and I absorbed everything. Even though my father travelled a lot, we had some really intense times together. We'd go away in the car for weeks, just the two of us. I spent a lot of time in his office. My vision of jewellery is based on his vision. I think that what he gave me is a whole that is part of who I am today. More than a lesson in itself, he gave me a way of expressing myself.