Julien Fournié's superheroines
When he began thinking about his autumn-winter 2022 haute couture collection, the couturier wondered how to deal with the state of a world that, after two years of health crisis, was sinking into war. He chose to take refuge in the world of manga and Marvel characters in order to give women the superpowers of his dreams. Isabelle Cerboneschi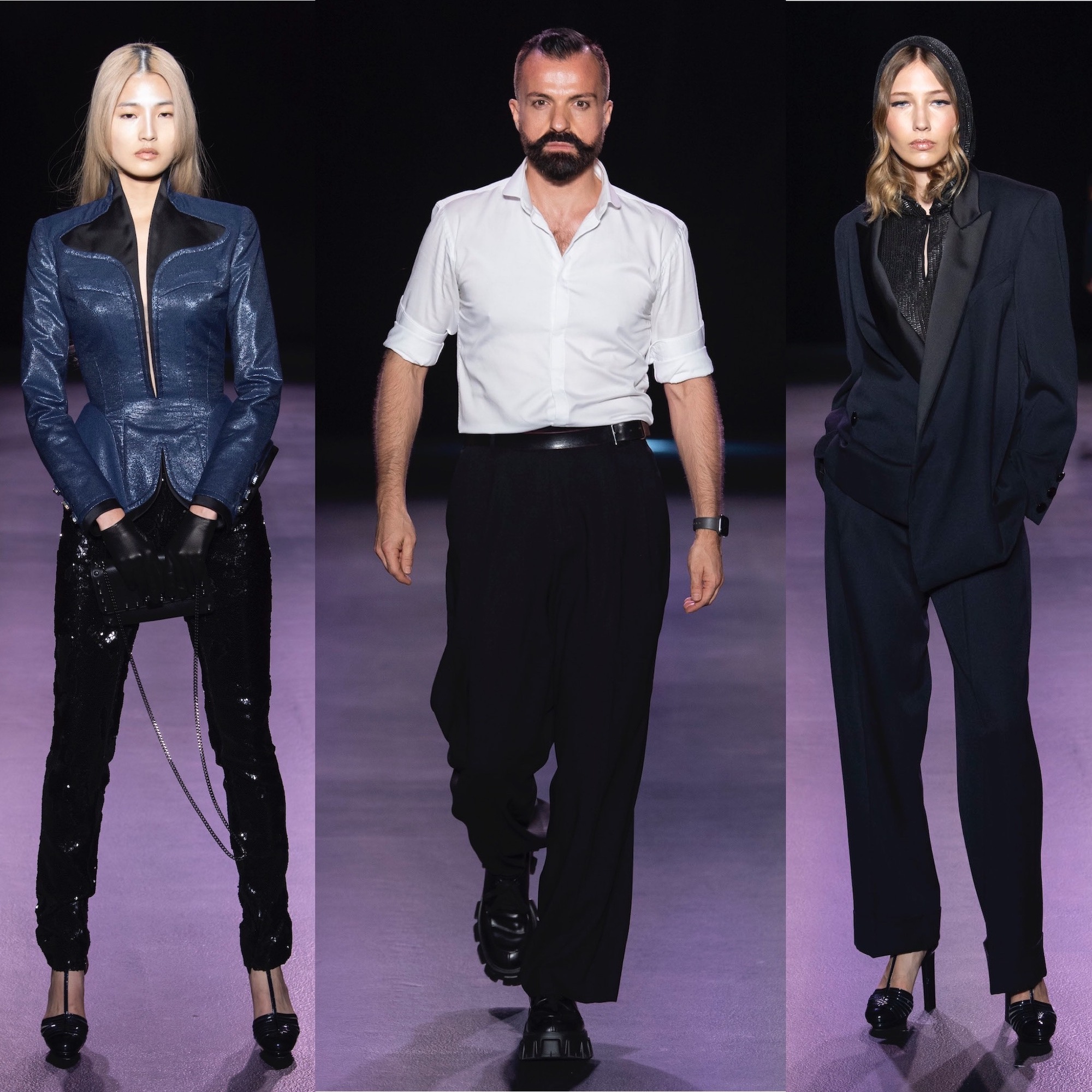 A few weeks before presenting his autumn-winter haute couture collection last July, the couturier Julien Fournié opened the doors of his workshop. Some dresses were finished, others were a work in progress. There was no anxiety in the air, however: the collection was in total harmony with the theme chosen by Julien Fournié. His train of thought had led him to create dresses at the edge of reality for women he would have dreamed of endowing with super powers. Which he does, by the way. Isn't an haute couture dress a superpower that the wearer gives herself? An object made to measure that enhances, corrects, rectifies, embellishes, gives power and grandeur?
As I watch the dresses pass from the hands of Julien Fournié to those of Madame Jacqueline, his « première d'atelier », I wonder who will be able to wear them and take them over. There is the Nebula dress, mounted on "illusion tulle" which gives the illusion, as its name suggests, that it is bare skin and not fabric. The black material it is made of seems to both absorb and reflect light. The knitted work, by Aloys Picaud, looks like a furry star. The first look is finished and is waiting on a hanger for the day of the show: it is a dress made of leather marquetry, laced. "All the fabrics for this collection were made in France at Sfate & Combier and for the jerseys at Guigou. And I chose some men's fabrics from Guy Dormeuil to bring a bit of masculinity," says the couturier.
On the day of the show, the whole collection made sense. Fake frock coats, long jersey dresses, oversized midnight blue dinner jackets, wide trousers, iridescent lurex dresses made from 8 different threads, draped dresses with bare backs… The bodies are wrapped in nebulas, they are elongated. The girls are beautiful and strange at the same time. They look like beings from another world adorned with glass jewels as if they had come from the bottom of the sea. The make-up artist Nicolas Degennes has made some eyebrows disappear, drawn huge eyes, chosen asymmetrical make-up. The universe of this collection evokes that of Hans Ruedi Giger, the designer of the Alien in Ridley Scott's 1979 film, and this is what Julien Fournié wanted.
INTERVIEW
What does this haute couture collection called First Creature represent for you?
Julien Fournié : It's about renewal. I have presented four collections in digital. I'm back on the catwalk with a very haute couture approach.
What has changed compared to the previous collection, which was inspired by the world of comics and gaming?
I presented my previous collection First Love in January 2022, just before the war in Ukraine. We were full of hope, we were finally out of Covid, I was in the mood for colour. I didn't expect that humanity, after this health crisis that lasted for more than two years and that affected the whole world, could enter a war and that we would experience such tragic events in our time. I was devastated after this collection, between two worlds: on the one hand, violent reality and on the other, my clients who asked me to dream up crazy outfits for them, full of hope. They wanted light.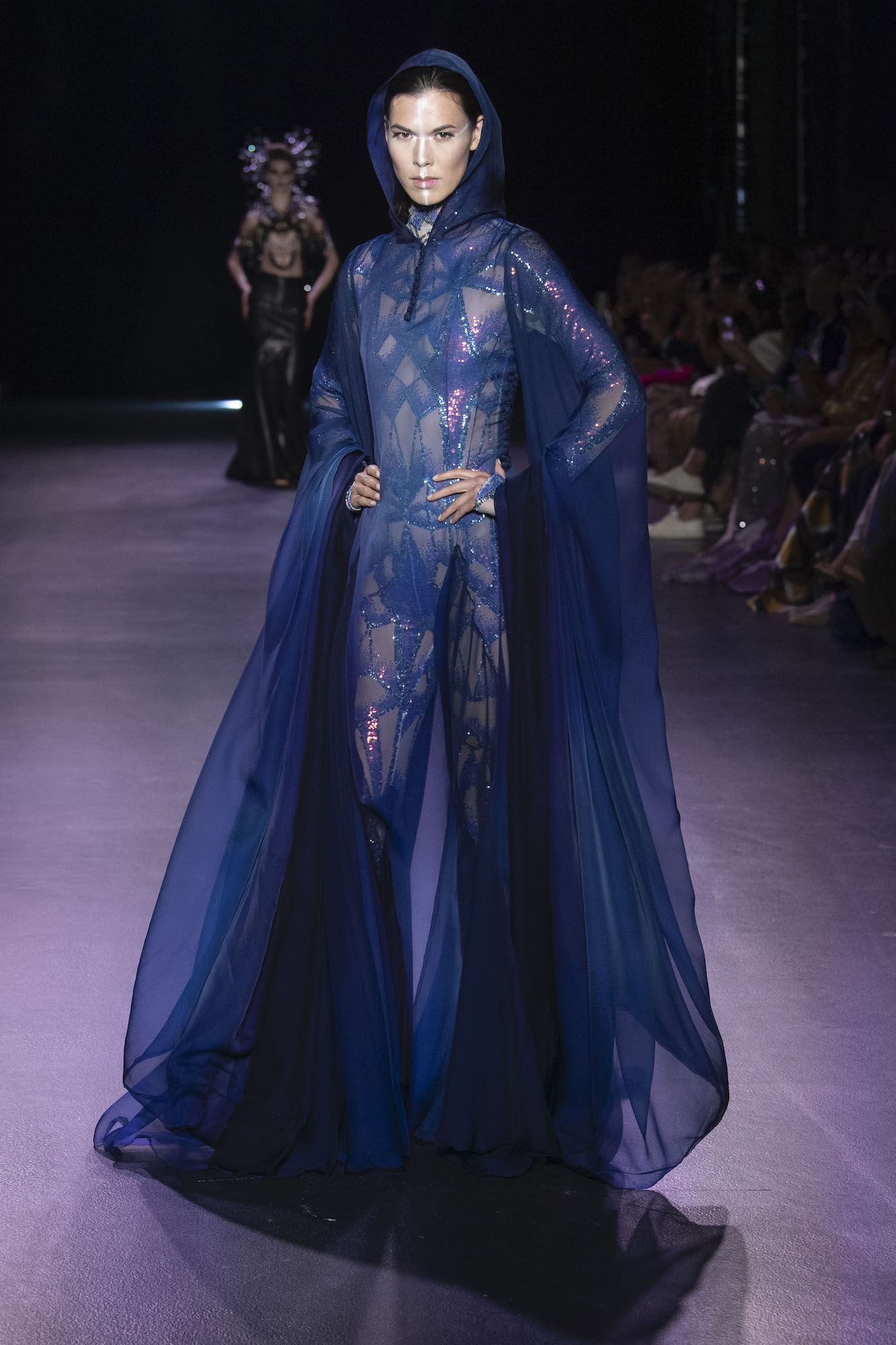 Because of the closure of certain countries, such as China, did you reach a new clientele?
The Chinese didn't come, but in addition to my traditional clients from the Middle East, I did reach a new clientele from Switzerland and Monaco. European women, very emancipated, very strong. They dreamt of colours – yellow, coral – and of very embroidered dresses. After the various lockdowns, they wanted to show off their bodies. I didn't expect to be pushed to make low-cut dresses, revealing arms, legs, more skin, whereas I am known for my rather closed and not too sexy dresses.
How did the geopolitical situation impact on your creative process?
Because the political situation had brought me down, I locked myself as a child into my first passions, namely genre films and superheroines. I needed to get back to the cartoon characters I had always loved, like the Mazon from Captain Harlock, with their long hair, the Scarlet Witch or Storm, from the Marvel universe.
How did you translate this universe of superheroines into this collection?
Je me suis rendu compte que j'avais besoin d'amener des femmes un peu plus venimeuses sur le podium. A l'échelle du temps, nous ne sommes rien et nous espérons toujours qu'un être d'ailleurs prenne contact avec nous. Je suis en admiration devant les fonds sous-marins et certains animaux luminescents, translucides qui sont presque des Aliens. Je me suis concentré sur cette esthétique pour dessiner cette collection qui s'appelle « Premières Créatures ». Nous avons créé des bijoux méduses en verre, certaines robes ont des découpes qui évoquent la forme de la raie manta, Les femmes sont longilignes, un peu plus dénudées que d'habitude, j'ai presque abandonné les grands volumes, à part pour la robe de mariée. Je souhaitais qu'elles soient aiguisées pour se battre à notre époque.
For two years you showed your collections through films. Did the return to the catwalk give you a new creative impetus?
I have enjoyed making this collection so much! But I still don't know how we managed to finish it, with the supply problems we had to face. The health crisis allowed us to discover the origin of certain products that we thought were made in France. In particular embroidery. Next season, we will explain how things are done in reality. Embroidery will be the big story of the spring-summer 2023 collection!