For the Dior Print collection, Victoire de Castellane has transformed printed fabrics into jewels
For her latest haute joaillerie collection, Victoire de Castellane, the artistic director of Dior joaillerie, was inspired by the fashion house's prints and transformed them into jewellery. To bring this intensely poetic collection to life, the gem setters and jewellers have succeeded in bringing polka dots, checks, stripes and flowers into the third dimension. Interview. Isabelle Cerboneschi. Photo shoot & style: Buonomo & Cometti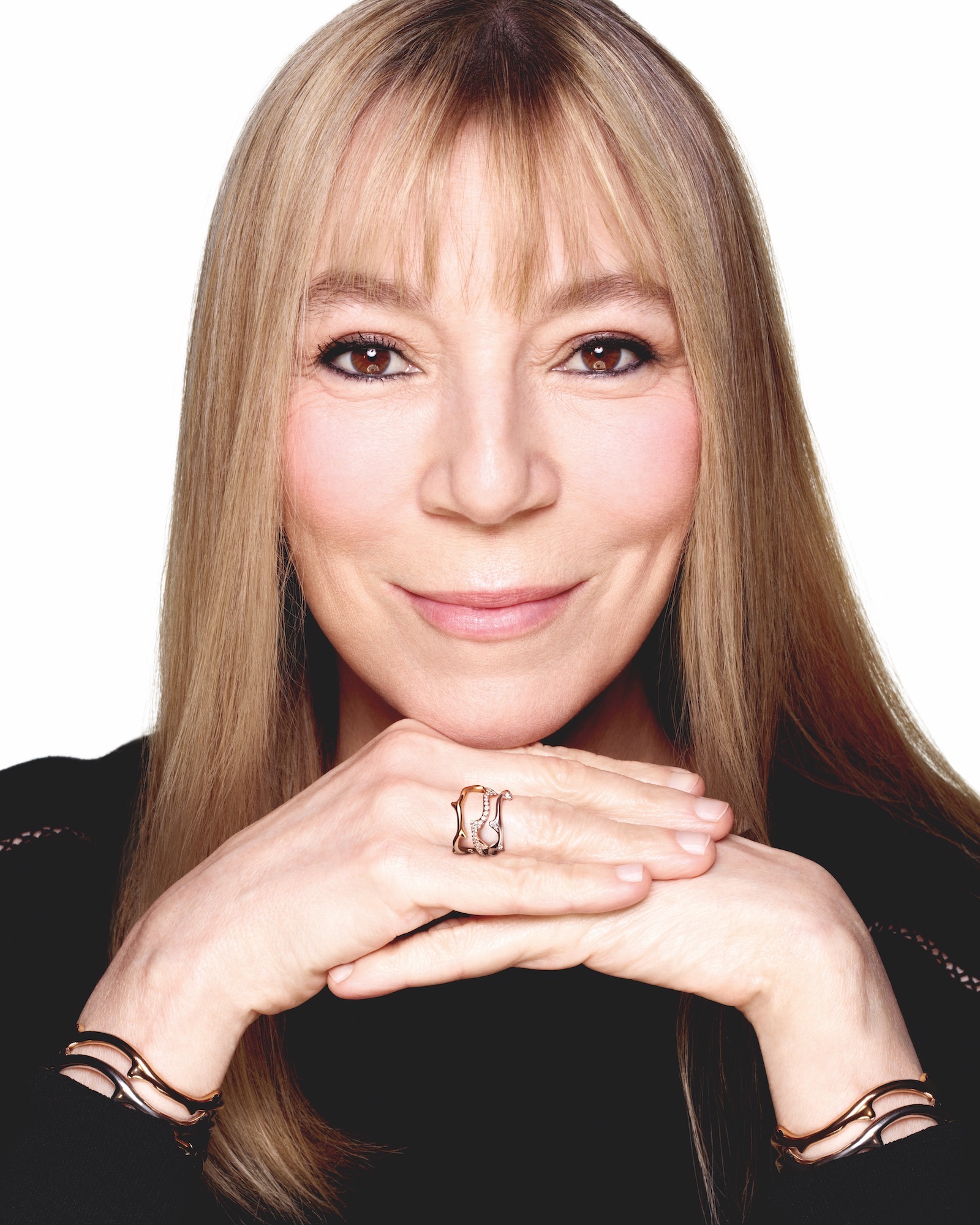 Presented in Taormina, Sicily, Dior's latest high jewellery collection is inspired by the prints that have marked the history of the House of Dior. Victoire de Castellane had the idea of transposing traditional motifs – polka dots, tartans, checks, stripes, flowers – into jewellery. The idea was fresh, the result sublime. Except that no one who sees the collection can imagine the treasure trove of know-how that had to be developed in the Parisian workshops to transform fabrics into jewellery that seems as light as the ribbons from which it was inspired.
Since joining Dior in 1999, Victoire de Castellane has been creating a kind of jewellery that has shaken up the codes of the genre, while drawing on the history of the fashion house. Having recently explored the themes of lace, ribbons and embroidery, the artistic director is now interested in prints. And why not take them into the third dimension and transform them into jewellery? To give the impression that the jewels are as flexible as fabrics, the workshops worked on different types of settings. For example, to give the illusion of a fold, they used a denser crimp in the hollows of the ribbons and a looser crimp at the ends. And to give a realistic look to the ribbons, which appear to have been cut cleanly, the ends have been worked in a downward setting, with tiny pavement stones. As for the central necklace of the collection, made up of an intermingling of ribbons with floral prints and stripes, it was necessary to borrow certain skills from watchmaking to achieve this flexible result.
To accompany each set, Maria Grazia Chiuri, Dior's artistic director, has created a beautiful haute couture collection that highlights the jewels. It is rare to see haute couture at the service of high jewellery
INTERVIEW
This is the first time you have created a collection that is so literally inspired by Monsieur Dior's haute couture. How did you get the idea of designing prints on jewellery?
Victoire de Castellane : I like to work on themes from A to Z, pushing the thread in a different way each time. After doing ribbons, embroidery and lace, I became interested in prints: flowers, stripes, checks, polka dots, tartan, etc. It was fun to imagine a collection like this.
Did you search in the archives to choose particular patterns?

I didn't do it in a very academic way. I have memories, sometimes a bit hazy, of things I've seen in the archives and I like to adapt them to the moment.
A floral print was inspired by a Miss Dior dress from 1949. Why this choice?
I started the collection with this pattern. I thought it was extremely fresh, extremely Dior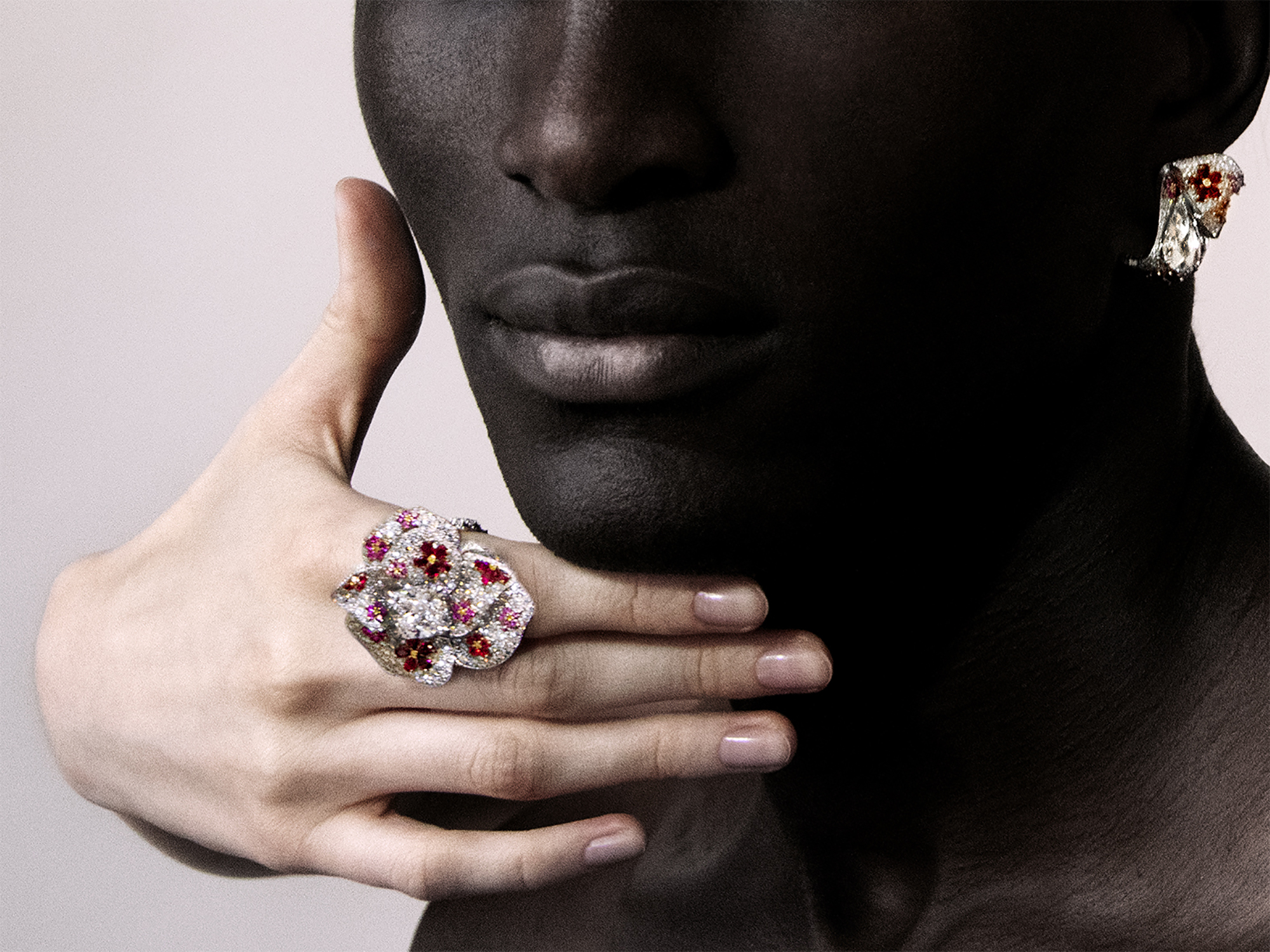 To go from a two-dimensional motif, the fabric, to the third dimension of the jewel, is not easy. What were the biggest challenges?
The biggest challenge was to make sure that the print followed the movements of the ruffles and ribbons, that it all looked extremely natural and that the motifs did not disappear in the setting. It was the workshops in particular that were challenged. How do you set the stones so that they always keep their shape and do not crush them at the point where the ruffles spread or tighten? And there is always the question of the weight of the finished piece, how comfortable it is. The jewellery had to look very light, without questioning the number of hours it took to make it.
Did you have to give up some of the prints for technical reasons?
No. The reason I gave up some prints was that I didn't want to do them this year. I really wanted to stick to the typical Dior couture prints and make them immediately recognisable.
What does this collection mean to you?
It's a fairly figurative collection that is part of the history of jewellery that I have been creating since 1999. It is not more important than the others: it is in the thread of the life of Dior jewellery.
This collection has some extraordinary centre stones, such as a 14.66-carat Burmese sapphire, an 11.58-carat D Flawless diamond, and especially a 10.27-carat Mozambique ruby. Do you work differently with these gems?
We have been using extremely large centre stones for three years. Yes, we do work differently because they have very large breeches. The design has to be perfectly adapted to encapsulate it: it requires a special construction game. Each centre stone has its own clothes.
In a previous interview, you told me that creating jewellery was like being on a perpetual quest for a treasure.
That's true. It would be wonderful to discover a treasure! The basis of my work is to know how to keep this part of childhood in me which allows me to create while forgetting the incredible value of these materials. When you are a child, you are totally free in your creation. And that's what I want to keep in order to continue to go further, without any constraints.
In this collection, you have used all the stones that you love: coloured sapphires, Paraiba, opals. Opal and coloured stone dealers often tell me that you were the one who brought them up to date. How did you get a taste for these gems when you joined Dior in 1999?
I couldn't imagine making jewellery without using all the existing colours. When I came into the business 25 years ago, people only used the four classic gemstones (diamond, ruby, sapphire, emerald, ed. note). Perhaps it was a form of snobbery or a very bourgeois way of looking at jewellery? Coloured stones were used by the great designers of the 20th century, such as Suzanne Belperron and Jeanne Toussaint, but they were abandoned by the traditional jewellers. Why shouldn't they have a chance? Especially as some have become very rare, such as beautiful amethysts or real topazes. I came into the business very freely. I chose 80-carat stones, aquamarines, morganites, gems with pastel or more vivid tones. I thought they looked wonderful in the company of the four precious stones.
And why did you choose to highlight the opal as well?
One of my aunts had a ring that belonged to Barbara Hutton, who was her godmother and also my father's godmother. My aunt had very small hands and she wore this huge ring, a big opal cabochon surrounded by diamonds, on her index finger. And I thought it was extraordinary! It reminded me of those fakir stones from which a genie could come out. It seemed to be alive. It is a stone for telling fantastic stories. That's why I used it right away when I arrived at Dior because, being in a fashion house, anything was possible!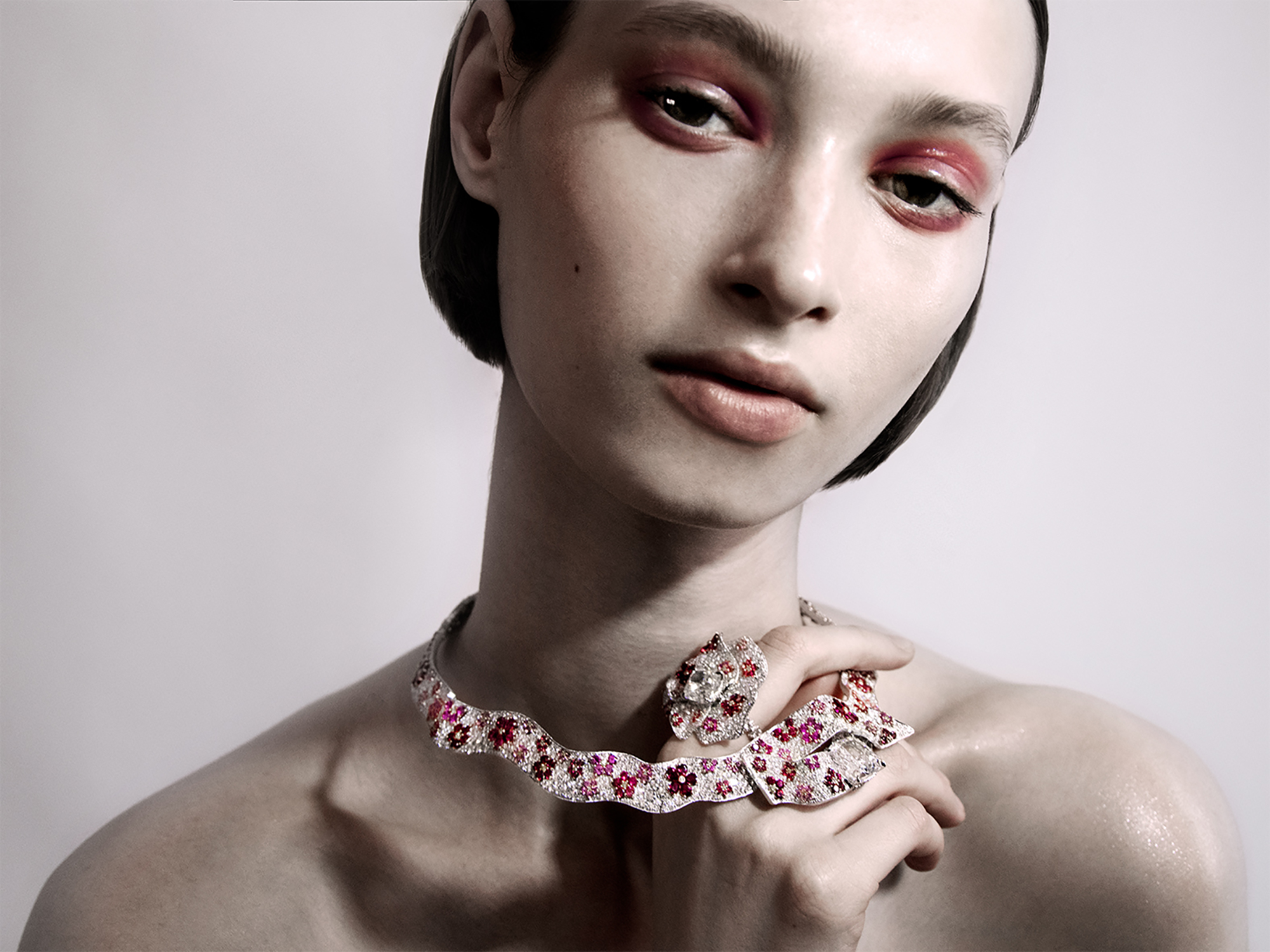 Maria Grazia Chiuri has created about forty haute couture looks in line with your collection. How did you work together?
We've been working together for three years. It's very easy, fast, we get along very well. I show her my designs to explain the theme of the collection and she comes up with dresses that are in perfect harmony with the jewels every time. She doesn't weaken them, on the contrary, she enhances them. It's a very sophisticated proposition for clients who can afford the jewellery and the outfit. Few houses are able to do this.
You have been in charge of the creation of Dior jewellery since 1999. From the beginning you had carte blanche to create collections that no one had ever seen or thought of before. When you look back, what are you most proud of?
I am not proud of anything: pride is not a question for me. I would say that I am extremely happy that I am fulfilling myself in this job and that I am never bored. As long as you have this desire to continue, that's what life is about and that's what interests me.
You have explored every possible themes, even the most unusual ones, such as the Belladone Island collection in 2007. Is there an ultimate jewel that you would like to achieve?
I hope I don't know it yet, that I will discover it soon and surprise myself!