Fashion versus reality principle
The fall-winter 2021-22 collection presented online on Saturday, March 6 is a perfect example of fashion that adapts to the demands of the real world. (We talk about style, not about the price of the clothes). We no longer dream: the principle of pleasure is replaced by the principle of reality. This does not prevent neither beauty nor purity, but without idealization. Isabelle Cerboneschi
Watching the Hermès show live on Saturday afternoon, I thought to myself: "So this is what fashion will look like in autumn 2021? "A hyper-protective wardrobe in a minimalist beauty mood.  This collection is a response to the demands of the world in which we have been immersed for the past year. A garment is a creation, a message, a beautifier, certainly, but it is also very prosaically a protection. Mix it all together and you will have the fall-winter 2021-22 collection of Hermès. Nadège Vanhee-Cybulski didn't need to guess the mood of the fall 2021: we all know it. It will resemble the spring of 2021, the one of last fall, and we can even go back as far as March 2020.
March 2020. Since this date, which marks the last fashion shows with an audience, we watch them online. Brands are reinventing the way they present their collections. They film their clothes according to a narrative that allows them to say as much as possible about the collection, the spirit of the designer and of the house itself. Hermès has chosen the form of an artistic triptych, integrating the show between two choreographies. The first one, by Madeline Hollander, took place live in New York, while the second, a creation by Chinese choreographer Gu Jiani, was filmed in Shanghai. "I wanted us to keep a record of this particular moment when the situation requires us to do more than a show: a performance in three acts," explains Nadège Vanhee-Cybulski.
Let's talk about the show. Leather. A lot of leather. One can expect it at Hermès, but at this point, it is a kind of manifesto. Suede or lamb, solid, resistant, protective materials. The skirts are worn worn with high collars. We see very little flesh in this collection. It is a woman who created this collection for women, and she intends to give them this possibility to feel feminine without feeling naked. "We are living in a time when women need to take control of the narrative, express their sensuality as they see fit, far from all stereotypes. It is an ongoing process—and a wonderful challenge—for today's women, and for fashion," says Nadège Vanhee-Cybulski.
The collection has been created in declensions of red, rust, autumn leaves, sprinkled with a little sand, black too, the colors of the earth. Only a peach colored dress gives a glimpse of better tomorrows.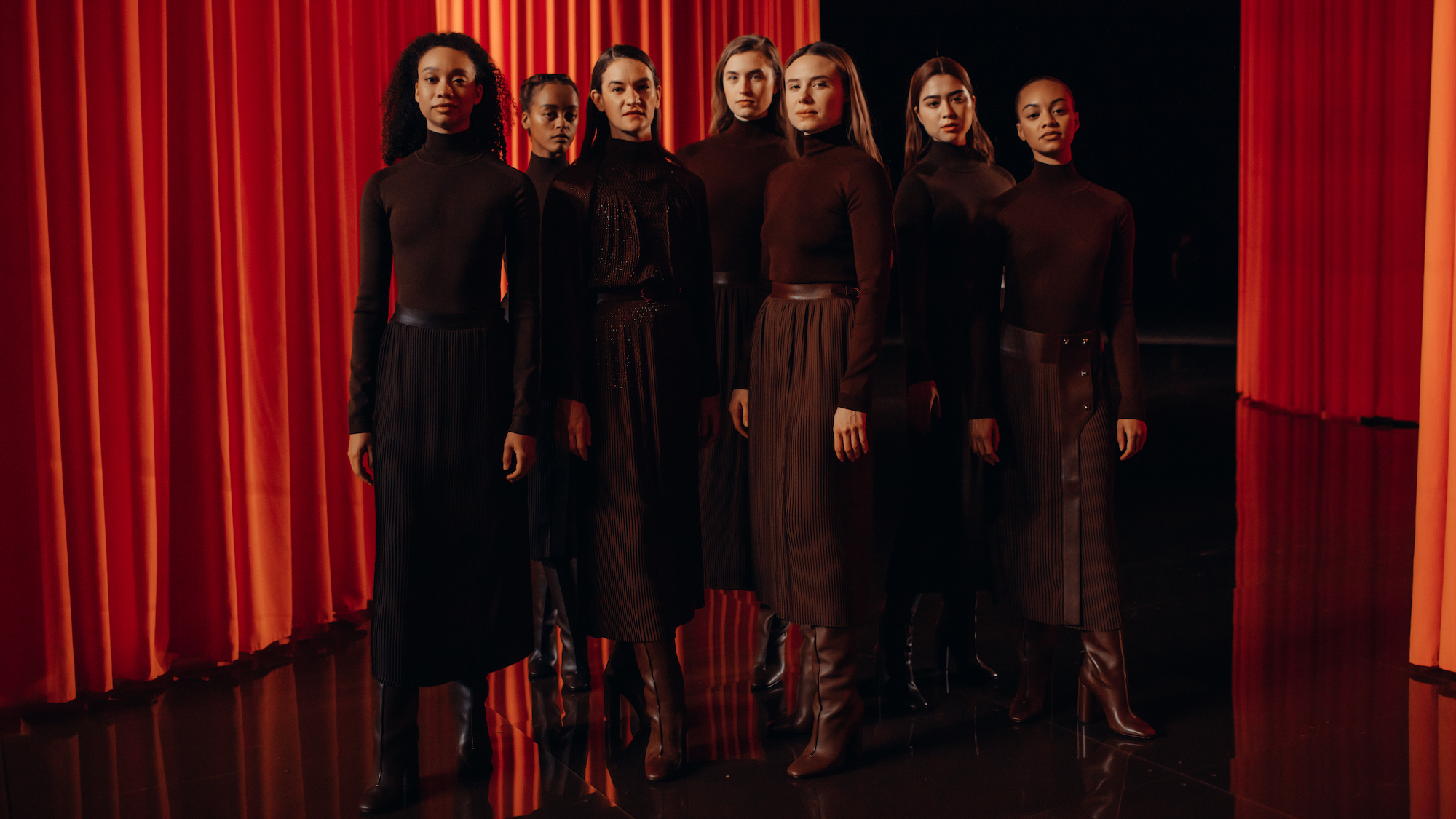 "When this collection started, it was total nothingness, because it was the lockdown. We didn't even think about creating anymore. It shocked everyone. We were all locked up at home. Very quickly I understood that it was very important to continue to create. It was also a way of living in creative asceticism. Into our cocoons, without the judgment others, we could go further in our fantasy world," says Nadège Vanhee-Cybulski to filmmaker Sébastien Lifshitz. He has made a film that retraces the history of this collection born in workshops where everyone was wearing masks. "I didn't want to express melancholy, which could have been generated at that time. On the contrary, I was rather in reaction, a form of resistance," says the artistic director of Hermès. "I chose materials that could express shelter, comfort, protection, but without forgetting movement and sensuality. The pleats are worked like a second skin and free the garment, and therefore the body, and the woman can really live without constraint. "Let's say, without being hindered, because the constraints linked to our times are a reality from which one cannot escape.
The two choreographies do not reflect the collection, but our time. Madeline Hollander's one is inspired by women in the street, their movements, their rhythm. "For me, this performance is not just about clothes or about a performance. The current situation has forced us to reinvent ourselves and the production process from the inside out: despite the crisis we must continue to collaborate and discover creative ways to leap over obstacles. New ways of functioning and performing will, I'm sure, emerge from these constraints."
Gu Jiani's work is questioning the strength of women and the spirit of solidarity that binds them. "This project only features female dancers in order to show the strength of women. To illustrate this strength, I asked them to perform difficult movements, some of which come from Bagua. I tried to combine these movements rooted in Chinese culture with elements of ballroom dancing. I want to explore what emerges from the encounter between hardness and tenderness in the dancers' movements and see what language emerges from the exchange."
What emerges from this triptych, where fashion is perhaps no longer the central element?  Nadège Vanhee-Cybulski has the the final word: "It is urgent now to live again, to venture forth into the unknown, to gain a new lease of life. It is a time of rebuilding: so much remains to be explored, beginning with womanhood, a concept that has changed quite a lot these past few years. Time flies, which is surely a sign that we need to reinvent ourselves." 
»