Episode 4: the secrets of the Astronomic Souveraine
In a long interview, the master watchmaker confided in us about the origins of four of his brand's founding timepieces: the Tourbillon Souverain (1999-2003), the Chronomètre à Résonance (2000-2004), the Sonnerie Souveraine (2006-2019) and the Astronomic Souveraine (2020). In a series of four chapters, he explains the genesis of these four models, their raison d'être, but he also reveals his creative process, the work in progress and his ultimate quest. Isabelle Cerboneschi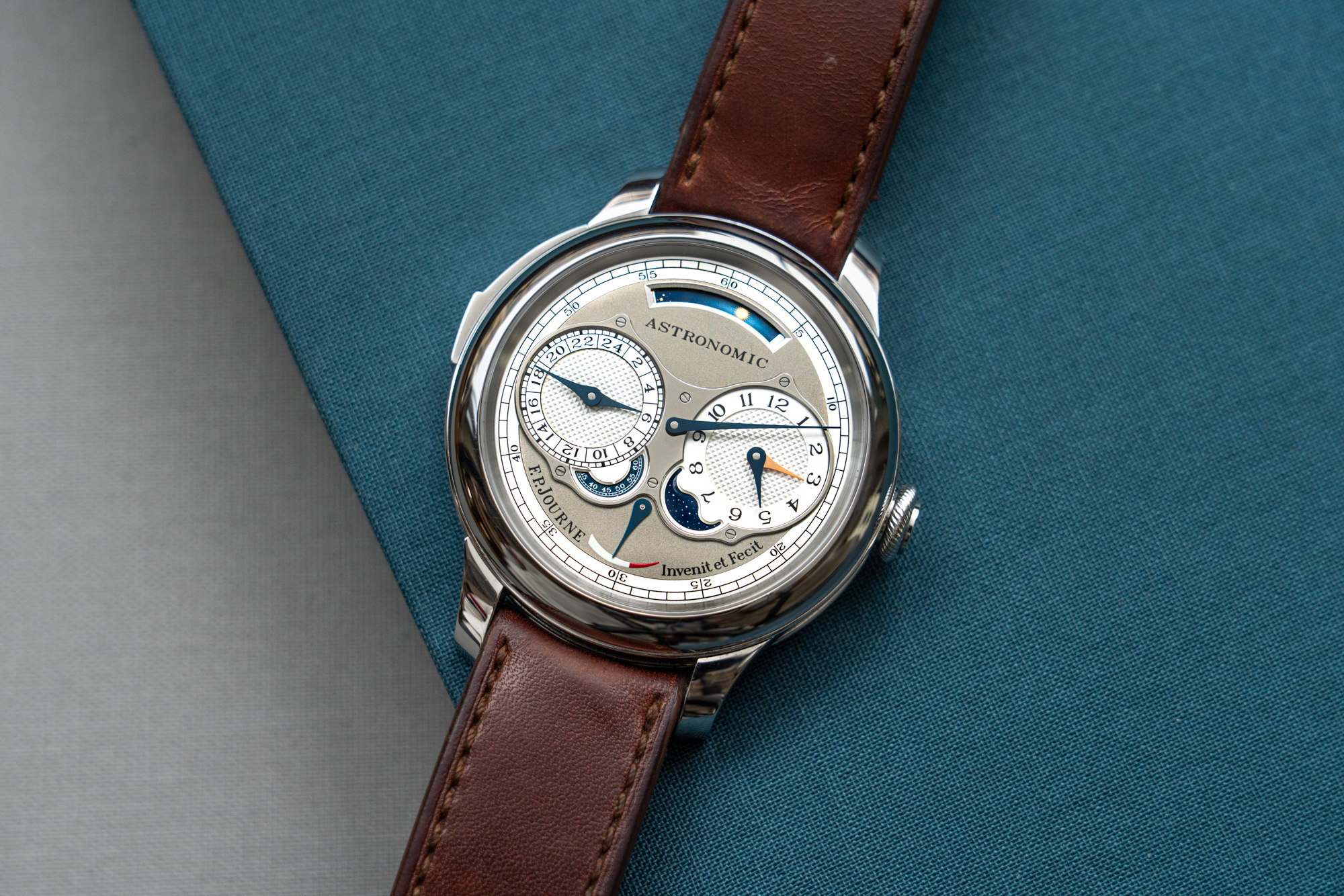 The Astronomic Souveraine is of noble lineage: it is the daughter of the Astronomic Blue, a tantalum prototype that François-Paul Journe created for the Only Watch auction in November 2019, the proceeds of which are used to finance research into muscular dystrophy. This unique piece was sold for CHF 1,800,000.
François-Paul Journe had foreseen that this prototype would be followed by a model produced for the sale. Thus in November of the same year appeared the Astronomic Souveraine in steel, a watch of apparent simplicity, despite its complexity, which combines no less than 18 functions and complications, including a tourbillon with a remontoir d'égalité, a minute repeater, sidereal hours and minutes, a second time zone, the phases of the moon, a complete annual calendar encircled by the signs of the zodiac, an equation of time, indications of sunrise and sunset at 12 o'clock, and a natural deadbeat second.
It is quite unusual to see the sunrise and sunset indications in a single arched window at 12 o'clock. Usually, we find them on two distinct dials. François-Paul Journe opted for a metal curtain that shows the lengthening or shortening of the days. The reason for this choice  is not only a question of watchmaking art but also of affection. The idea originated with a drawing by a teenager, Charles, the son of François-Paul Journe, who had depicted a watch with a curved window through which the course of the sun could be observed. The master watchmaker worked to bring this drawing to life.
After listening to François-Paul Journe explain the genesis of four founding models, identifying what makes him unique seemed obvious. And this is due to his creative process. He starts by searching in his mind for the solution to his problem, namely the fundamentals that will enable him to create a new watch that will bring something new to his collection first, and then to the world of watchmaking. It is usually a timepiece with a movement that runs as lightly as possible, even if his watches have a host of complications, and that comes as close as possible to his Holy Grail: ultimate precision.
In his mind, there is a knowledge of the history of watchmaking, of what has been done by his predecessors but also by his contemporaries, and a know-how that has been refined over the years and through challenges. But the solution is not always found there. This is where his genius comes in: François-Paul Journe knows how to listen to the sounds of the world. What does that mean? He listens, he looks, he gathers everything that comes to him. And in the midst of this new library of informations, which may contain both his son's drawing or a regulator he restored when he lived in Paris, the solution appears, because he has known how to open himself up to it by going down other paths. The last episode of this series is dedicated to a watch, the Astronomic Souveraine, where he put everything he knew, everything he had done in the past and everything he let come to him…
INTERVIEW
For thousands of years, the sky has served as a time reference for humans. What prompted you to bring it down to earth?
François-Paul Journe : If only I could do that! Like Patek Philippe's Sky Moon Tourbillon and models from other brands, we were missing an astronomical watch. I wanted to do something aesthetic.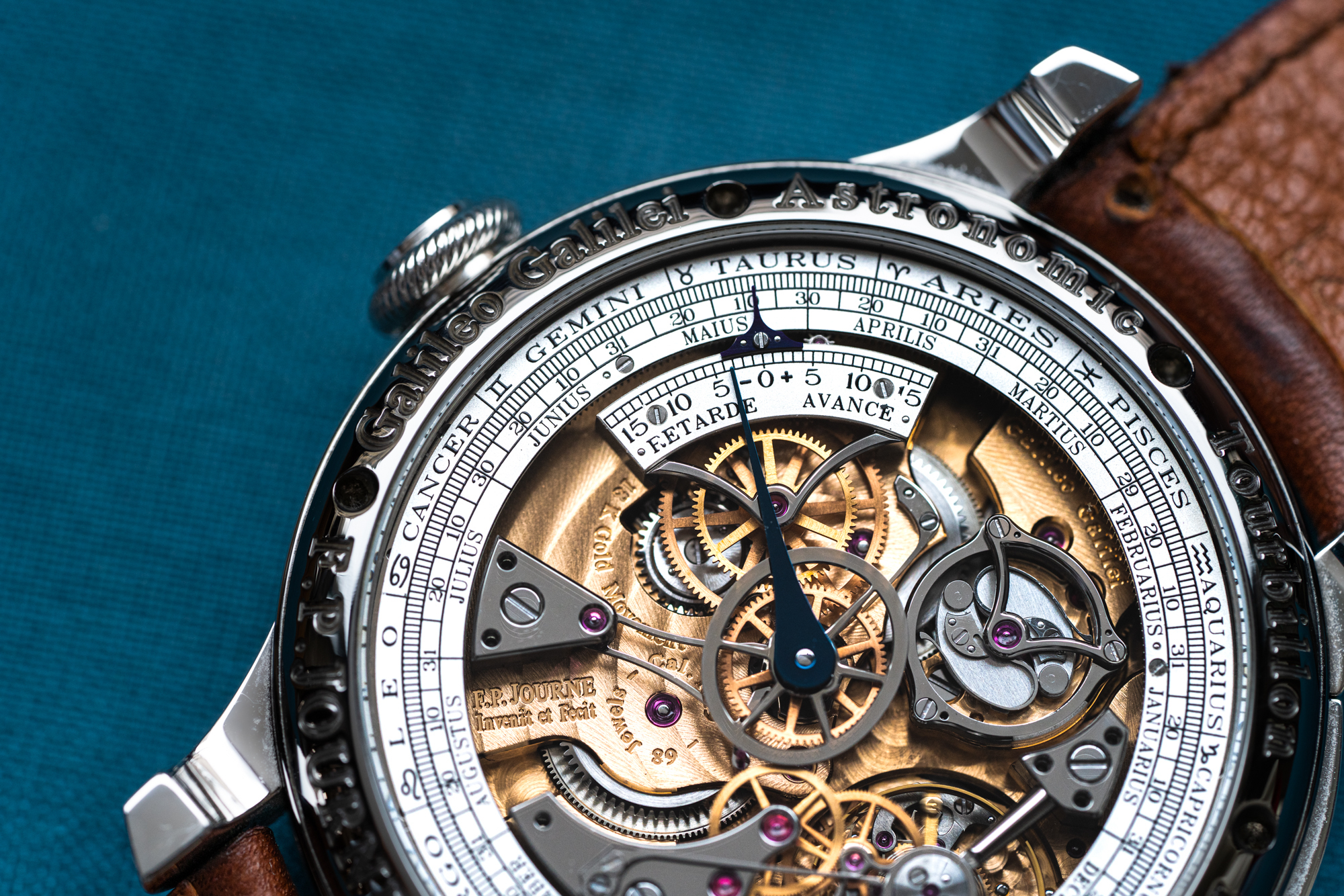 What was your source of inspiration?
I had found a drawing of a watch my son had made in 2003, with the sky passing through an aperture, but for years I couldn't find the solution to make this model. Initially I wanted the watch to be powered by the Octa automatic movement, with much simpler astronomical indications. I drew endlessly but it didn't work. So I asked myself what I had done best in my life that I could use as a basis. And I remembered a pocket watch with a planetarium, a commission for a Parisian collector of scientific objects, which I had made in 1987. It showed the sidereal time, the equation of time, a complete calendar and a power reserve. From that moment on, the ideas came in! What other complication would work best with an astronomical watch? A minute repeater. And with it? A tourbillon with a remontoir d'égalité so as not to disturb the precision of the watch, because of all that the movement has to carry. I started to draw and followed my train of thoughts.
When looking at your creations, many words come to mind but the most obvious is "lightness".
This is the golden rule of watchmaking! The Astronomic works with the same barrel as the Chronomètre Souverain, in this watch there are two barrels, with a slightly stronger spring. Everything works well, with a lot of lightness. It is a large complication, but it remains fluid.
Unlike the Grande Sonnerie, you have not filed any patent. Why not?
Because I'm tired of giving anyone else ideas (laughs). I give the solutions, and others take them up and twist them slightly, as one factory did once with its pseudo Grande Sonnerie which never worked. In my patent it said "the rake in the centre of the watch" and they moved it by a millimetre so that it was not in the centre. If I had written in the claim "within 10mm of the centre of the movement", they could never have built theirs the way they did. Now I make fake drawings and send the others on the wrong path (laughs). Even in animation, you see things that don't exist, but as no design office is going to buy an Astronomic to dissect it, no one can really see what I've done and so I don't need a patent.
In the first interview you gave me in 1999, you said that you had set yourself a challenge for the future: "to surpass the precision of quartz with a mechanical watch". Do you consider that you have succeeded?
No. I can beat a very bad quartz (laughs). My goal is to make the most accurate mechanical watch in the world. To achieve this, you have to eliminate two things: the oil and the imperfection of the balance spring, which cannot be completely isochronous. But I haven't yet figured out how to replace them. I have lots of ideas for replacing the balance spring. Perhaps we should go back to 16th century watchmaking, when the balance spring did not exist, combined with 21st century technology. This is basic research. One day I may catch a wire and pull it…