Le Temps Voyageur d'Hermès, a poetic epic
The Temps Voyageur watch by Hermès, a finalist in several categories of the Grand Prix de l'Horlogerie de Genève, indicates the world's times in a special way. This timepiece was designed for businessmen and women, 21st century adventurers and long-distance travellers. But also for poetic souls who prefer to travel around their room dreaming in front of its dial displaying imaginary continents invented by the artist Jérôme Colliard. Isabelle Cerboneschi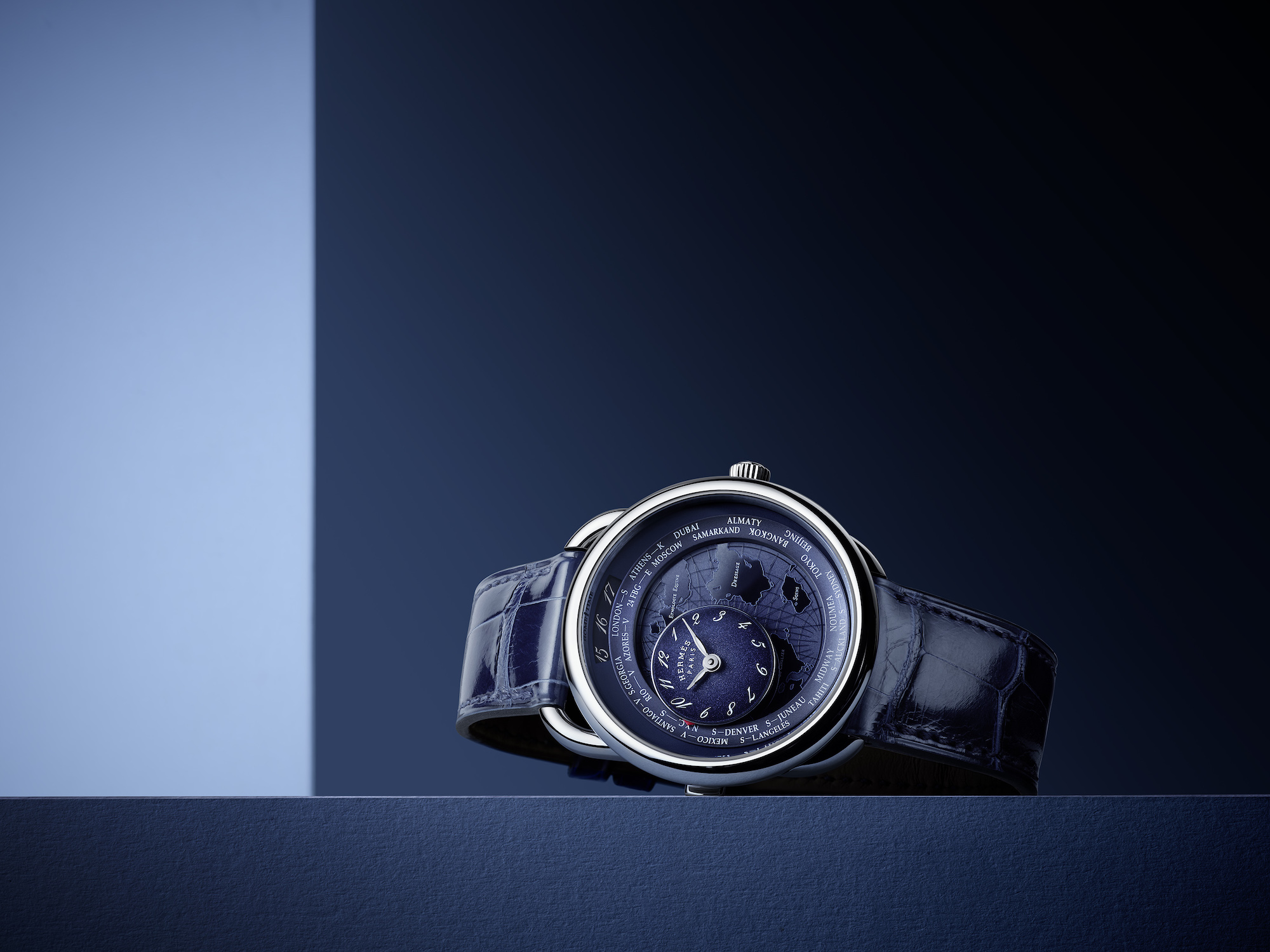 It is called Le Temps Voyageur and it is not clear what kind of journey this watch is inviting: a real journey or an imaginary epic? It does indicate the times of the world and is perfectly useful for all businessmen and women who cross time zones to find themselves in Tokyo, Dubai, Beijing or even Samarkand from Geneva or Paris, sorry, from 24 FBG. Because Hermès Horloger has chosen to replace the French capital with the address of its flagship at 24 rue du Faubourg Saint-Honoré. So chic!
But this watch has another dreamlike dimension that is not revealed at first glance. The satellite dial displaying the hours gravitates inside a circular disc indicating the 24 time zones and flies over a world map. But when you look closely at the continents displayed on the dial, you don't recognise them: there is "Equine Ethology", "Dressage", "Care", so many unknown lands from the mind of the artist Jérôme Colliard.
He invented this world for a gigantic map he created for the Saut Hermès 2016, an international show jumping competition organised each year by the Parisian company at the Grand Palais. This imaginary land, inspired by the equestrian world, is the origine of the silk scarf "Planisphere of an equestrian world". It featured the Sea of Endurance, the Great Desert of Caresses or the Corlandus Islands.
Philippe Delhotal, the creative director of Hermès Horloger, wanted to create a watch that would show the world's times, but with a touch of poetry. While digging into the company's archives, he discovered the famous silk scarf. "This project started three years ago. We wanted to create a world time that would be useful for travellers, practical, readable and inspiring. The satellite indicating the hours moves around a disc representing the 24 time zones, while telling a story. It navigates as if in zero gravity on the dial and flies over a planisphere. But instead of representing our beautiful planet, we chose a different world. We were lucky enough to meet Jérôme Colliard and we took some of the continents from the imaginary planet he had invented for the Saut Hermès in 2016."
Jérôme Colliard is as discreet as he is multi-talented. It's hard to pin him down: he is a graphic designer, illustrator and set designer by training. He started out with the famous designer Hilton McConnico. He has produced numerous album covers for Alain Souchon, -M-, William Sheller, Julien Clerc…, film posters and a beautiful book for Matthieu Chedid: Le Livre extraordinaire de -M- published by Flammarion. He was present in Geneva during the Watches & Wonders exhibition. It was the perfect opportunity for a meeting.
INTERVIEW
What gave you the idea to create an imaginary world?
Jérôme Colliard : Actually, I was asked to. The scenographer Grégoire Diehl (the director of design, architecture and scenography at Hermès International, editor's note) wanted a monumental piece for the Saut Hermès: a world map representing an imaginary world. The idea came to him when he thought of the Carte de Tendre (the map of a country called Tendre, invented in the 17th century by the writer Madeleine de Scudéry, as an allegory of love, editor's note). He wanted to transcribe this into the world of the horse. At the end of 2015, I started by creating the Work Island, then I drew unknown lands.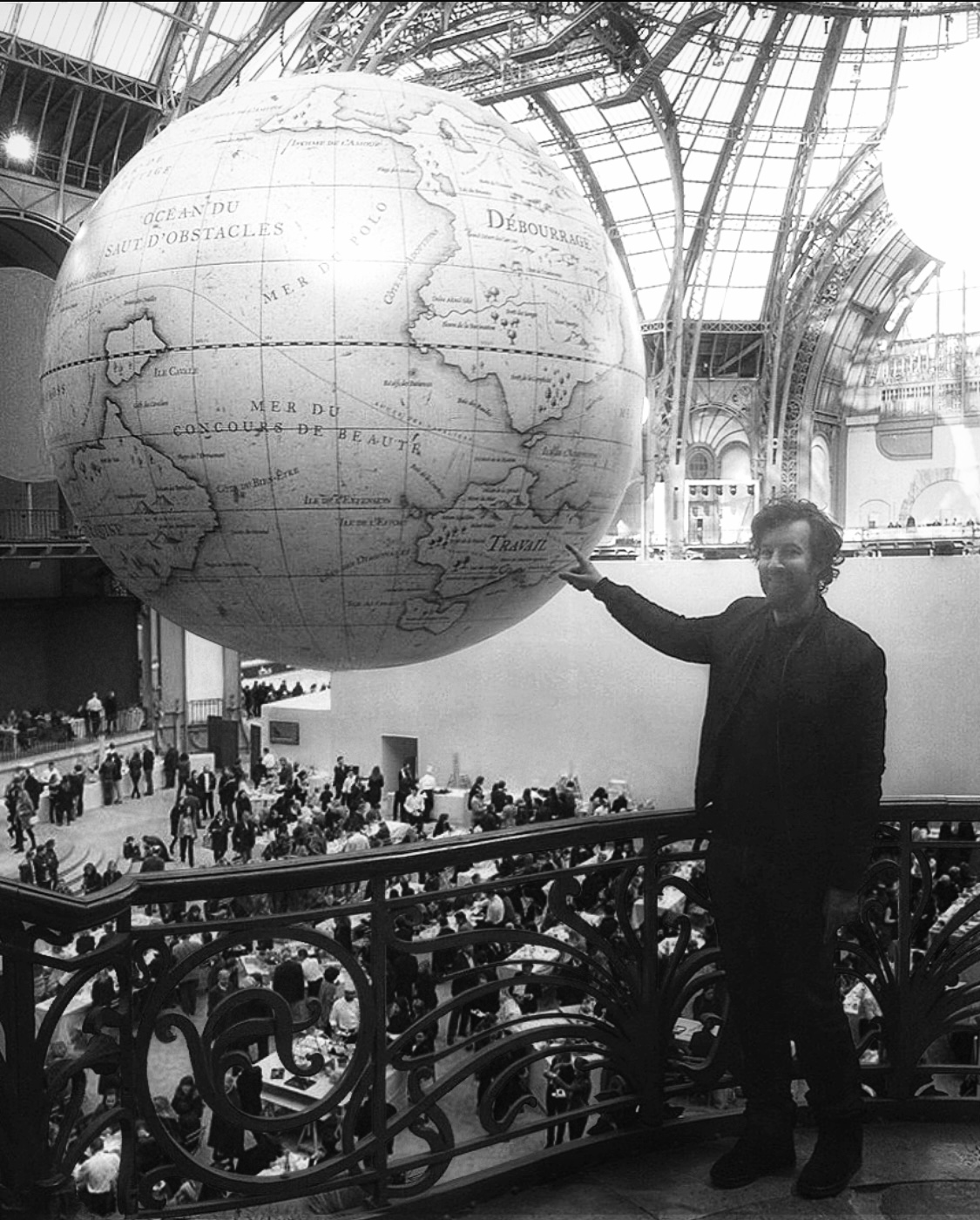 How did you come up with all these names of continents?
They come from the lexicon of the horse. I drew words from it that I declined into bays, gulfs, mountains, forests, according to their sound and my imagination. The Great Desert of Petting, for example, comes from a reality: a horse that is not petted is not a happy horse. The names of Hermes saddles also appeared, such as Corlandus. But we didn't keep Brasilia because it referred to a real city.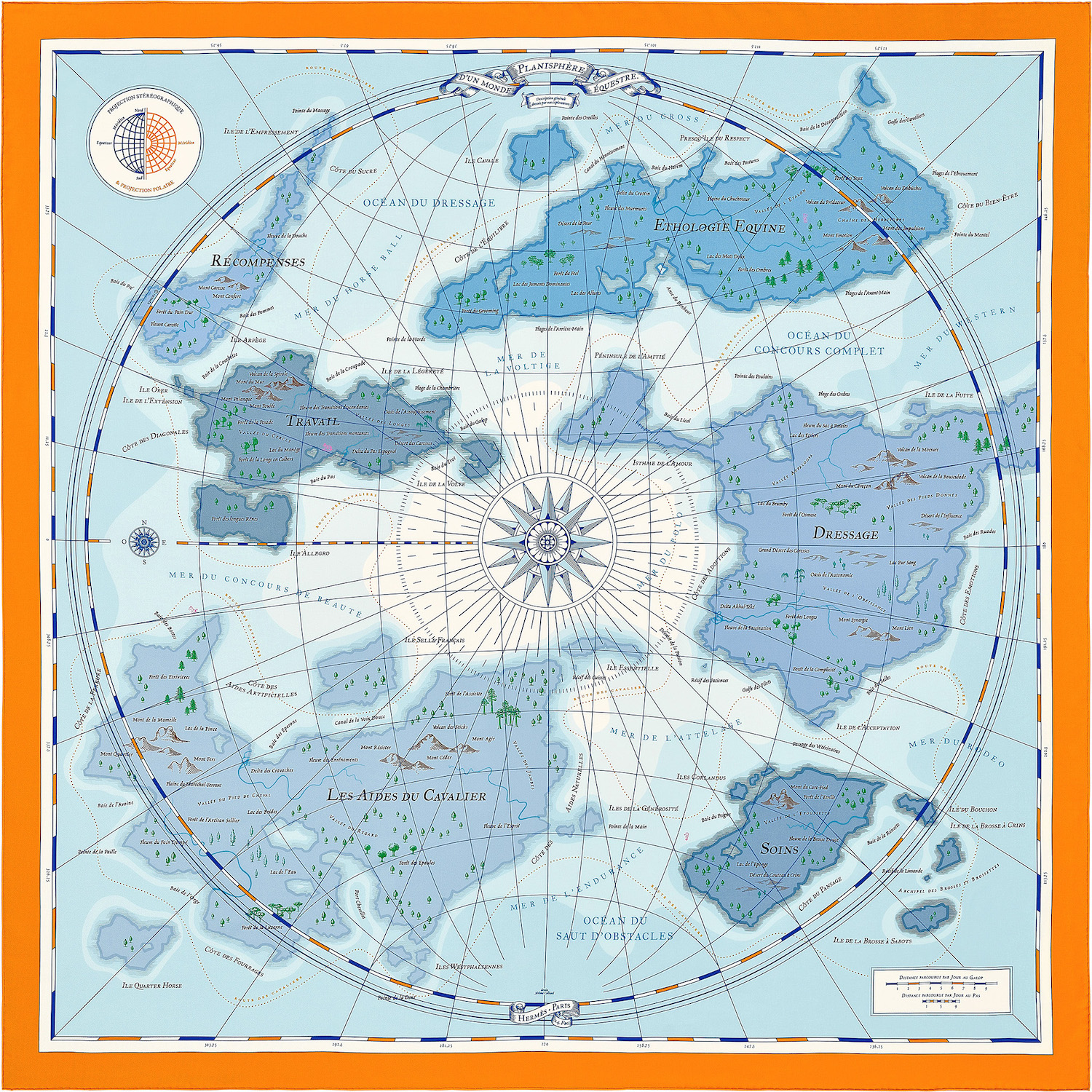 Your world map reminds me of the Obscure Cities invented by the cartoonists François Schuiten & Benoît Peeters.
That's right, it was part of the brief for this project! I was asked to take inspiration from them, as well as from Tolkien's universe. The globe was made out of rubber tarpaulin on the basis of an artificially aged and blotchy design, as if it had been found buried and brought to light.
If you could live in this imaginary world, where would you choose to live and why?
It's strange, but I'm very attached to the first island I made: the Island of Work. It has a shape with a naturalness that I don't find on other continents. I have the impression that it could be real. I would choose a point, a place that is a little windy but still protected. I also like the Horsemen's Road that runs all over the place. It reminds me of the Silk Road. I tried to create continents that could intertwine, as if they had been separated according to the theory of plate tectonics. I need scientific rigour to underpin the dream. I am quite down to earth and creating a universe that does not exist was complicated. I even hesitated to say no to this project because it overwhelmed me; but the island of Work decided otherwise.
Did you have a world map when you were a child?
No, I had a geopolitical map on the wall, but my parents are antique enthusiasts and so I lived in a sort of curiosity cabinet with things absolutely everywhere, including huge 18th century plaster maps on big wooden legs. They also had portable ones, with their leather case and on the walls of the box, there were constellations. These are objects that I love and that have made my work easier.
What does this watch remind you of?
Dream in technology. A kind of magic…