La Colle Noire, Christian Dior's castle in a bottle of perfume
Few perfumes bear the name of a place, a house, an address, and are the symbol of a particular history. This is the case with La Colle Noire. This fragrance, part of the Collection Privée, has a strange name: that of the Provençal estate loved by the couturier. A fragrance that tells the story of a garden, an era, a spirit. Isabelle Cerboneschi
La colle means hill in the Fayence region where stands the Colle Noire estate. When Christian Dior fell in love with it and bought it on October 25, 1950, this castle, built on the heights of Montauroux between 1858 and 1861, was surrounded by vines and flowers. It quickly became a haven for the couturier, who chose to cultivate May roses, lavender and jasmine grandiflorum. Hidden behind century-old trees, the building is revealed at the end of a long cypress avenue. Its southern façade is reflected in a 45-metre long water mirror, which was designed by Christian Dior himself. Let's not forget that he used to draw before creating dresses and that as a child he dreamed of becoming an architect.
That house, I wish it to be my real home. Where – if God lends me long life – I can retire.
"Of the house, I cannot say much because I'm doing it. It is simple, solid and noble, and its serenity suits the period of life that I will have to tackle in a few years. That house, I wish it to be my real home. Where – if God lends me long life – I can retire. Where – if I have the means – I can close the loop of my existence and find, under another climate, the closed garden that protected my childhood. That is where I can finally live quiet, forgetting Christian Dior to just become Christian again", wrote the couturier in the book Christian Dior and I, published a year before his death, in 1956.
When he acquired the estate, the couturier was at his peak. Three years after revolutionising fashion with his Bar suit, which appeared in his first show on 12 February 1947, and after designing a new silhouette called the New Look by Carmel Snow, the powerful editor-in-chief of Harper's Bazaar, his name was known the world over. "Since 1948, it (Christian Dior) had opened a branch in New York and concluded licensing agreements with England, Canada, Cuba, Australia, Chile and Mexico. It became clear that the small, quiet business I had dreamed of had begun to devour me," he writes.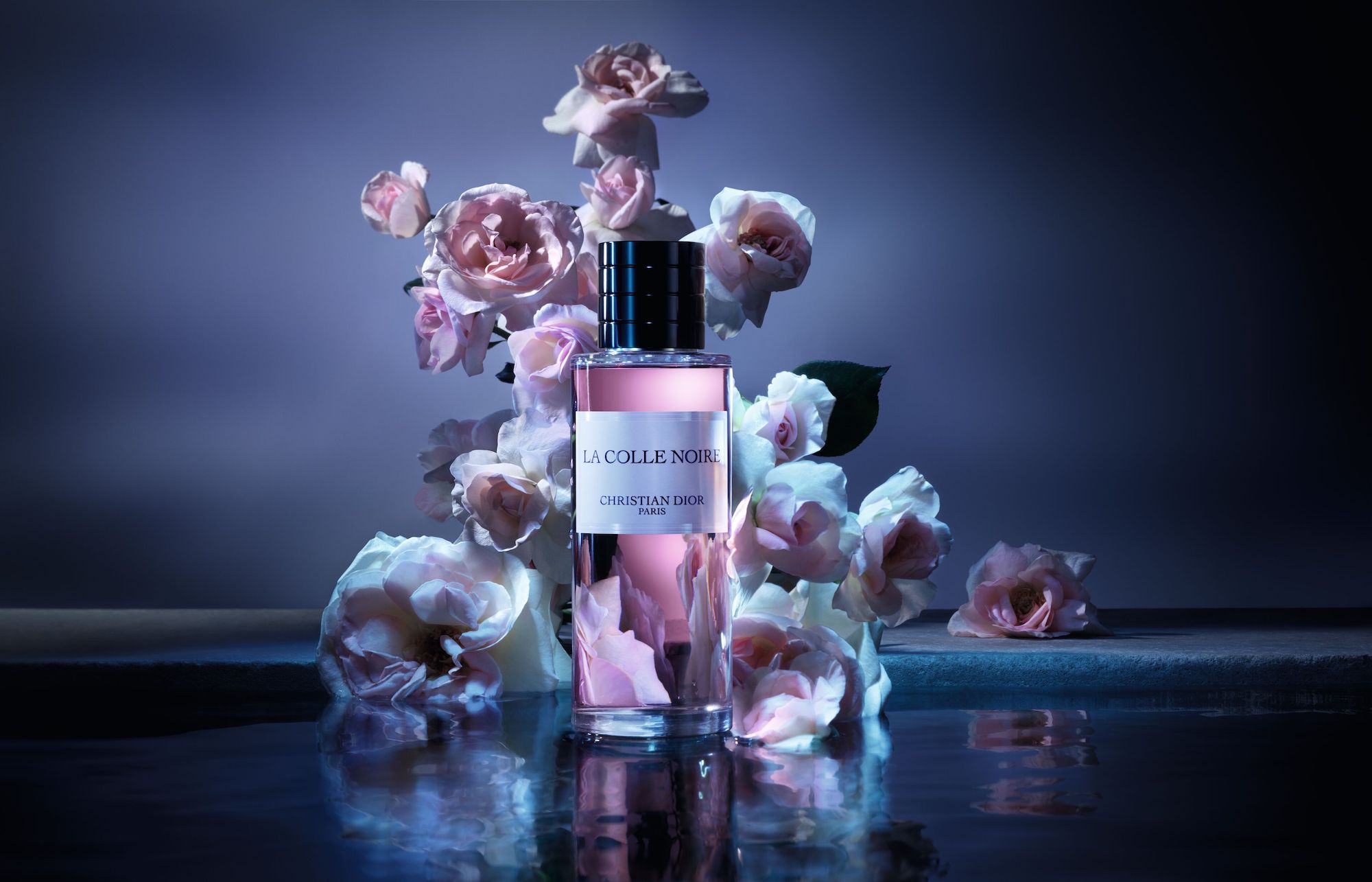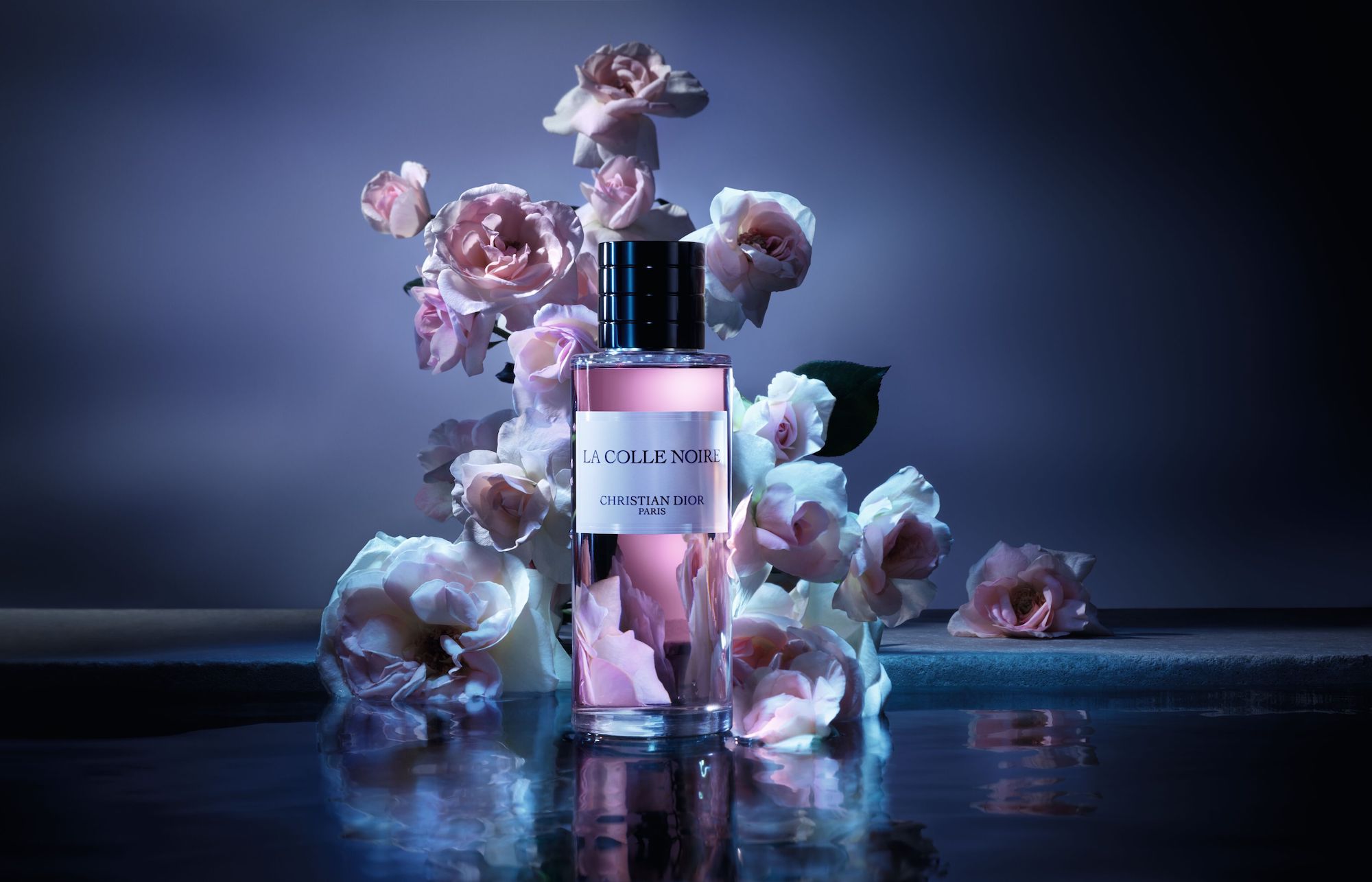 La Colle Noire is his refuge, the XXL version of his childhood home Les Rhumbs, in Granville. In this house flanked by two towers, the Norman turned Parisian could be himself, far from the Avenue Montaigne, far from Paris, far from business and close to flowers and his garden, his life-long passion.
In 1955, the couturier entrusted the restoration of the castle to the architect Andreï Svetchine, who had already restored the Auberge de la Colombe d'or and Marc Chagall's villa in Saint-Jean-Cap-Ferrat. The work lasted two years, until 1957, the year Christian Dior died on October 23. Christian Dior invited only a few dear friends to his secret Provençal garden: Bernard Buffet, Marc Chagall, Marie-Laure de Noailles, and a few others to whom he handed a business card with the access map drawn on the back.
In 2013, the perfume house Dior bought the estate and after three years of restoration work, the place was able to come back to life. May roses were planted, as well as the almond trees, so loved by the couturier, and his favourite flowers: the lily of the valley and the violet, the agapante and the tulip.
It was the Centifolia rose, the true mistress of the place, that inspired perfumer François Demachy when he created La Colle Noire in 2016. "In spring, the Centifolia rose invades the garden of La Colle Noire, Christian Dior's heartland in the Grasse region. It is an extraordinary moment when their fleshy, honeyed and fruity fragrance floats through the air. This fragrance is an ode to this magical place and to this unique rose that grows in the land of my childhood."
In order to ensure the production of very high quality May roses, which can be used in the composition of this perfume and others, François Demachy made sure that the Dior house entered into a partnership with two farms: Le Domaine de Manon and le Clos de Callian, both of which are run by women who produce the wonderful raw materials that are May roses and jasmine. "When I arrived at Dior, I had come from another big house where I had participated in redeveloping the production of flowers from Grasse. At Dior, there was no such thing. I thought it was necessary to focus on Grasse farms in order to secure production for the next 5 or 10 years. I asked to be responsible for the raw materials. I needed beautiful flowers and I didn't trust what I could find elsewhere," explained the perfumer last June.
In the formula of the perfume La Colle Noire, François Demachy used May rose, but not only. In the top note, lemon bursts forth, but it quickly gives way to velvety heart notes composed of May rose, peony, lily of the valley, which mingle with black currant, raspberry and peach. Clove announces the woody and ambery base notes: white musk, sandalwood, amber, heliotrope and oud wood. These deep scents give body to this elegant bouquet. There is nothing syrupy about this fragrance, quite the contrary: it is a pure, fresh rose, as if sculpted from ice. A delicate fragrance, like a haute couture dress made of silk tulle.
I didn't try to transcribe a building, but an atmosphere. This is my vision of the Colle Noire.
La Colle Noire is a tribute, an ode to the world of Christian Dior and to this domain he loved so much. But how do you incorporate architecture into a perfume? "As perfumers, we are observers and interpreters," explains François Demachy. "We translate what we feel, what we see. We know the language of scents. I didn't try to transcribe a building, but an atmosphere. This is my vision of the Colle Noire. I had to start somewhere. When Dior took over the domain, which was not in a very good state, including the garden, I insisted that Centifolia roses be planted there. I started with the idea of this rose in La Colle Noire. It's an interpretation."
It is therefore the beautiful love story of a couturier for his heart's home that is locked in this bottle. This perfume smells of a bygone era, a post-war time when everyone thought the worst was behind and the future was the time of all possibilities. Christian Dior was not able to live as long as he had hoped at La Colle Noire, but perfumer François Demachy was able to keep the spirit alive and with this opus, he invites us on an imaginary visit to the secret world of Christian Dior.
*Christian Dior and I, Ed. Amiot-Dumont, Paris 1956