… those who wear it speak best of it!
Master watchmaker François-Paul Journe had no intention of creating a sporty timepiece until one of his Japanese clients asked him for an ultra-light watch. In 2011, the first lineSport was born. This feather-light model has become the object of desire for new F.P.Journe watch collectors. Meet the passionate owners. Isabelle Cerboneschi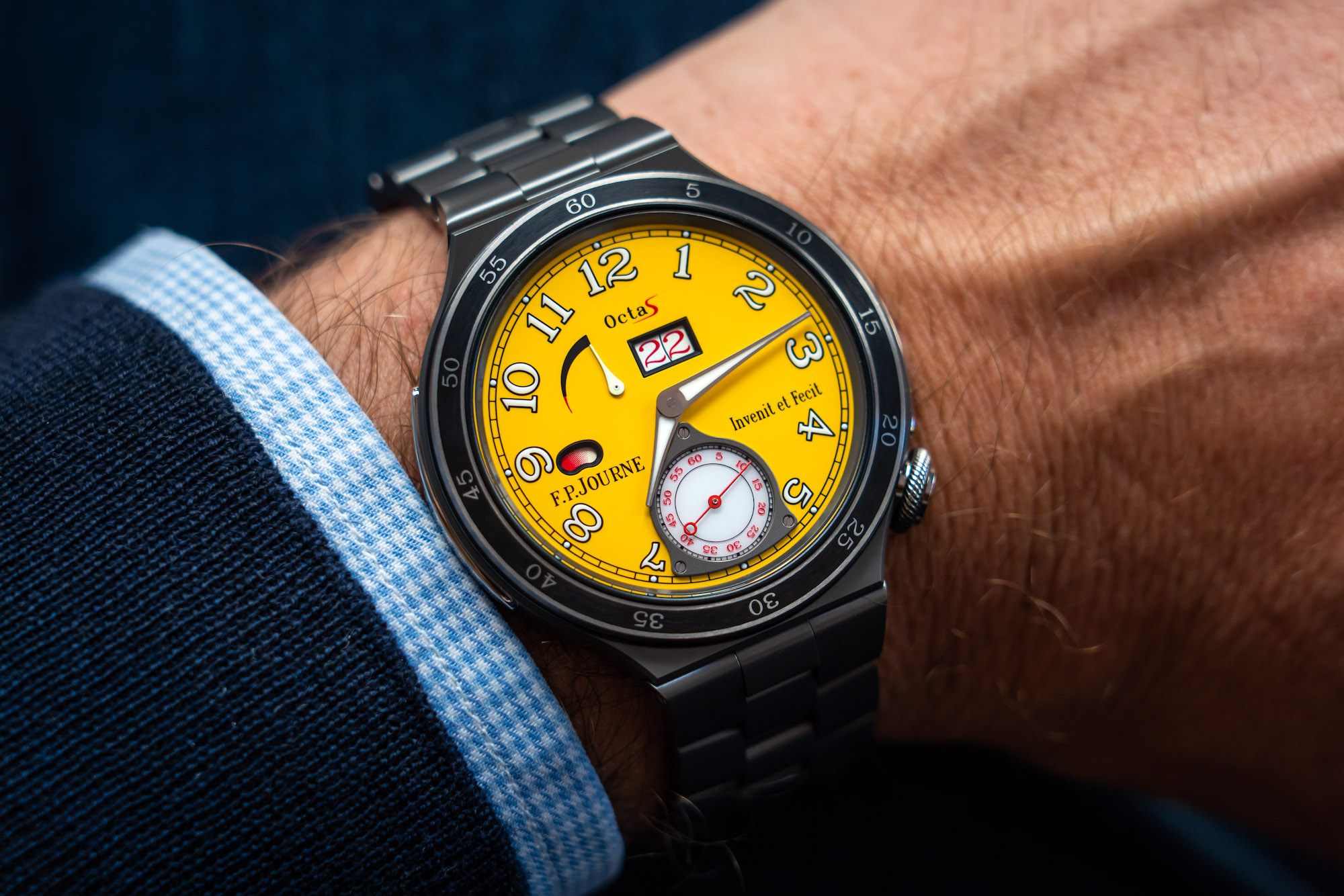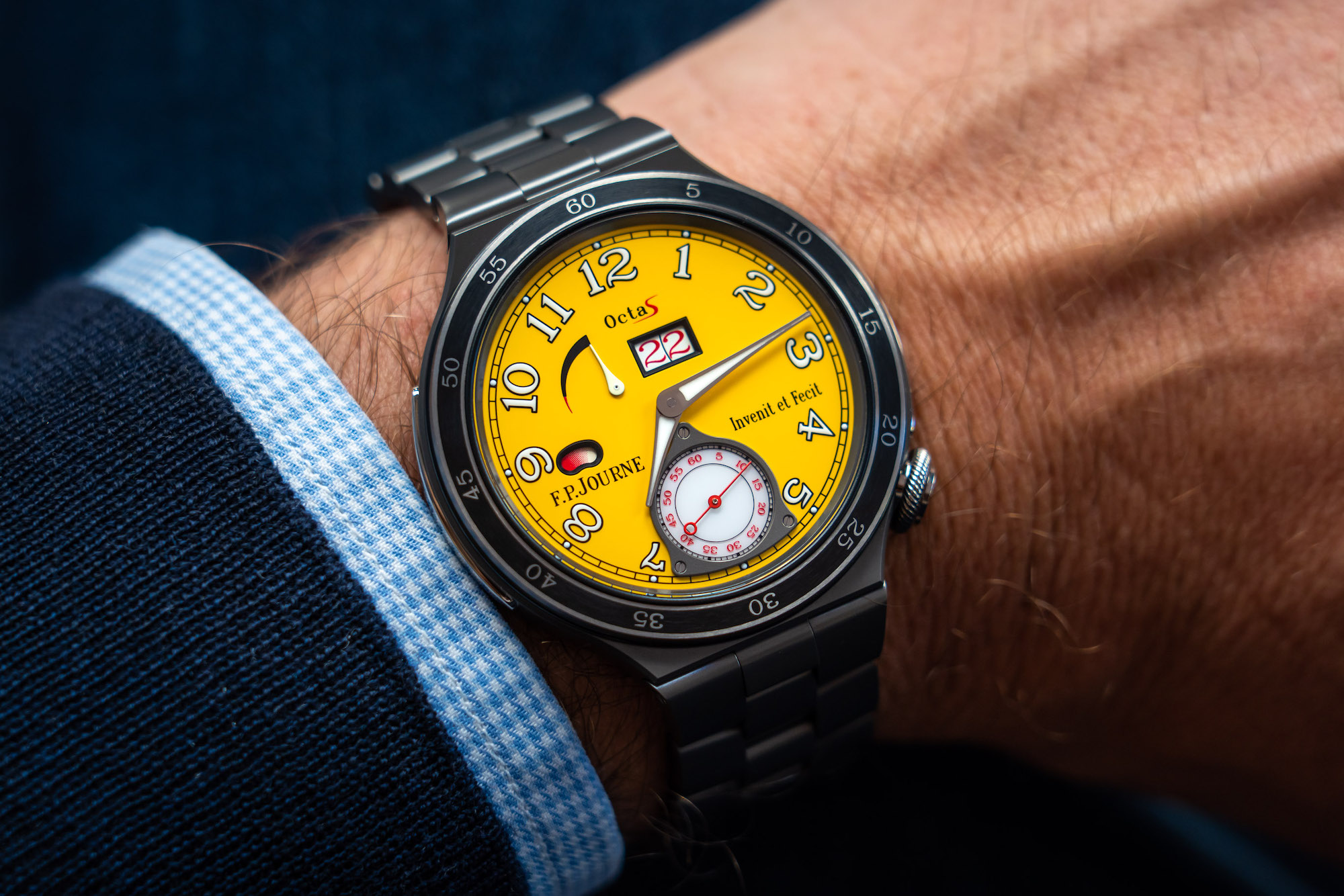 "Do you know why I created the Centigraphe Sport?", François-Paul Journe asked me on a beautiful autumn day in 2021. The answer, fortunately, was "no", which allowed him to tell the incredible story of this model which celebrated its 10th anniversary this year.
"One of my clients in Tokyo was a real epicurean. We met in Paris in 2008: he came for the opening of our boutique. On that occasion, he was wearing the platinum Centigraphe with a platinum bracelet. When I saw him again some time later in Tokyo, he was completely transformed: he had lost 60 pounds and had taken up intensive sport. He was doing triathlons and marathons. He asked me to create a watch for him that was lighter than his platinum Centigraphe, because for running it was not practical, he said."
Because he is an extreme watchmaker, François-Paul Journe decided to take up the challenge and design a watch for a businessman who had become, by sheer force of will, an extreme sportsman. After much research, he discovered a high-tech aluminium alloy, an ultra-light material used in aeronautics, that could accommodate his Centigraphe calibre and began work on this model in 2010. The Centigraphe Sport No. 001 weighed only 55 grams, including case, movement and bracelet. The challenge was met. But it was without counting on the whims of history.
In March 2011, before the customer could even discover his watch, an earthquake, followed by a tsunami that hit the Fukushima power station, led to a nuclear disaster. "I decided to auction the watch at Christie's in Hong Kong (on 30th May 2011) for the benefit of the Japanese victims," explains François-Paul Journe. "Three buyers bid and the one who won the Centigraphe for US$ 467'152, almost 9 times the retail price, was my client! He was very happy because most of the money was used to build a community centre in Sendai, to accommodate families who no longer knew where to meet, and the rest went to Médecins du Monde. I visited the place three years later, in 2014. All the port infrastructure, gas, etc. had been rebuilt. The only trace left of the disaster was a pile of car wrecks." It was in these particular circumstances that the Centigraphe Sport was born.
"François-Paul Journe is a Renaissance man: a cross between Galileo and Botticelli.

Carlo Gancia
No one expected François-Paul Journe to be in the sports watch business, but if the master watchmaker created watches according to other people's expectations, it would be obvious. This timepiece was at the origin of a collection: the lineSport. The self-winding Octa Sport followed the Centigraphe in 2012. Although the case, movement and bracelet are made of aluminium alloy, it is offered with a rubber strap. This model has the features of the Octa calibre, including 160 hours of power reserve.
On 27 May 2012, Jean Alesi was participating in the 96th running of the Indianapolis 500. When he entered the race in his Lotus, he was wearing his Centigraphe Sport on his wrist. To celebrate his participation, F.P. Journe created the Octa Sport "Indy 500", a limited edition of 99 pieces, with a blackened aluminium alloy case and a rubber strap. It was during this legendary race that Carlo Gancia, an Italian-Brazilian businessman who is involved in motor sport and president of Image Sports Marketing, discovered this watch and, incidentally, the name F.P. Journe. 
"I have known Jean Alesi for a long time because I had a F1 team in 1995 and was therefore present at his first and only F1 victory at the Canadian Grand Prix in Montreal in June 1995 with Scuderia Ferrari," explains Carlo Gancia. "Years later, at Indianapolis, when I saw the name F.P.Journe written on his car, I asked Jean who it was because I didn't know him. I then started to follow the news of this master watchmaker: his watches were so different from anything else! François-Paul Journe is a Renaissance man, a total artist. He designs his watches, his own fonts and he also creates the whole mechanism. A cross between Galileo and Botticelli. Constantin Brancusi said that "simplicity is complexity resolved". But with François-Paul Journe we should rather speak of tamed complexity."
This encounter with the world of François-Paul Journe was decisive for this watch collector: from that moment on, Carlo Gancia worked to own a share of the myth. "I was lucky enough to acquire one of his models. I wanted an automatic watch, but there was only an Octa Sport with a yellow dial available. When I saw it, it was love at first sight. For me, it was Georges Méliès in technicolour! A real "conversation piece". I was able to acquire it on 31st May 2021. It is my first F.P.Journe watch but it is not the last. I am in the queue for a Centigraphe. I would like my two sons to be able to have their own F.P.Journe watches when I am gone and to pass them on to them so that they remain in the family. They will be able to say that their father bought them from the creator, Monsieur Journe."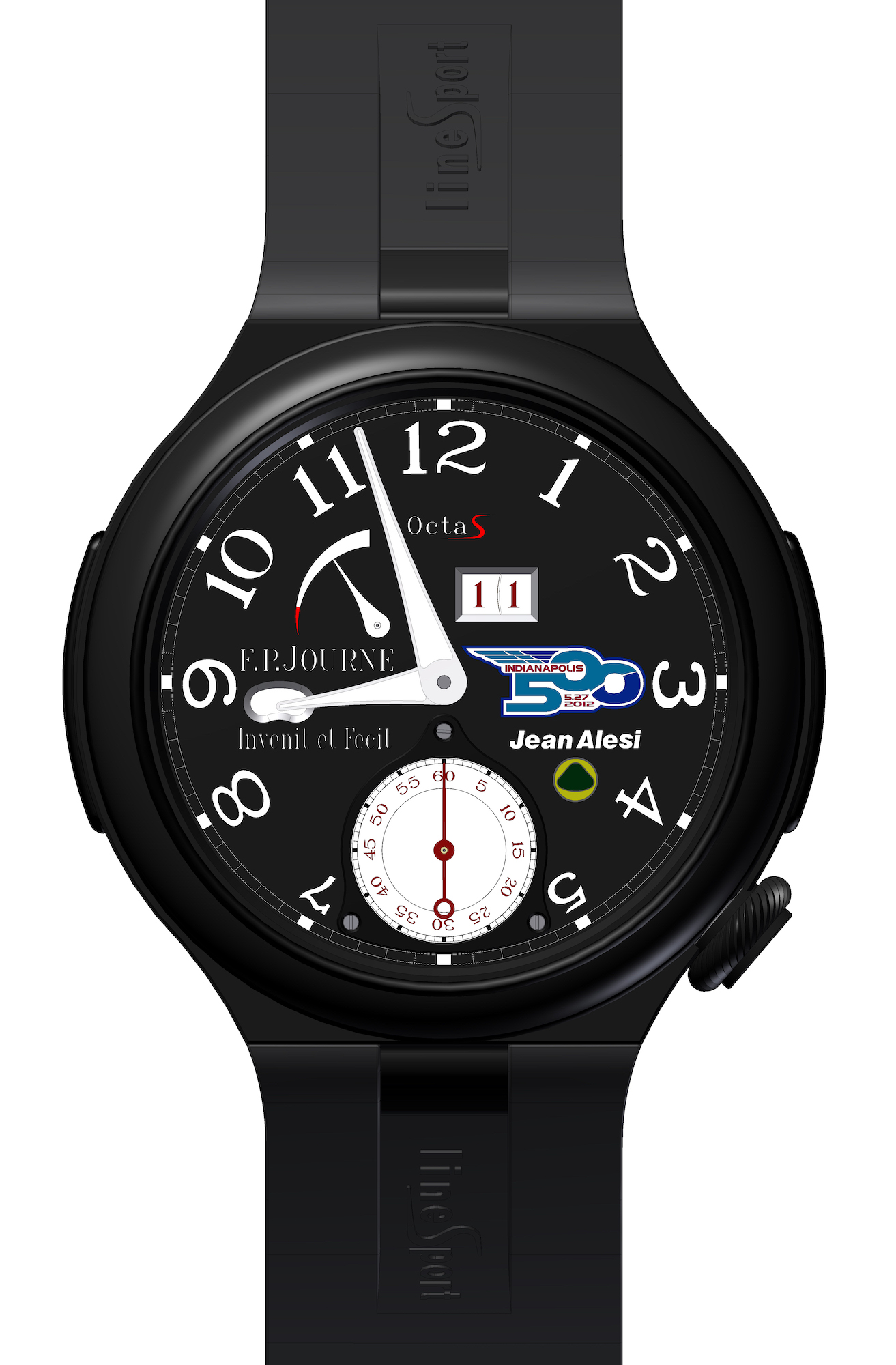 "The Octa weighs 70 grams, like a feather flying over time...


Giorgio Vorlet
In 2018, François-Paul Journe decided to redesign the entire lineSport collection and expand its diameter. "I realised that, for a sports watch, it looked small on a wrist: so I enlarged the cases from 42 to 44mm," he explains. And because these watches don't have lugs, they really do fit at 44mm. The strap follows the shape of the arm and the watch is more harmonious. Currently, 42mm are worth a fortune on the secondary market." That same year of 2018, he added a third model to the collection, the Rattrapante Chronograph, featuring the new hand-wound calibre 1518 that came from the development of the Rattrapante Blue Monopusher Chronograph made for Only Watch in 2017. It is now available in different versions with cases and bracelets in platinum, 6N 18 ct. gold and Grade 5 Titanium.
The following year, in 2019, the Centigraphe and the Automatique Réserve, available in 6N gold or platinum, were integrated into the lineSport. F.P.Journe watches are not only beautiful and technically impeccable: they are also virtuous. Indeed, 30% of the profit from the sale of each Centigraphe is donated to the ICM, Institut du Cerveau et de la Moelle épinière in Paris. But you still need to be able to afford one.
François-Paul Journe creates a shortage among his customers, but in an involuntary way: this is due to the inability of his factory to produce more than 900 watches per year. And since he is one of the greatest living watchmakers and his pieces set records at auctions, all lovers of pure watchmaking would like to buy a model bearing his name. Lack creates desire. "The frustration of not always being able to get what you want is essential," says the watch collector Giorgio Vorlet. "F.P.Journe watch wearers are like a club of insiders, a band of disciples. They are happy that a watchmaker like François-Paul Journe exists, because he is not the norm. His objects are mythical, and one takes credit for a piece of his talent by owning one of his watches."
Giorgio Vorlet "unfortunately" owns only one watch by F.P.Journe: the Octa Sport Automatique Titane. "The Centigraphe Sport, which I was also interested in, was unfortunately not available," he says. "The Octa weighs 70 grams, like a feather flying over time. You forget about it. I have many other watches but I only wear this one. I can use it at any time, without having to pay attention to it. I've just come back from the Dolomites where I was mountain biking for a week and I was able to test its resistance and my own. I wasn't afraid to wear it: I don't want a watch that's a drag. With the Octa you do sports, you sweat, you take a shower. Sometimes I leave it on purpose to see if its little heart holds out for seven days, and it does!
Those who speak best about F.P.Journe watches are those who own them, wear them and love them. When Giorgio Vorlet speaks about his Octa Sport, he becomes lyrical. "It's a sculpture that also tells the time," he says. "It was an extraordinary opportunity to acquire it! The fact that François-Paul Journe has created a sports line with the same spirit as his classic watches is exceptional. I already owned all the watches I wanted and I had the feeling that I had done the trick: I didn't want any more. This one was the exception. When you own one of François-Paul Journe's creations, you realise that you are going through a good period of life and that you should take advantage of it. When I look at it, I appreciate all that is behind this watch: all those who created it, all that I am unable to do…"