The secret of N°5
The famous perfume created by Ernest Beaux for Gabrielle Chanel is celebrating its hundredth anniversary. While some fragrances do not last more than a year, this longevity is exceptional. How was born this perfume "of woman with a smell of woman"? What did the designer really want to achieve? The answer lies certainly between what we know and what we can assume. This text is an imaginary letter from Gabrielle Chanel, halfway between truth and fiction. Photos: Buonomo & Cometti. Letter: Isabelle Cerboneschi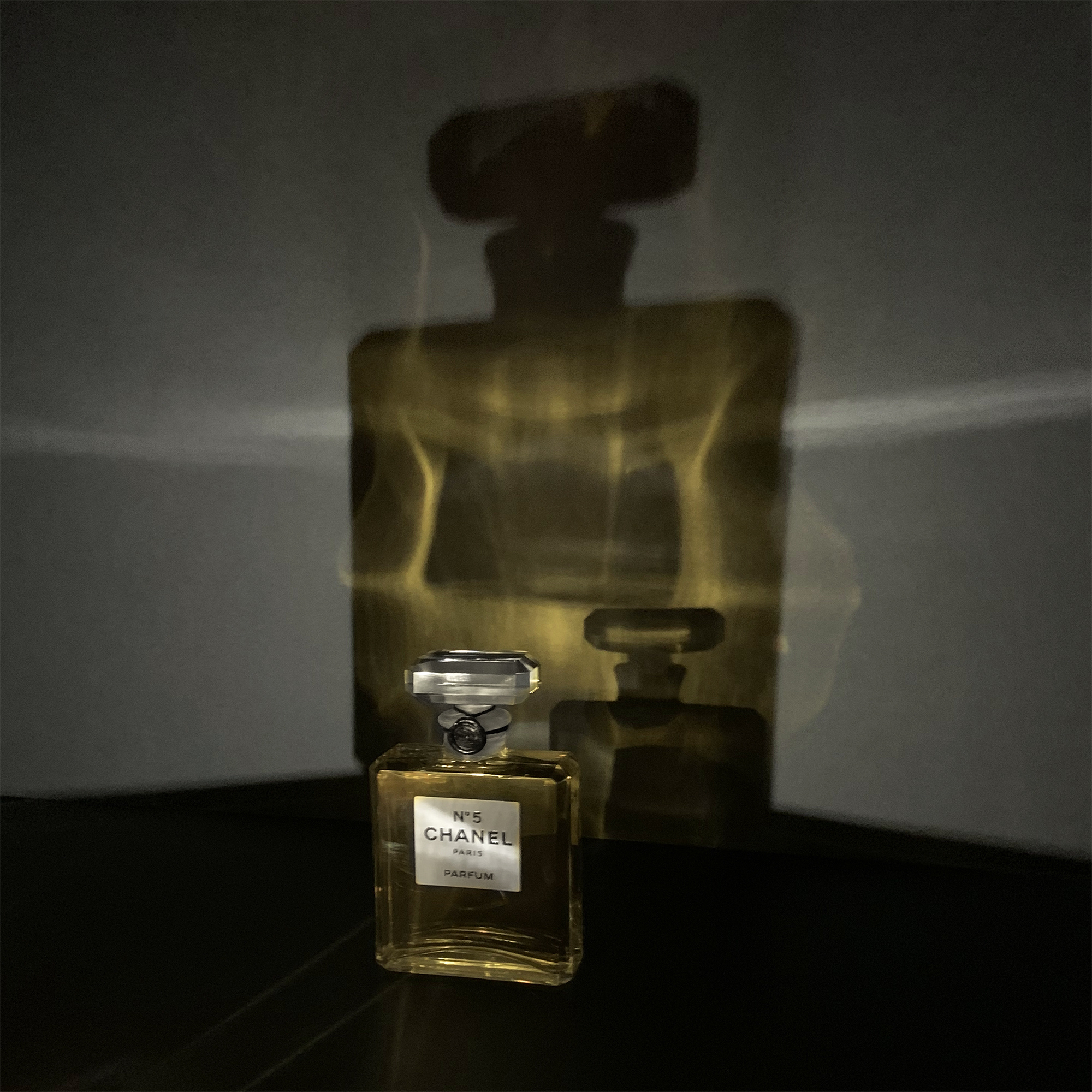 Today I discovered the perfume that Ernest Beaux invented for me. The woman's perfume with a woman's scent (1) that I had asked him for.
Goodbye Corsican Jasmine, Parma Violet, rose scents and all those waters that lack flesh. I will show the world what a real woman's perfume is. I asked Ernest Beaux for one thing: that no one could guess what he put in his formula. That he blurs the lines, that he erases the contours of each ingredient and creates an abstract perfume! A fragrance like a work of art, the olfactory counterpart of the works of your friends, Picasso, Juan Gris, Henri Matisse and Georges Braque. 
Ernest Beaux is the greatest perfumer of our time. I met him in his factory in La Bocca, in the south of France. He had been introduced to me by the Grand Duke Dimitri. You know, this man as handsome as a god, perfectly penniless and with delightful manners that I had invited to Monte Carlo for a few days. We had a wonderful time. The Romanovs like to party. 
But to get back to Ernest Beaux, I had asked him for an artificial perfume, I say artificial as a dress, that is to say manufactured. I am a craftsman of couture. I don't want a perfume with a rose or lily of the valley smell, I want it to be composed (2). There were several bottles in the workshop and Ernest Beaux presented them to me from number 1 to 5 and from number 20 to 24. I smelled them one after the other, but my choice was almost made in advance: I hoped that my favorite would be the fifth test. When I opened the bottle, I knew. It was the one. Boy Capel had introduced me to the symbolism of numbers, as well as many other things, and 5 brings me luck. The famous "quint-essence" of the alchemists. 
When I shared my choice with Ernest Beaux, we had this little talk that will make you smile.
"There are over eighty ingredients in this sample. This perfume will be expensive," he said.
And what is the most expensive ingredient in it?
Jasmine. Nothing is more expensive than jasmine.
Well, then! Put some more. I want to create the most expensive perfume in the world (3)", I answered him.
Among the eighty ingredients, he used natural essences and especially aldehydes, these new synthetic products that exalt the freshness of the scents. Ernest Beaux told me that he had found a way to stabilize them. They make all the difference: they leave a trail and sign my perfume. He claims to have reproduced the delicious sensation he experienced during a stay in the Great North where the hazards of war had led him. There, he had been able to smell the deliciously fresh perfume that lakes and rivers exhaled under the midnight sun… (4). I do not know if this story is true. It doesn't matter much. I can't blame him for distorting the truth: I almost invented this game.
He asked me how I was going to name it and I said: "I'm presenting my collection of dresses on the 5th of May, the fifth month of the year, so we'll keep the number of the bottle and that N°5 will bring it good luck" (5) I think I'm going to produce essay number 22 too. I'll launch it a few months later. It will be called N°22.
I want my N°5 to be my victory. Let my name be known all over the world. I wish that the most beautiful women wear it to sleep as an ornament.
I want those despicable women who looked down on me when I went to the horse races with Boy Capel to rush to my boutique Rue Cambon in order to buy my perfume. I wish that my fragrance makes them want to take a lover. A woman should put perfume everywhere she would like to be kissed. (6)
No one will ever know, except you, that this idea of creating this perfume came to me right after the death of Boy Capel. He died on December 22, 1919. He was to leave his wife in order to live with me. I have nothing left of him except the memory of the days and nights we spent together. How can I find the smell of that love? I look for it in the heart of this perfume. That's probably why I didn't want anyone to be able to identify the flowers of the formula, because these flowers don't exist. This perfume is only a shadow…
I intend to make it beyond desirable. I know women: if they are led to believe that they are getting a special treatment, if I offer them my perfume saying that it is my personal collection and not commercialized, I give them 15 days to beg me to produce it on a larger scale. And I know they will cherish it. Because they will feel that I created it for them. It's not true of course, but the truth has often served me wrong and I decided to invent much prettier stories.
I want that in a hundred years, women still wear it, like a weapon of mass seduction. I want that in a hundred years, when we mention the N°5, we think of nothing else but my name and my perfume. Time works for me (7). I want no other number to ever dethrone it. Anyway, I will create other perfumes: N°19, N°22. I will name some of them with years: 1932 or 1952, for example. Perhaps I will even name one 31 rue Cambon in honor of my boutique? I will saturate the market with numbers to the point that no other designer will ever dare to use a figure to name their perfume. 
I want the bottle of this complex fragrance to be a simple flask. As for the box, it will also be very pure, white and black, like the window frames of Aubazine. If I remember well, I already told you about Aubazine, where I spent part of my childhood. And about the rigor I learned there, the value of black and white, of purity. I never talk about it, to anyone, but I know I can tell everything: you will never say anything. You know the value of secrecy and the pain of being an orphan. You shall read my letter and then you will burn it, like all the others. By the way, did I thank you for your last book? 
I would like artists to be inspired by my perfume, to portray it as if it were a star. I will wear it, I will perfume my places, I will perfume the fire, I will leave a trail behind me and I will be present despite my absence.
I want the demand for this perfume to exceed the supply. I want people to line up in front of my boutique at 31 rue Cambon, I want it to cross borders and even continents. Why not? Fashion is forward, not backward (7) 
I kiss you very affectionately, (8)
Citations et bibliographie:
1) Culture Chanel, Editions de la Martinière, 2013
2) Pierre Galante, with Philippe Orsini, les années Chanel, Mercure de France, 1972.
3) Coco Chanel, quoted by Claude Delay, Chanel Solitaire, Gallimard, 1983
4) Coco Chanel, Henry Gidel, Flammarion, janvier 2000
5) Quotes from Ernest Beaux in le Figaro.
6) Gabrielle Chanel, Jour de France, May 7th 1965
7) Coco Chanel « Les femmes sont toujours trop habillées », Archive INA 1959.
8) Letter to Jean Cocteau, July 16th 1922.
Bibliography:
Coco Chanel, Henry Gidel, Flammarion, janvier 2000
Chanel Collections et créations, Ramsay, 2005
Chanel, Jean Leymarie, Ed de La Martinière, octobre 2010
Culture Chanel, Editions de la Martinière, 2013