Jewels with a soul
Erelle Bertolini was a costume designer before creating her jewelry brand Baie d'Erelle ten years ago. To celebrate her jubilee, she wrote a book, between art book and biography, and created rings inspired by the verses of the mystic poet Djalâl ad-Dîn Rûmî. Jewels that invite to reverie and introspection. Isabelle Cerboneschi
Erelle Bertolini was a costume designer and nothing really destined her to create jewellery. But she did, slowly, at her own pace. While she was studying in France this magnificent art profession which consists in dressing a character, she completed several training courses in prestigious establishments: The Monte-Carlo Ballets, Shakespeare's Globe in London, the Opera de Lyon, until the day she was hired at the Grand Théâtre de Genève.
Soon enough, she felt that her job lacked a creative dimension. "I was asked to sew, not to create. " The woman who helped her find her way and served as her mentor was Emmanuelle Diebold, the director of the former Rouge de Honte boutique in Lausanne. "Emmanuelle saw my creations, she encouraged me, took me to Paris to introduced me to suppliers, and ordered collections for her boutique. Then I created some at the request of Teinture d'Iode, another boutique in Lausanne and Ma Vie sur Mars, in Geneva, and that's how it all started. »
Just like that… To give substance to this creative approach, Erelle Bertolini has created a brand and opened a boutique. Since her name is Erelle, an ancient Celtic first name and her mother, of Breton origin, said that she was a tangy fruit, she chose "Baies d'Erelle".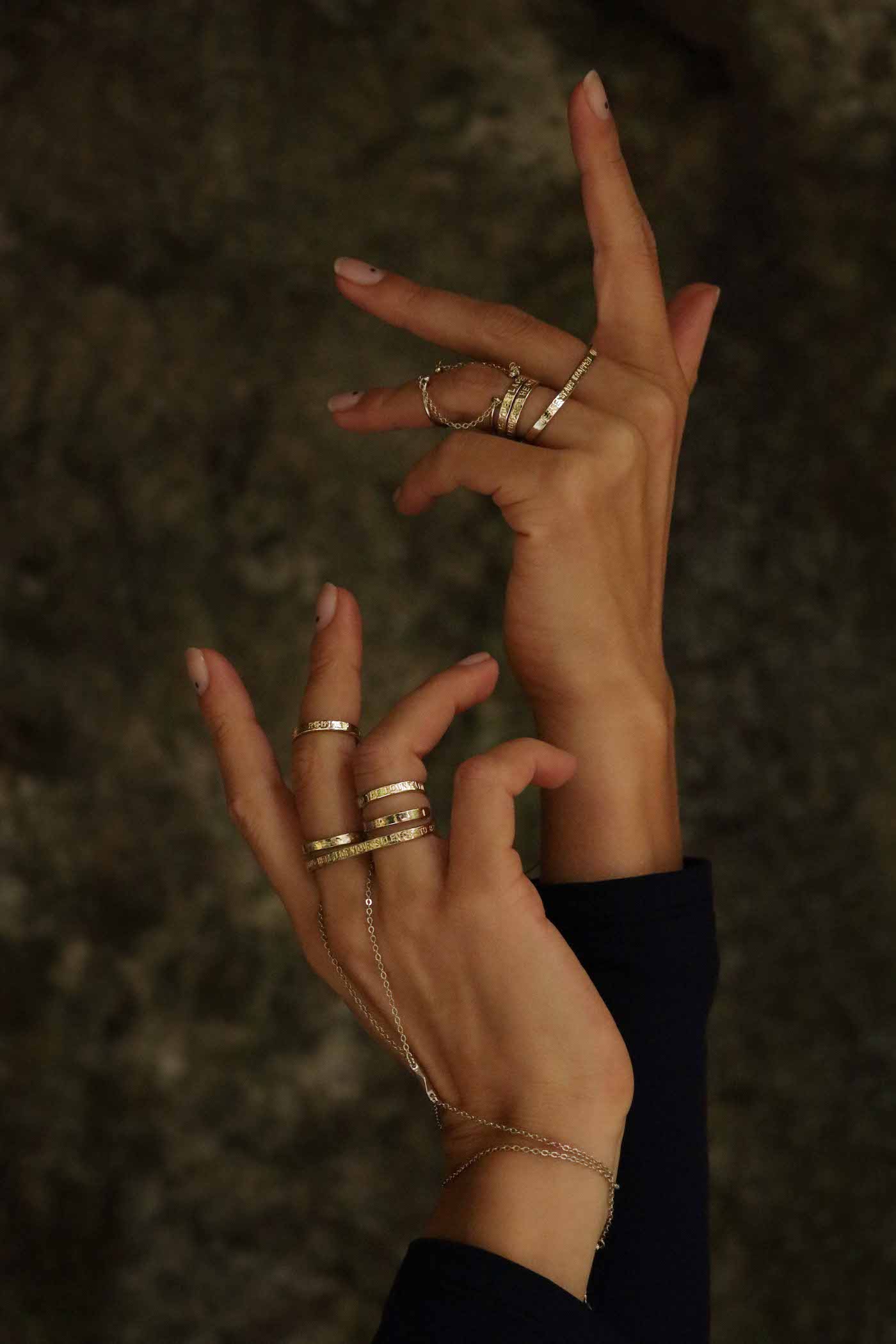 Rûmi's poems teach us how unconditional love lifts us up
The brand is celebrating its tenth anniversary. To honour this milestone, the designer has published a self-published book, halfway between a work of art and a biography, and has created a collection of limited-edition jewellery with symbolic significance.
"For this ten-year collection, I wanted to do something different," explains the designer. "My inspiration came from reading the book The Forty Rules of Love by Elif Shafak, a Turkish writer who tells in her own way the story of the meeting between Shams of Tabriz, a wandering Sufi monk, and Djalâl ad-Dîn Rûmi, the famous 13th century mystic poet. This is the book of my life.
Many jewels, with words engraved, exist already. I wanted to do it in my own way. I met an artisan in Lausanne who made my rings, using a 925 silver wire that she hammered and engraved with a fragment of Rumi's texts. These jewels are more spiritual than aesthetic". Each ring is unique and numbered from 1 to 10: "I wanted each one to be a talisman."
Why Rûmi's poetry? "Rûmi integrates suffering as an apprenticeship of the heart", she says. "In our society, we do yoga, therapies, and we must always be solar and positive. But this is not possible! We all go through phases of doubt and mourning. We can't deny them. Rûmi's poems accompany us in these moments. They teach us how unconditional love lifts us up."
Boutique Baies d'Erelle, Rue de l'ancienne douane 3, 1003 Lausanne
Timetable: Tuesday-Friday: 11:30-18:30, Saturday: 11am-5pm
Online shop : Free shipping in Switzerland. Click & Collect option with collection in the shop or at the relay point outside opening hours.