Motion and emotion
The Purnell brand was born in 2020 from a meeting. That of an entrepreneur, Maurizio Mazzocchi, and a genius designer, Eric Coudray. When the CEO discovered the watchmaker's ultimate creation – the Spherion, which is a three-axis tourbillon – he decided to launch a brand dedicated essentially to the tourbillon. These sophisticated timepieces, which resemble kinetic art, appeal to a very wealthy clientele. Interview with Isabelle Cerboneschi. Isabelle Cerboneschi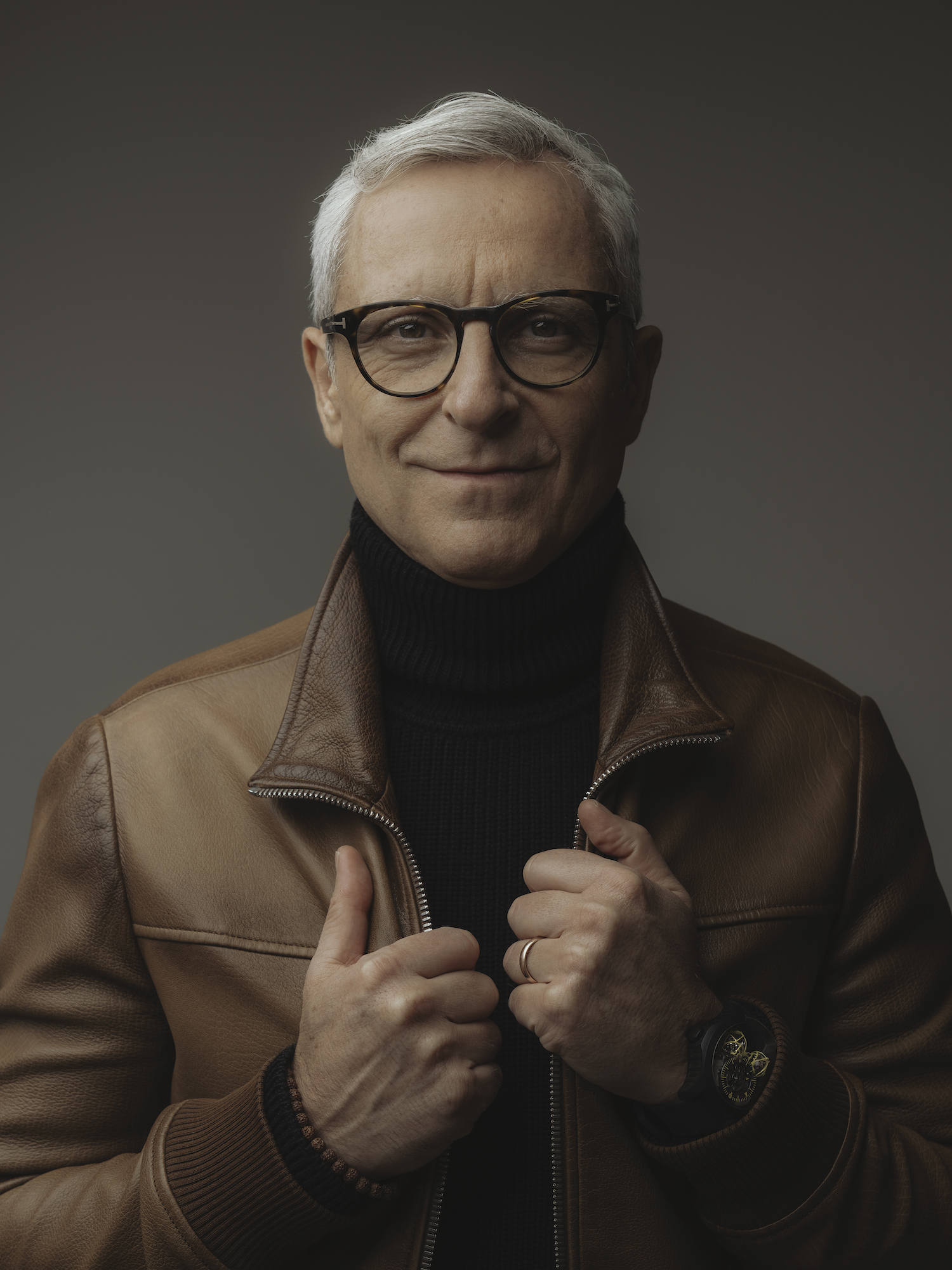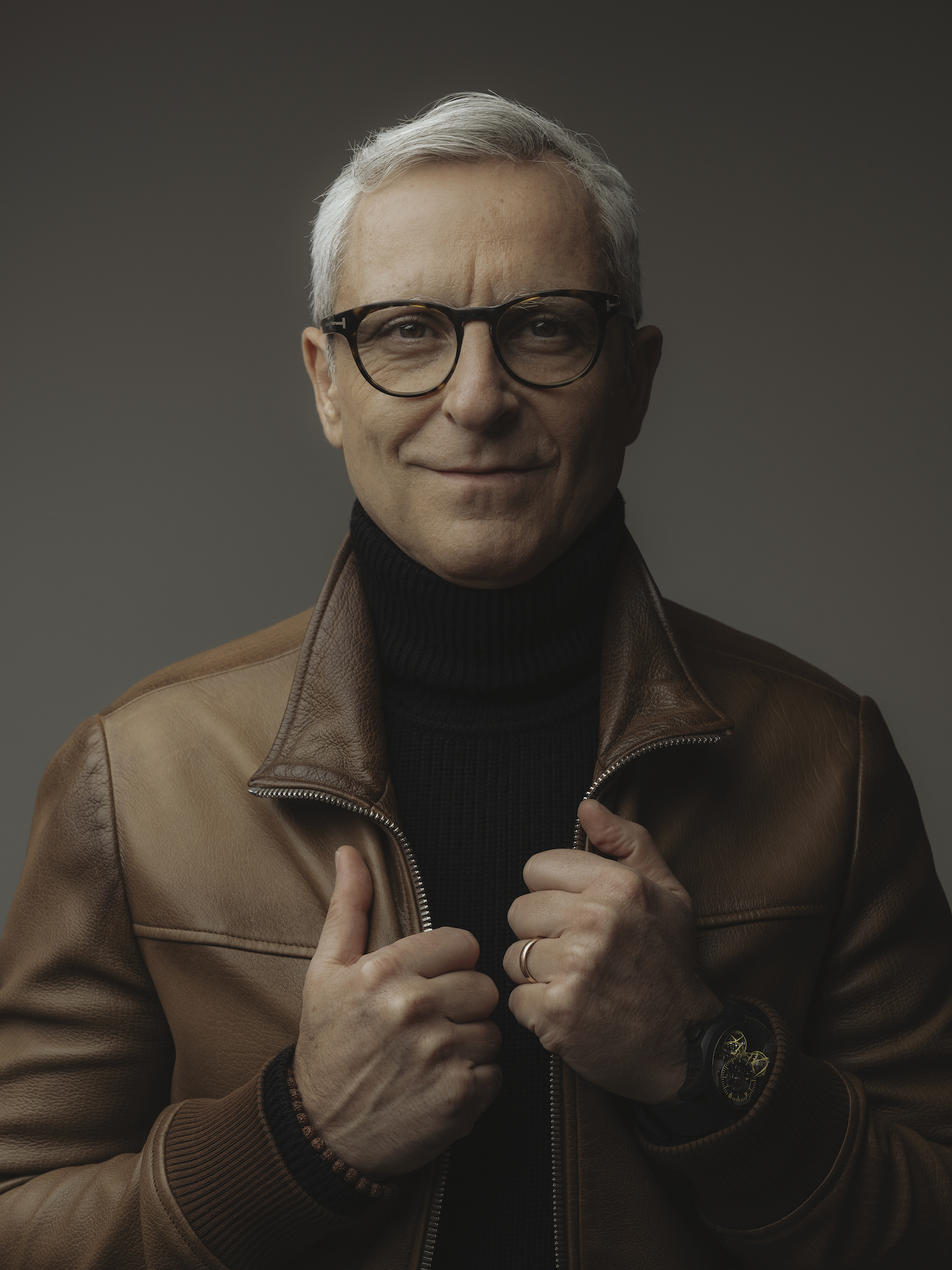 The watchmaking world is one in which Maurizio Mazzocchi, the CEO of Purnell, has been involved since his teenage years. His father was the president of Heuer and Tag Heuer in the United States in 1984. Through him, he experienced the renaissance of Swiss watchmaking. "It was a special time: we were in the post-quartz, pre-boom era of mechanical watches, an in-between world," he says. "There were still brands like Patek Philippe, Vacheron Constantin, and a few others, the last Mohicans trying to save Swiss watchmaking, but according to the vision of the time, they were like dinosaurs on the verge of extinction." History has proven wrong all those who did not have faith in the extraordinary resilience of this Swiss know-how, much to the delight of lovers of fine mechanics and all those who work to keep this art alive.
Maurizio Mazzocchi looked for his way in professional football for a while, but after realising that he did not have gold in his feet, he followed his father's path and turned to watchmaking. He was lucky enough to have as his masters figures: Nicolas Hayek and Jean-Claude Biver. He also worked with Carlos Dias, at Roger Dubuis and with Jacob Arabo, the founder of Jacob's & Co. This was enough to forge his character and to learn that limits only exist in the mind.
The meeting with Eric Coudray, the watchmaking genius who created the Spherion movement, a three-axis tourbillon, was decisive. Maurizio Mazzocchi decided to bet everything on him and to create a brand in 2020 essentially dedicated to tourbillons, which he named Purnell.
INTERVIEW
When did you first start out in the watchmaking business?
Maurizio Mazzocchi : When I was a teenager, I followed my father to watch fairs, but my real debut was in 1994, when Jean-Claude Biver took over Omega at the request of Mr Hayek. He was looking to hire young people who spoke French and English in the Neuchâtel area and he hired me right away. I became one of the product development managers in marketing. Two years later, he sent me to Italy as the Italian market manager. At the time, Omega had 800 points of sale in Italy: it was one of the three strongest markets along with Japan and America. We were almost selling Omega watches in the kiosks. In six years, we managed to reduce the number of points of sale to 200 and we opened the first Omega boutique in the world on Via Montenapoleone.
You then worked for the Gucci Group, Roger Dubuis, Jacob & Co. How did the Spherion come into your life?
I joined the Gucci Group as Managing Director of watchmaking in 2002 and Roger Dubuis in 2005 as Sales Director. Then I went to New York to do some consulting for luxury brands and that's where I met Jabob Arabo. The man was fascinating. Nothing frightened me any more after Messrs Hayek, Biver and Dias (laughs). I gave him some advice and he decided to give me full power to create Jacob & Co Suisse to do high-end watchmaking in 2013 and until 2018. And then one day I got a call to do some consulting on a project. It was the Spherion movement. I decided to take full responsibility for it, to promote it, I created the Purnell company and the adventure began.
Why did you embark on this adventure?
If I have any merit, it's that I thought I could make a brand out of this movement. It is very complicated to make, nobody had communicated well on the subject. To create the Spherion, Eric Coudray used both the Potter escapement (named after the 19th century watchmaker and inventor Albert H. Potter) and the idea of the gyrotourbillon that he had created for Jaeger LeCoultre. And so he registered the Spherion. This technique will go down in history! If you look at the genesis of tourbillons since the first one was invented by Abraham-Louis Breguet 220 years ago, the Spherion is the final step. We haven't created anything more complex since. I think Eric Coudray is undervalued: he is a genius.
Why did you create a brand dedicated only to the tourbillon?
The tourbillon is not a complication in the strict sense of the word. A complication indicates something extra, as do a chronograph, a calendar, a minute repeater. The tourbillon, on the other hand, indicates nothing at all. For a traditional watchmaker, it is just a sophisticated escapement that theoretically allows for greater precision. On the other hand, it is a technical feat. By choosing to manufacture only tourbillons, we are making a commitment to new customers that the brand will remain true to what it is. It's a vision. It's clearly marketing, but it's also a policy. We may make a tourbillon with a date, a chrono, but there will always be a tourbillon at the heart of our watches.
It's not a historical brand, but this movement is so complicated that it deserves much more respect. I would like to be shown something more incredible that has been achieved in the last 3 years!
Where are your watches made?
150 km around Geneva, except for the presentation plates, which are made in the suburbs of Lyon, at Carré d'Ebène.
What did you want to bring to an already saturated watch market?

I am aware that this is traditional fine watchmaking that is coming to a market that does not necessarily need traditional watchmaking. But we are targeting customers who buy a watch because it is unique, because it is beautiful, because Mr X wears it and this is a huge market. Thanks to my experience, I have had the opportunity to meet this clientele. A Purnell watch is like kinetic art and that's what a certain type of wealthy person is looking for. I think Purnell can find its place in this market, but I want to give real content, while limiting production. We made less than 100 watches this year and next year we will make 150 to 200 pieces at most.
It's a very visual watch that you recognise immediately, even if the brand is not 150 years old.
Our motto is "More future than past". It's not a historical brand, but this movement is so complicated that it deserves much more respect. I would like to be shown something more incredible that has been achieved in the last 3 years! The Spherion is very visually striking. It needs a lot of energy and to animate it we had to use six barrels. The power reserve is only 32 hours, which is why we invented a small tool to automatically wind the watch. On the barrel cover is engraved my vision of Purnell: "Yesterday's watchmaking innovations became today's classics such as the Tourbillon". This product is still not well understood but I think that in the future it will become a classic.
The average price of your watches is CHF 400,000 – why this price positioning?
This movement is very expensive to make. The craftsmen break 4 or 5 monobloc sapphire cases before making one. Everything is done by hand, it takes hours. Eric Coudray designed the tourbillon cages: each weighs 0.79 g. Only a technician can understand this. All this comes at a price.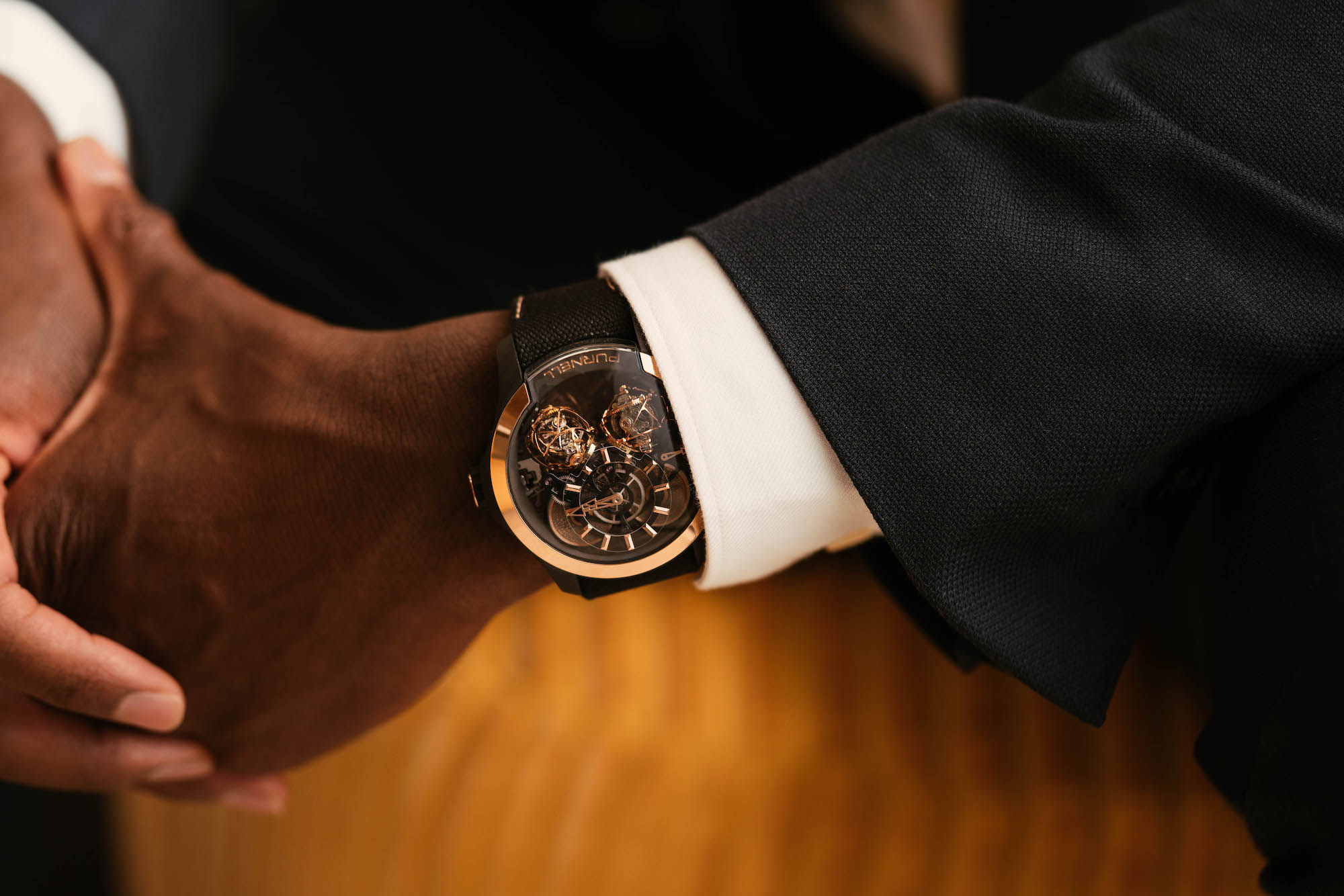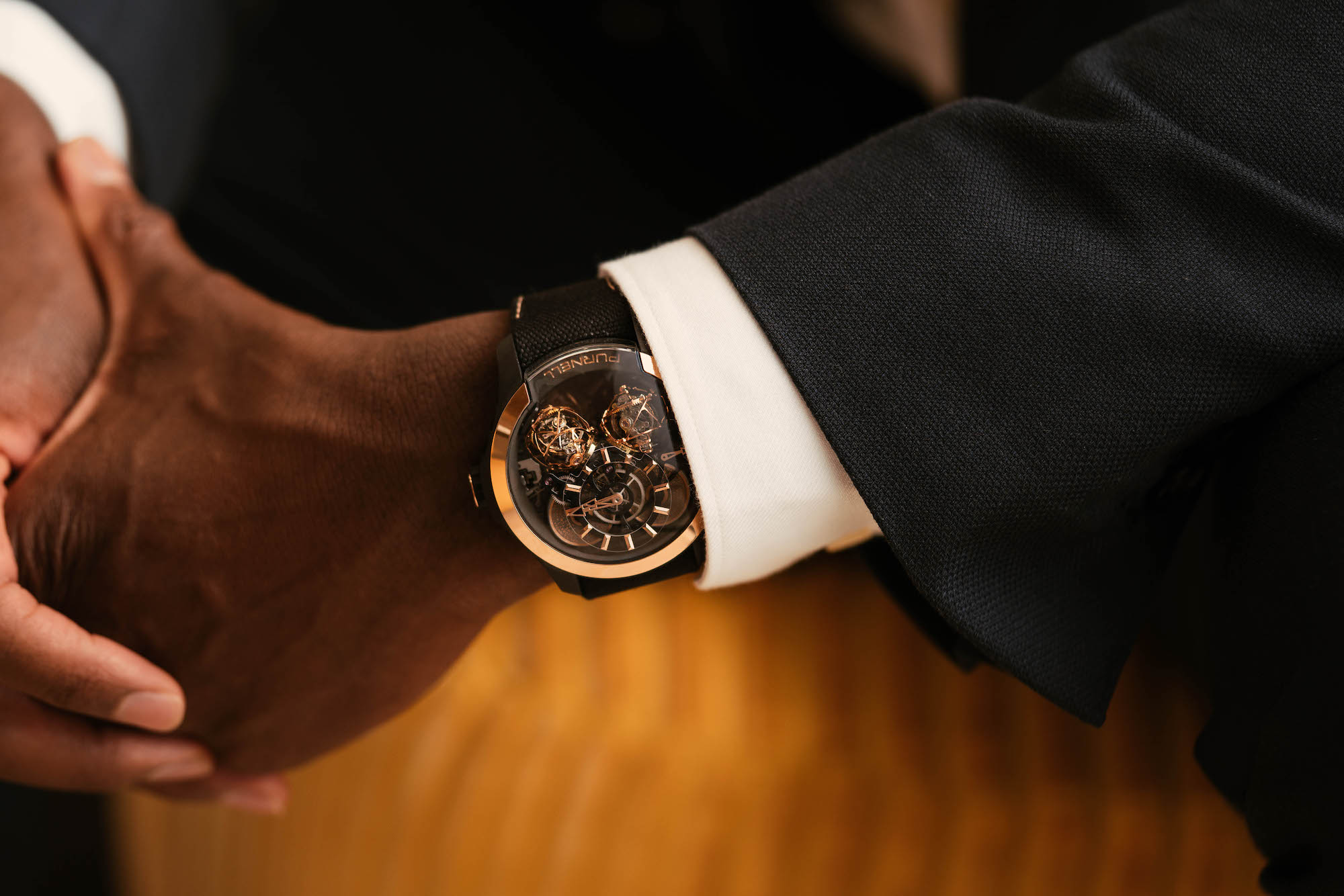 Very few brands keep their promises at auction. Is Purnell already in the secondary market?
Not yet, and I hope we won't be there for a while. The brand is too young. There is no guarantee that my watch will reach its selling price in this market. The only thing I can promise my customers at the moment is to maintain the value of my timepieces by guaranteeing their exclusivity and ensuring that demand is higher than supply.
That's not enough to keep your brand from going into the secondary market. What other measures have you taken?
I am very careful that my customers do not give my watches as gifts to third parties. Because that's where the risk lies: when someone receives a watch worth 500,000 francs, if they are sure of getting 200,000 francs for it, they will sell it. We also try to personalise the pieces as much as possible, but one day or another, this can happen.
In 2020-21 the independents outperformed. How about you?
I don't consider myself an independent watchmaker. To me, the essence of independence is a brand embodied by its master watchmaker. But I am not a watchmaker. I want to make a brand that lasts beyond its watchmaker(s), that has values, that does marketing, and that if the master coughs, the production does not stop.
Have you nevertheless benefited from this momentum?
At the moment, one person's happiness is another person's happiness. The four big brands that make up the bulk of the market can no longer deliver. So yes, we have done well.
You have created a special watch for the Ballon d'Or, and you are the official watchmaker for AS Monaco. Why football?
For many reasons. I used to be a footballer, so it's a world to which I am sensitive. Secondly, sport is a powerful vehicle for communication. The Ballon d'Or is unique and exclusive, just like Purnell: we share the same values. We link ourselves to a sport and not to a personality. Our customers don't want to identify with a player. On the other hand, we can identify with the values of the trophy and the history of France Football since 1958. This gives the brand good visibility. As for AS Monaco, we fully identify with its slogan: Rise. Risk. Repeat.
You have targeted a certain clientele with very high purchasing power. How did they come to you?
You have to go back to the origins of Franck Muller. He had succeeded in reaching a clientele who also bought Patek Philippe watches, but who were interested in contemporary watchmaking, which respected certain classic codes while being daring. Roger Dubuis took over with its Excalibur watch, then it was Richard Mille's turn. It was all about looks. These brands succeeded in reaching a clientele that was looking to acquire contemporary timepieces, in the same way as they buy contemporary art. I've been with this clientele, I know where they go, where they dine, what kind of music they listen to. Among them, we have surgeons and entrepreneurs who buy four or five watches from us at a time. When these people open their trunks and look at their fifty or so watches, I want the Purnell to be the one that the customer chooses, because it puts a smile on their face. It's like a crush. When you see our watch, you don't need to open the case to admire the engine. You grasp everything at first sight. The emotion comes from the motion.