Power belongs to women at Julien Fournié
The couturier is betting on women and their power with his latest autumn-winter 2023/24 haute couture collection. After a visit to the musée de l'Armée, he drew inspiration from military codes to feminize them. Isabelle Cerboneschi, Paris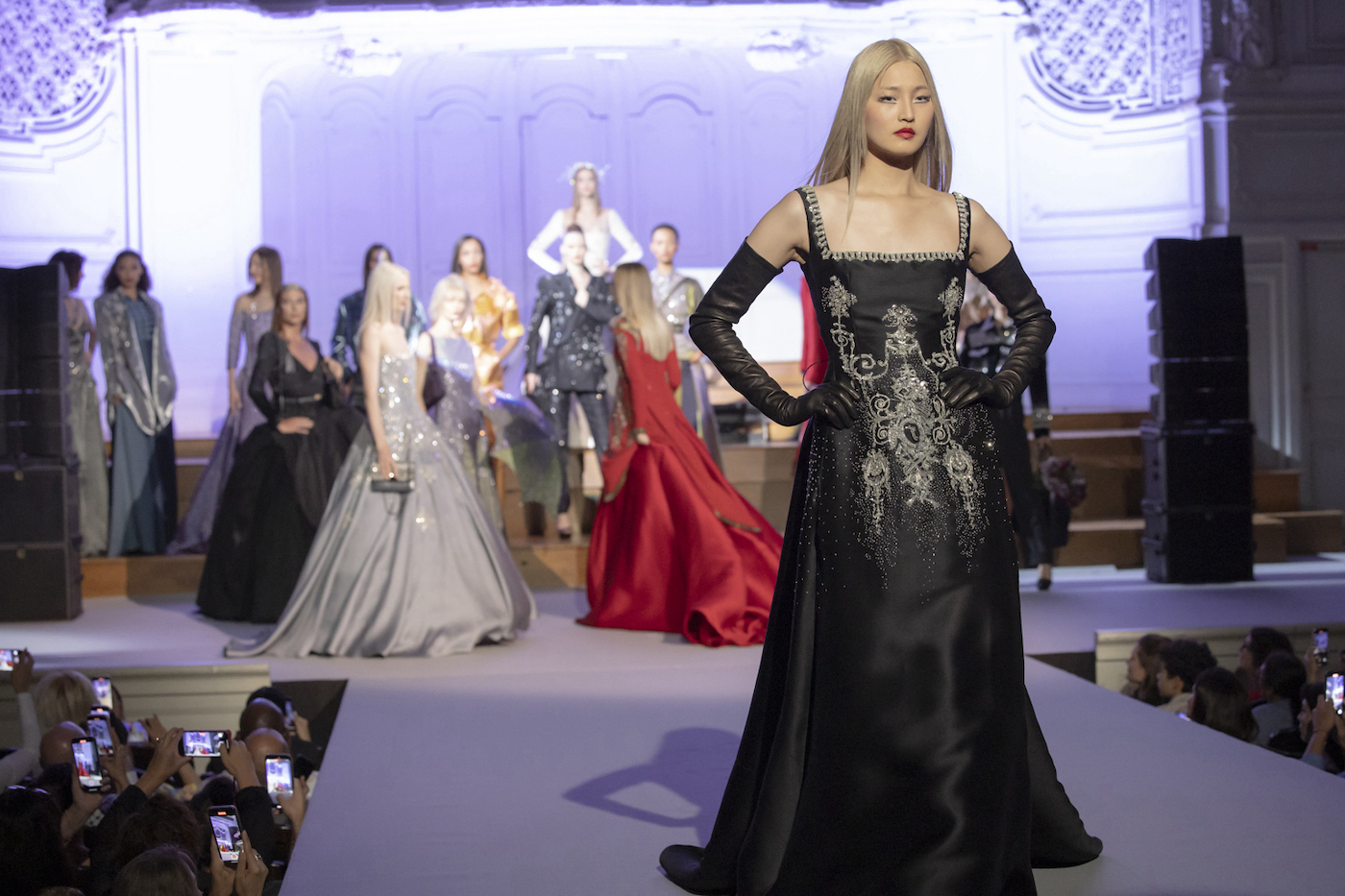 The couturier Julien Fournié is convinced that the salvation of humanity and of our democracies will come through women. He believes in women, in their power, their strength, their diplomacy, their capacity for resilience and transformation. Some artists write poems and songs and make films to say this. He uses the language he knows best: haute couture. His words are fabrics with changing reflections, resistant materials, embroideries as beautiful as shooting stars.
His latest haute couture collection, First Shield, which he presented in Paris last July, was a hymn to powerful femininity. The models wore masculine and oversized dinner jackets entirely embroidered on delicate evening gowns.
Julien Fournié has his own way of borrowing pieces from men's and military wardrobes: he's using forage belts, harnesses, different signs of military pageantry and dressing women in them. And he transmutes the stars on generals' uniforms into precious embroideries with which he adorns his jackets and evening dresses like a rallying sign.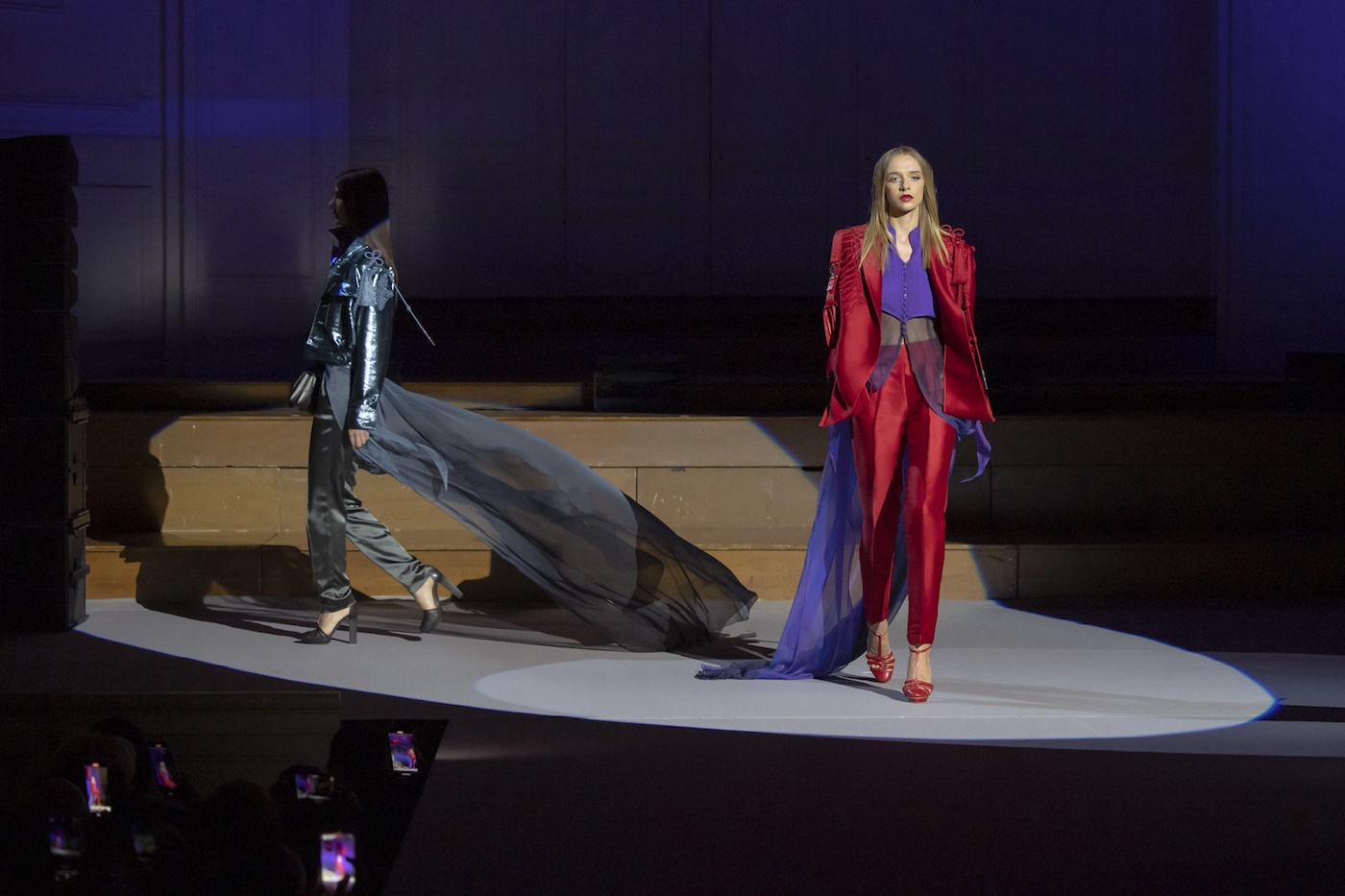 A haute couture collection is an idea, a line, a style, a design, ornamentation, but it's also a fabric. Julien Fournié is lucky enough to have the support of major French manufacturers such as Guigou, which specialises in jersey and will celebrate its bicentenary in 2026, and Sfate & Combier, a Lyon institution founded in 1850. The former creates viscose and silk jersey for him, while the latter has relaunched the production of silk doupion for him after years of interruption. "They also make stretch silk georgette, perfect for sheer leggings that fit close to the body but are still comfortable to wear, and triple silk organza. It's a brittle material, but theirs is extraordinary: you steam it and all the brittleness disappears. They developed Lazergame and Mikador – jacquards of lurex on silk – in a changing shade of rose gold for us. As these are new fabrics, there is no real nomenclature: we're in the field of research and development," says Julien Fournié
We met the day before his show, in his studio, to discover his collection. The celestial embroideries he designed were all made in the Indian workshops of Shanagar – which means 'to adorn' in Sanskrit – with whom Julien Fournié has been collaborating for two seasons. The director, Chetan Desai, one of the founder's two sons, began working with Azzedine Alaïa in the 1990s. Shanagar has long been the best-kept secret of the fashion and haute couture houses in Paris, Italy and the United States. Now it is gradually stepping into the spotlight. Interview.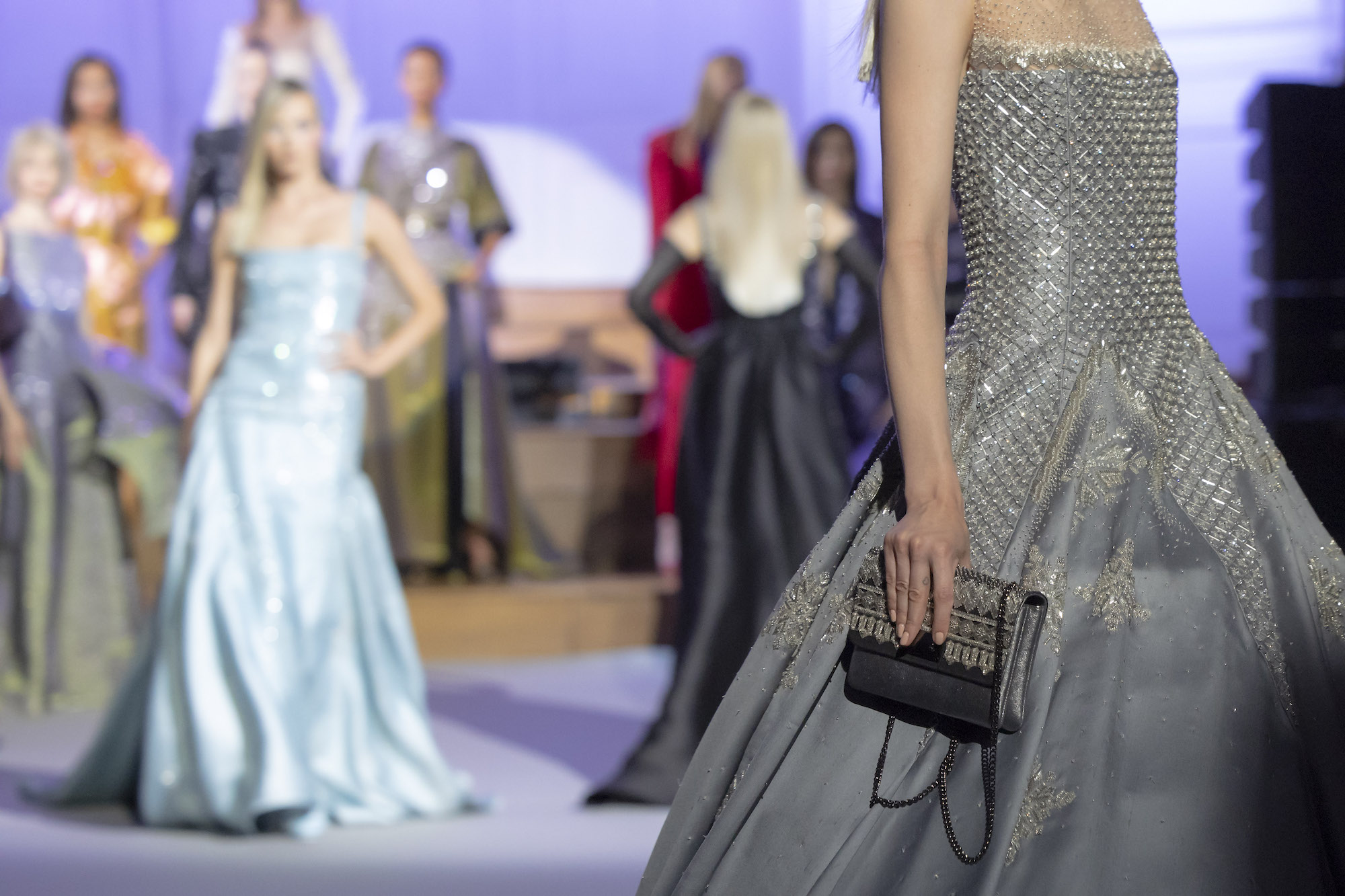 INTERVIEW
Where do these borrowings from military vocabulary come from?
Julien Fournié : One morning, I was near the Invalides for a meeting that ended up being rescheduled. I said to myself: why not visit the musée de l'Armée? I discovered military uniforms from the 18th century to the present day and I loved it. I looked at all the details: the pockets, the harnesses, the embroidered decorations and I realised that I couldn't see any portrait of a woman on the premises. There were only men posing with their medals in over-ornamented outfits. Aesthetically speaking, they were expressing their strength through dress codes that today might be considered 'bling bling'. This observation led me to wonder which woman had started a war, apart from Mrs Thatcher and the Falklands War? Not many. I said to myself that women were the last guardians of humanity and I started to build a collection around the idea of 'shield'.
How did you express this idea of women as protectors through the collection?
In different ways. I've created very sophisticated dresses worn with large and protective masculine jackets. But how could I make them as feminine as possible? By recovering all the elements of pageantry that I'd seen in the museum – the embroidery, the decoration, the trimmings, the tassels – and using them on women's clothes. It becomes fashion rather than military costume, which destroys the warlike purpose of these ornaments. It's my way of fighting against the wars we can't stand any more: how can it still be like that today? We can't pretend it doesn't exist. My collection is a way of evoking it, but in a roundabout way. Even though it's very dressy and harnessed, it's still feminine and fluid. I've also used materials – crunchy faille or doupions, for example – that fly like large parachutes. The result is dresses studded with stars, because there's always hope. Maybe the light will come from shooting stars?
For the last two seasons, your embroidery has been made in India in the Shanagar workshops. How did you come to meet them?
It was very simple. Chetan Desai, the founder's son, arrived in France in the 1990s and the first person to open his door to him was Monsieur Alaïa. I discovered their work through embroidery samples at a Première Vision show in Paris a few years ago. Until two seasons ago, I worked with an embroidery workshop in Paris. But recently, I was making a dress for a customer and issues occurred: they wanted to reinterpret the motif I'd designed, whereas the aim is to make embroidery using my design as a model. I make the tracings for all my embroideries myself, I know all the codes and I give very precise instructions. I learnt how to do all this with John Galliano at Dior, it was my job at Givenchy and also at Jean Paul Gaultier: if there's anyone who knows it by heart, it's me! At Shanagar, they believe in my project. I communicate with them via explanatory micro-videos and when the embroidery panels arrive, it's just perfect! There are no surprises. When they can't do what I ask them to do, they send me proposals: they transcend my work. They make me feel supported. Over there, the workshop managers are women and it's the men who do the embroidery.
Before the Covid crisis, you had started making special orders for your customers. Do you still do them?
Yes, it's coming back. I recently designed a jacket for a customer who asked me for a vision of Monet's gardens and irises. We're going to mix different techniques: 3D flowers made by a feather-maker in Paris and others embroidered in 2D in India. The jacket will be ready early next year. I also proposed to a young painter a denim jacket with its back torn and adorned with Klein blue sequins, a reminiscence of her work. An art object. Some customers buy models from the collections I show, with a few changes: with or without sleeves, choosing different colours or materials. But I'm lucky enough to know customers who ask me to design unique models for them. I love that. It's a creative challenge!