"To create a glass lipstick was a dream"
From September 1st, Chanel is launching a new lipstick: 31 LE ROUGE. What's revolutionary is not so much its texture or its colours, but its case. It's made of glass, refillable, long-lasting and, above all, beautiful. Sylvie Legastelois, Chanel's Director of Packaging Creation and Graphic Identity, designed it. Interview. Isabelle Cerboneschi, Paris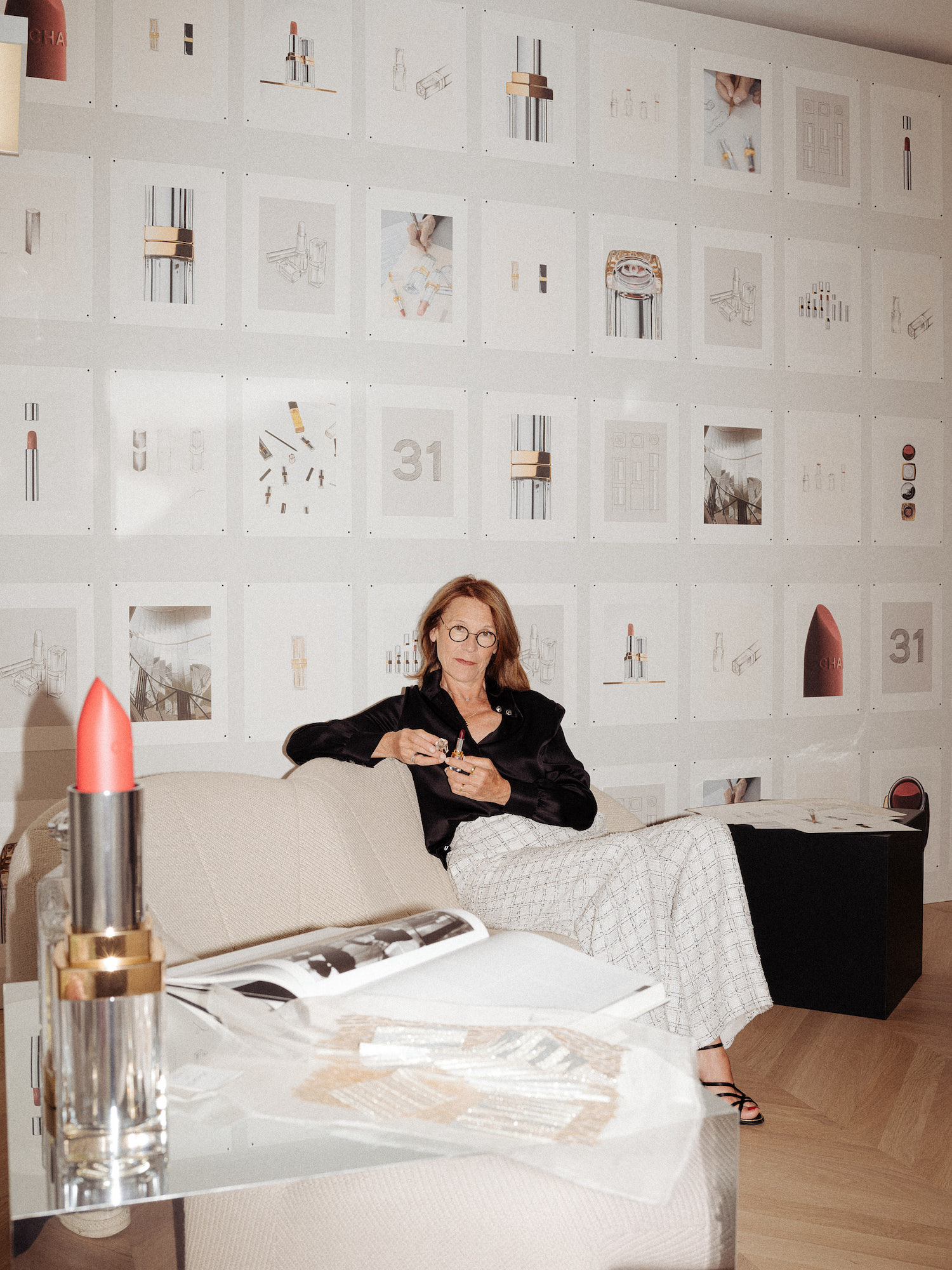 Last July, I received an elliptical invitation to discover a new Chanel lipstick, without any further information. Was it a new formula? A revolutionary shape? A new container? A new way of applying it? After a bit of research into the patents recently filed by Chanel, nothing came up. I decided to live the experience of discovery to the fullest.
It all began with a visit to Gabrielle Chanel's apartment at 31 rue Cambon. Like a treasure hunt, there were certain elements that were supposed to point us in the right direction, but which ones? The famous staircase of mirrors leading to the haute couture workshops? The Coromandel screens adorning the interior? The library full of leather-bound books? A bit of everything…
After passing through a tunnel of mirrors lined with red light, a sort of hybrid passage between the Hall of Mirrors and a work by Dan Flavin, kaleidoscopic images of the famous lipstick were projected onto screens. The staging was designed to delay the moment of discovery, which took place very soberly, on displays. The 31 LE ROUGE lipstick is not black, like all Chanel beauty products, but translucent. It is a glass case in which a metal barrel containing the colour is set.
Women have been colouring their lips since Antiquity, and the first lipstick dates back to 1880: it was called 'Ne m'oubliez pas' by Guerlain. Gabrielle Chanel launched her own in 1924. Chanel's new lipstick is inspired by the original model, with its refillable case. When you consider that around 900 million lipsticks are sold worldwide every year – that's almost 27 tubes every second – the idea of a long-lasting product is more than welcome. "To make it easier to use, I chose to close it with a magnet, like the Les Exclusifs or Bleu de Chanel bottles. The glass case is set in a cardboard box that can be recycled and is sold a with a black quilted suede pouch," explains Sylvie Legastelois, Chanel's Director of Packaging Creation and Graphic Identity, who designed the object.
To meet Sylvie Legastelois is to have the pleasure of talking to someone who has witnessed the development of the house since 1984. She joined Chanel a year after Karl Lagerfeld and was trained by Jacques Helleu, the man who created the J12 watch and who directed Catherine Deneuve and Vanessa Paradis in advertising campaigns that revolutionised the genre. "Jacques Helleu entrusted me with the design of perfumes, skincare products, make-up and packaging for watches and jewellery," she explains. As a result, she designed all the beauty objects and perfume bottles, including Allure, Chance, Gabrielle or Bleu de Chanel. She is also responsible for ensuring the longevity of the iconic N°5 bottle, which is constantly evolving and which she revisited in 2012.
Sylvie Legastelois doesn't really like the limelight, which is why she doesn't appear very often. Nevertheless, she is one of Chanel's key figures: her trajectory is part of a long chapter in Chanel's history, which she revealed in an exclusive interview.
INTERVIEW
What was the intention behind the creation of this lipstick?
Sylvie Legastelois : It's a long-lasting lipstick that you can pass on. Chanel has put all its know-how into its formula and our ambition was to create a precious object to contain it. It's a bit like the Gabrielle perfume: Olivier Polge invented a perfume and my mission was to create a container to match the content. This precious object is inspired by the world of Mademoiselle Chanel and her flat at 31 rue Cambon, but also by all the arts and crafts that nourish me.
The movement towards sustainable development now affects all areas of creation. is this lipstick a way of making Chanel beauty part of this sustainability movement?
The materials used to make 31 LE ROUGE are both aesthetically pleasing and meet current sustainability standards, since the glass that makes up the case and the aluminium of the barrel can be recycled ad infinitum. Back in the 1930s, Gabrielle Chanel created lipstick refills. They were called "rechanges" because at the time, only the small stick of colour was changed. They were renamed "refills" in the 1970s. We've joined history. It was obvious that this lipstick had to be anchored in its time and therefore meet sustainability requirements. These are a lot of constraints, but we no longer have the choice.
What's the biggest challenge you've had to face?
The thinness of the glass and also making sure that it doesn't vibrate too much in the technical areas so that it can be set with a metal ring. I always make a mock-up of the objects I want to create and, as soon as the owner approves the project, it's up to me to make the dream a reality, within the technical and time constraints that apply. We had thought of launching this lipstick in 2022 but we weren't ready. When you're creating something, you're incredibly lucky to have the time to do it right and to launch it when you're proud of what you've achieved.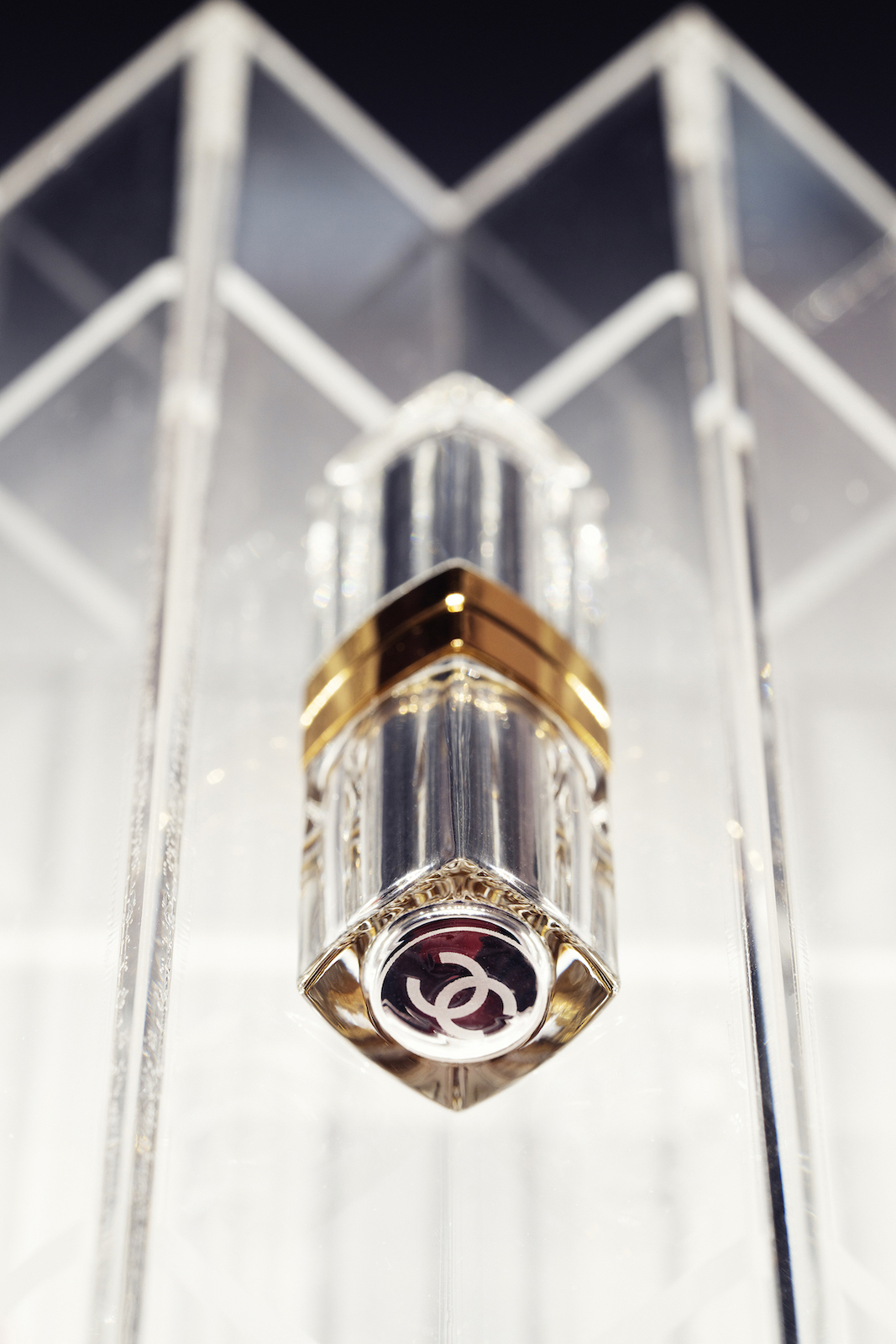 Why did you choose a glass case?
I didn't want an ounce of plastic in this object. I wanted to look to the future. To create a glass lipstick was a dream. I worked with one of our manufacturers in Japan. Nobody else was capable of making it like that, neither in France nor in Italy. It took a long time.
It took four years of development. The first draft was more massive and looked more like a spray than a lipstick. I asked the master glassmaker to reduce the thickness of the glass as much as possible. Two gold rings protect the ends.
When you look at the case with its metal barrel, you immediately think of the great mirrored staircase that leads to the haute couture workshops at 31 rue Cambon. Was this deliberate?
Of course it was. This is also why we chose a silver-coloured tube. If we'd made it in a golden shade, the reference to mirrors would have completely disappeared, and this shade wouldn't have paid tribute to the glass: you couldn't see it any more.
What did Chanel mean to you before you started working there?
My mother wore N°5 and for her, Chanel was a myth. When I was 17, with my first salary from a summer job, I bought myself Ombre Cristalline, a Chanel make-up case. I felt like I was entering a world that I saw through my mother's prism. But I had no plans to work there. I went to art school and graduated top of my class, which meant I got a job straight away. I worked for three years in an agency, until the day I met someone who was doing a trompe-l'œil painting school: fake wood, fake marble, little angels on the ceiling, etc. I found it magical. I called the Institut Supérieur de Peinture Van Der Kelen in Brussels. A place had opened up and I was able to work with a master, Mr Van Der Kelen, an 80-year-old man. I left the school with a gold medal. I was 25 and dreaming of setting up my own business, painting Parisian flats and angels everywhere.
How did you come to work for Chanel in 1984?
I joined just as the perfume Coco was being launched. A friend who worked at Chanel encouraged me to show my portfolio to Jacques Helleu, the artistic director of perfumes and watches, who was looking to hire someone. I didn't want to work in an office any more, but I went anyway, hoping that he'd give me freelance work. He looked at my book, closed it and said to his right-hand man: "I want to work with her».  After an hour with the head of the studio, I left with a job application. I accepted, thinking that I'd be there for a year, that it would be a nice line on my CV and that after that I'd be able to set up my own business. But Jacques Helleu caught my eye completely. At the time he designed jewellery and he was responsible for the decor, the window displays and the fashion architecture. Karl Lagerfeld arrived in 1983 and back then there weren't as many boutiques as there are today. At the beginning, I spent six months in the studios painting screens for fashion. This lasted until the 1990s, when there was a split with the fashion business.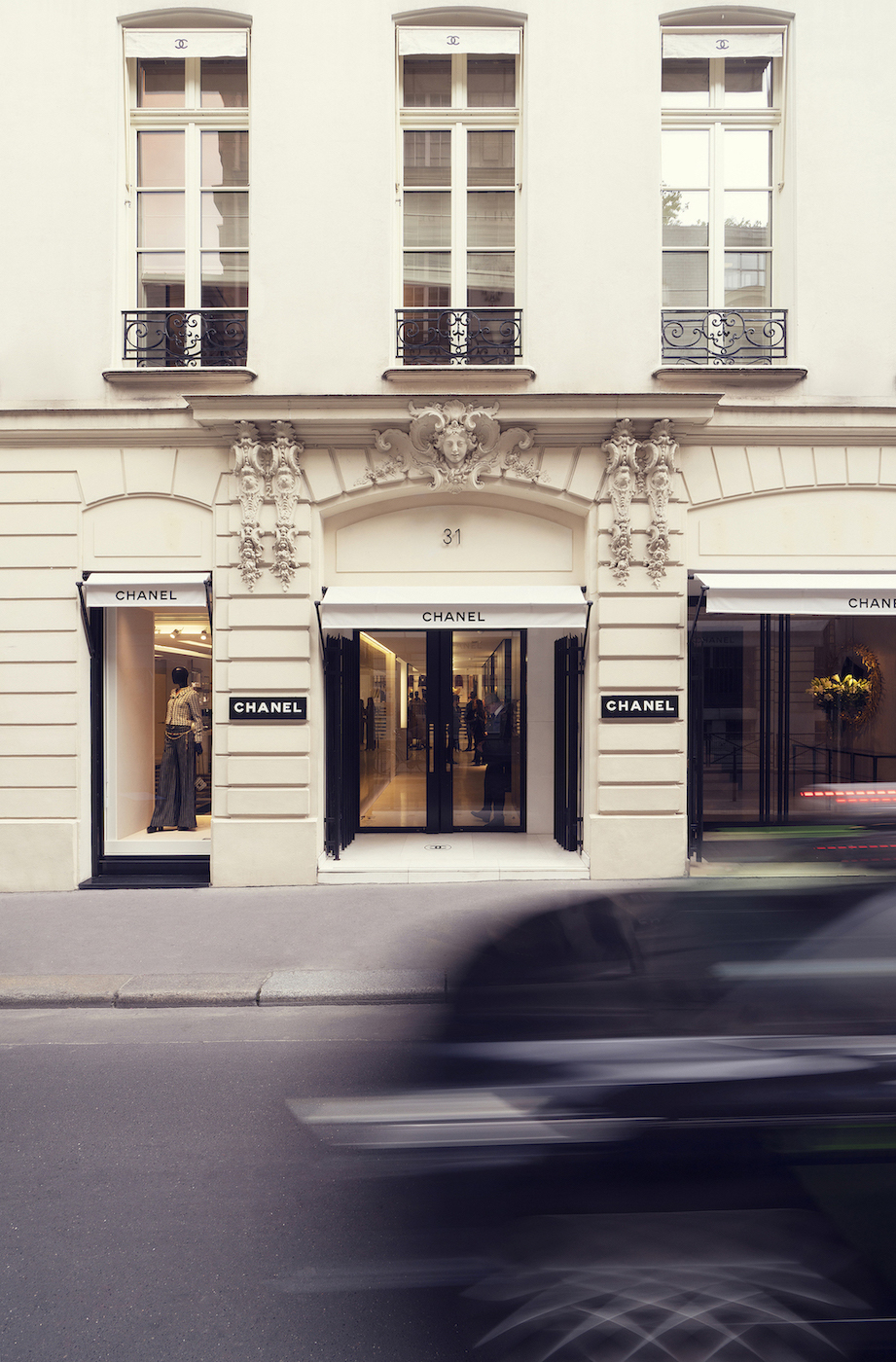 What was the greatest lesson you learned from Jacques Helleu?
Excellence, rigour. Jacques was a visionary. We were able to work together because my perfectionism met his requirements. He also taught me humility. I was in the shadows and as he was caught up in communications and films, he gave me a lot of creative freedom. I also learned from his silences. He spoke very little, but everything he said was right. He used to say: "When you start explaining what you've done, it's because you've made a mistake ». He had enormous talent. If he could have left me a little of that… When he left, despite my sadness, I had the feeling that all I had to do was move forward on the motorway he had built.
How do you manage to create bottles as different as Chance, Egoïste, Allure, Coco Noir, Gabrielle, while respecting Chanel's codes and going beyond them?
It's a matter of intuition. There are strong codes at Chanel, but if you look at the history of the N°5 bottle, you can see that it has evolved over time. The last time I touched it up was in 2012. Gabrielle Chanel's legacy is to look ahead. How do you respect the codes and invent new ones? The bottle of Bleu de Chanel, for example, was inspired by history. Gabrielle Chanel created three bottles in the 1930s: Beige de Chanel, Rouge de Chanel and Bleu de Chanel, production of which was halted with the outbreak of war. I wanted blue. I remembered that the name existed in our heritage. The colour was an obvious choice. I visited the Musée Galliera and saw dresses in a very dark blue that I'd never seen before. That's how this bottle came about.
By creating this new glass lipstick, you are inventing a new code.
I hope that the double gold ring will become a new code. It's the success of the object that will ensure its longevity. If in twenty years' time we realise that this case has gone out of fashion, we'll have plenty of time to rework it, as we did with N°5.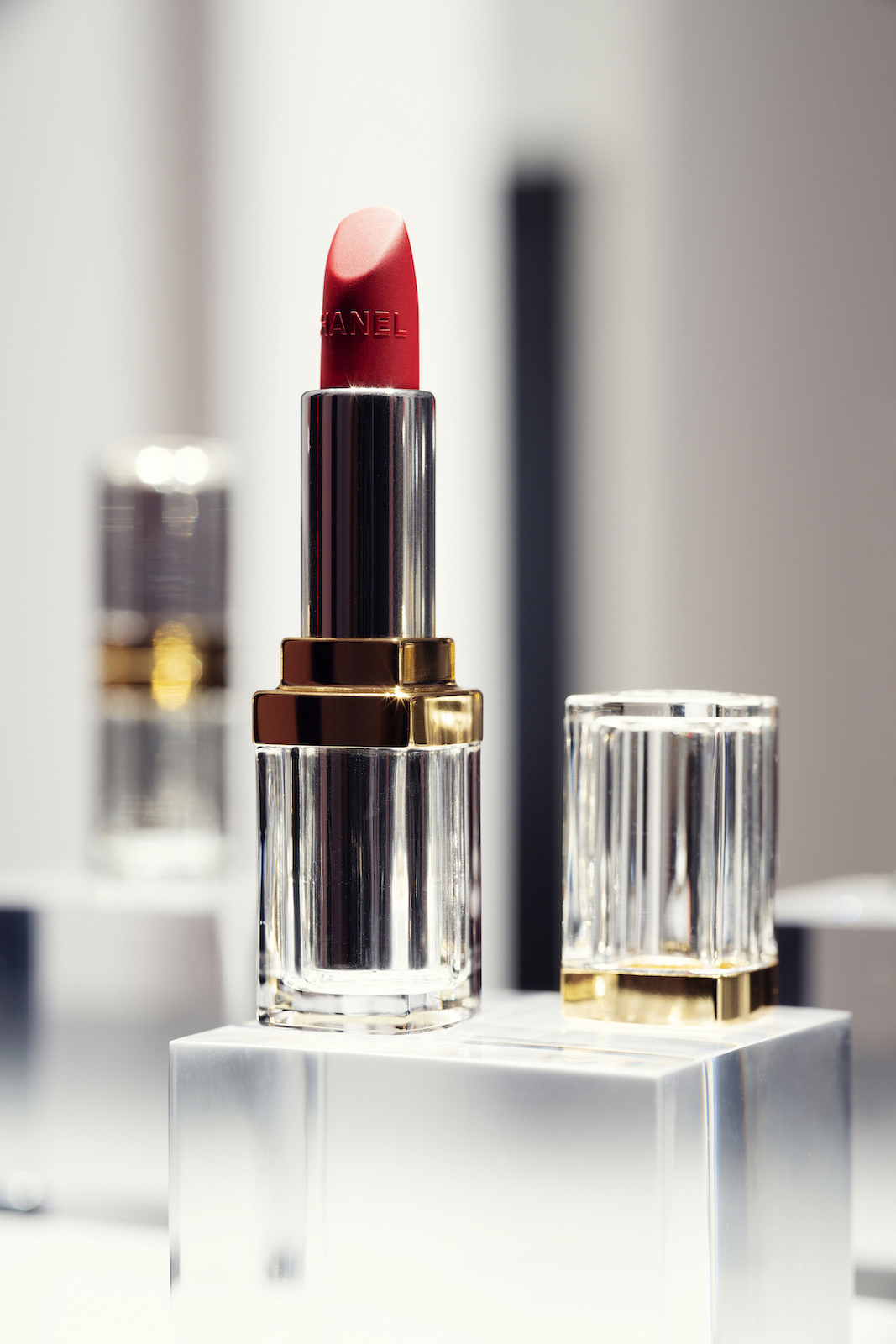 Before discovering this new lipstick, I searched the patents you had filed and I couldn't find anything about it.
Because a patent isn't about design, it's about technology: you can't patent an age-old mechanism.
This quote is attributed to Gabrielle Chanel: "If you are sad, put on lipstick and attack". Does this phrase speak to you?
I have quite a strong personality and it's not a phrase I'd like to attribute to myself. I prefer this quote from Gabrielle Chanel: "If you were born without wings, do nothing to stop them growing." There's something protective and confident about the act of using lipstick, regardless of beauty. I have thin lips and I'm not going to allow myself the colour red. However, I really like the shade 'Roman', inspired by the hardback books in the flat at 31 rue Cambon, which I'm wearing today. It's me, only better.
The 31 LE ROUGE lipstick will be on sale from September 1st at the Chanel Parfums et Beauté Boutique at Bon Génie in Geneva, at Globus Geneva, Jelmoli Zürich and on the chanel.ch e-commerce website. The Chanel Fashion Boutiques in Geneva and Zurich will be selling it for a limited period in September.