Revealing wild beauty
The photographer knows how to tame actors, singers, dancers, and all those artists who assume a multitude of characters to the point of blurring the tracks of their own truth. A star is not a person like any other and photographing him/her as close as possible to his/her being is an art. In her book Danse, which should be under every Christmas tree, the photographer reveals stunningly beautiful pictures. Interview. Isabelle Cerboneschi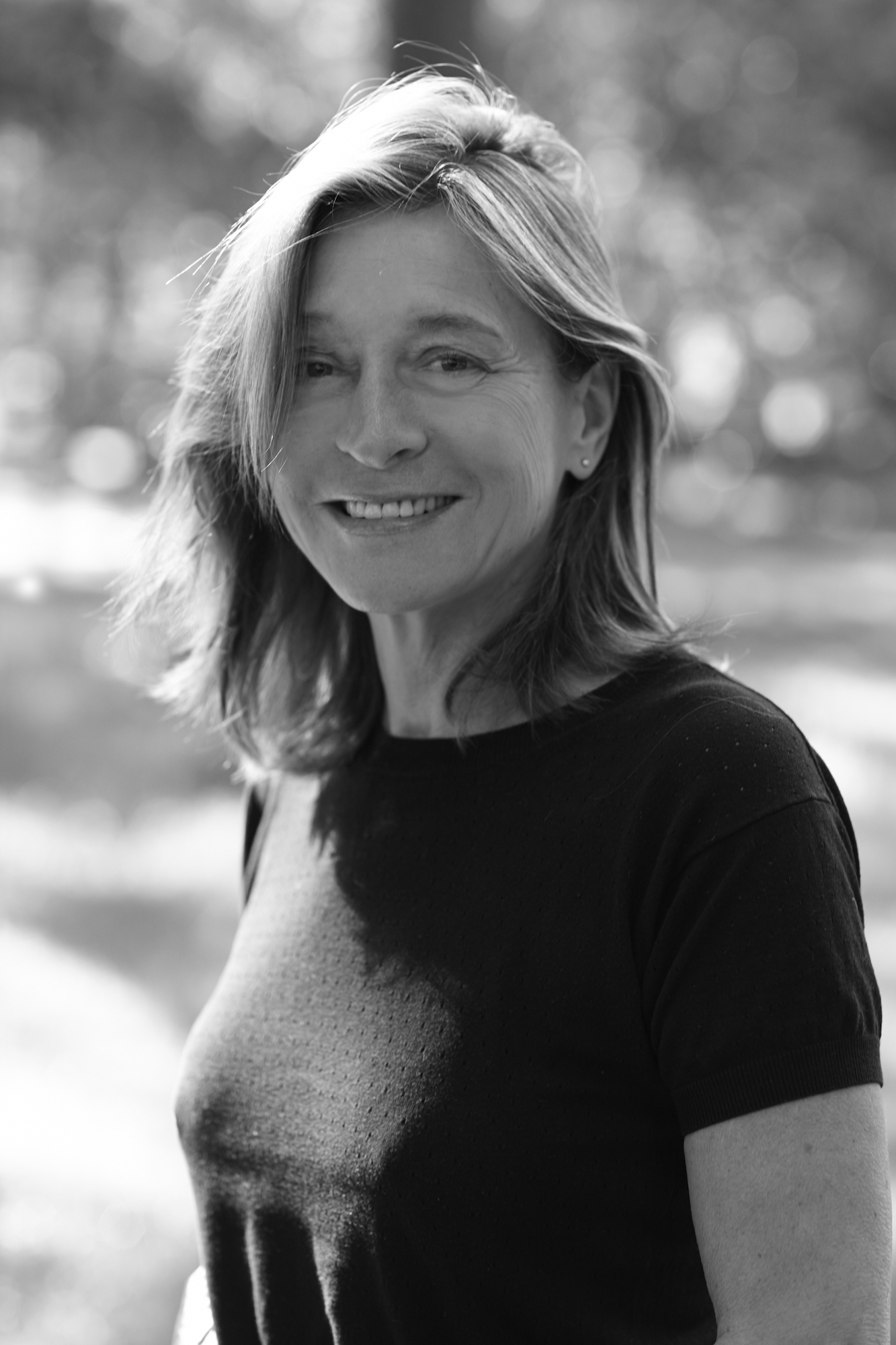 Sylvie Lancrenon is one of the greatest portrait photographers of our time. An artist capable of catching the soul of her model with her camera.
She began her career as a set photographer, working for Claude Lelouch, Jean Becker, Pascal Thomas,… She learned how to capture the image of the actors, without ever imposing herself. One step after another, one laugh after another.
When you look at her portraits, you get the feeling that she manages to capture those tiny moments of abandonment, when a star, Isabelle Huppert, Nicole Garcia, Mylène Farmer, Emmanuelle Béart or Isabelle Adjani, to name but a few, is simply there, in a sincere presence. But the image does not reflect the preceding process of approach. Sylvie Lancrenon prepares the shooting carefully and tries to make her model forget that she is photographing him or her. Everyone remembers the picture of Emmanuelle Béart entering the water, naked, sublimely beautiful, for the cover of Elle magazine. Each photo is a challenge taken.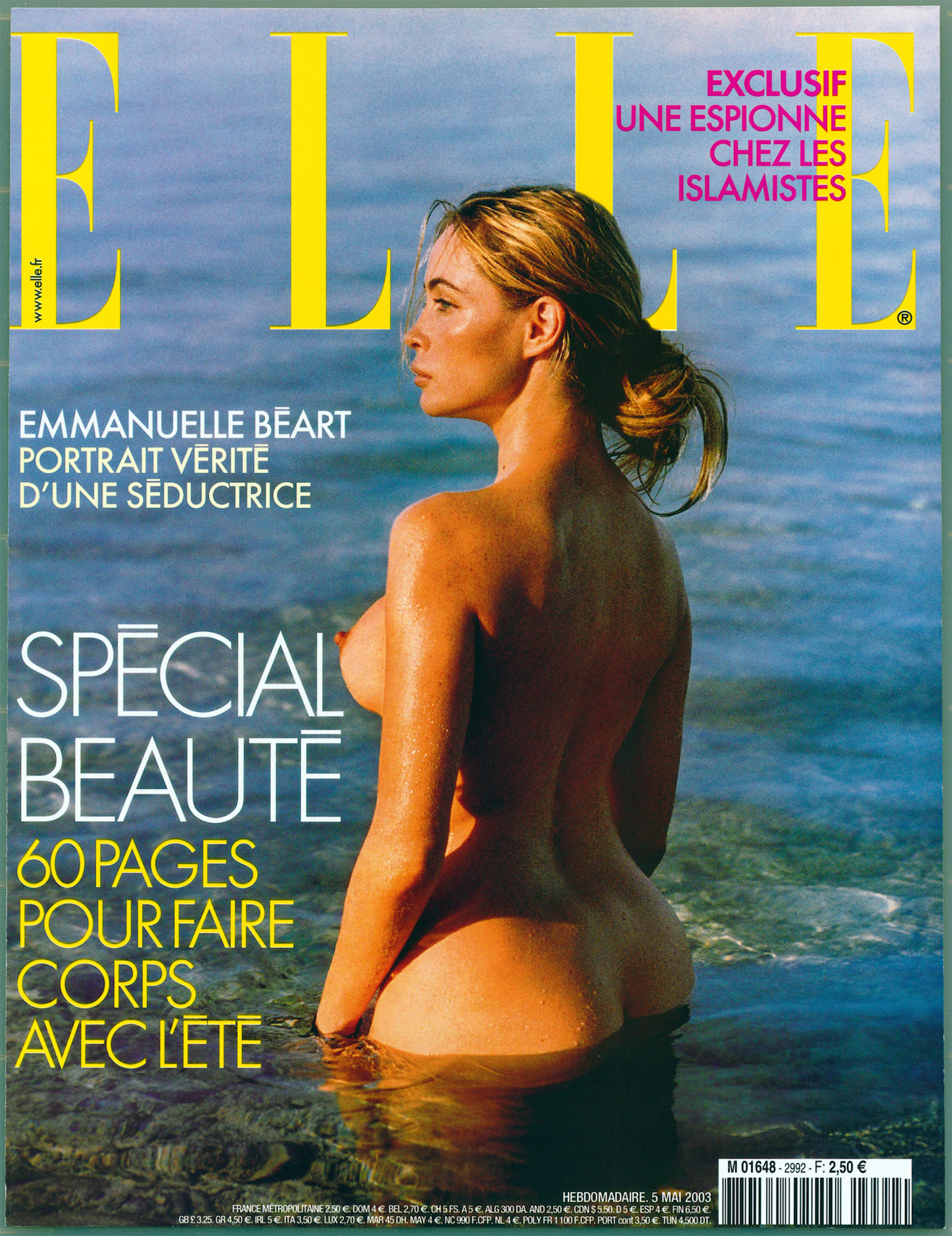 Her images are like a still movie. You can feel that something happened before, that something will happen after, but what? To capture these moments of truth, Sylvie Lancrenon photographs without a tripod, her camera in hand, revolving around her moving model. Everything is under control, except what the subject will agree to give her.
Sylvie Lancrenon was the guest of the Féminin Pluriel association in Geneva last February. She had come to present her book, Danse, published by Flammarion. A precious work revealing the dancers of the Paris Opera captured in the former Lotti Hotel in Paris under reconstruction. There is a dazzling contrast between the leper walls and these bodies moving in perfect mastery. The dancers embarked on an improvised and unique choreography, a show that took place only once. And she was the only spectator.
There is nothing more difficult than stopping the movement of a dancer. A perfect posture lasts only a few seconds. Sometimes Sylvie Lancrenon had to strafe with her camera and sometimes she had to wait for that moment of grace where the dancer offers himself, or herself, like this image of Marie-Agnès Gillot, on her knees in a wild posture.
Sylvie Lancrenon's quest is not harmony. She seeks to capture the force of madness. It is up to her to find beauty in these impermanent gestures. Shooting dancers is like taking pictures of freedom. A word that suits Sylvie Lancrenon very well…
INTERVIEW
You manage to capture those tiny moments of abandonment, when the personality is simply there, in a sincere presence. How long does it take to get so close to someone and almost be forgotten?
Sylvie Lancrenon : In fact, it's all the art of the work that precedes the photo. It is always a moment of anguish, not because it is a famous person, but because I have to tame him or her. I prepare the shot for a long time. You have to expect everything and be as cool as possible. I need to laugh on a set and make the actress or singer feel comfortable, to the point of forgetting that she or he is being photographed. Stars hate that. It's not a movie, so it's a punishment for them.  They are extremely difficult people, who often change their minds, and you have to impress them every time with your work. It's a matter of trust. Nothing can ever be taken for granted. The most beautiful reward is when I get a smile, when there is well-being during the shooting and I feel that everything is won.
Is a photo a still movie shot in a single scene?
That's exactly what it is. I started my profession on film sets. That's why I always take my pictures on location and not in a studio. I don't make a portrait in a few clicks. I need to be inspired. I work with the camera in my hand, I never use a tripod. I make the person move and I am also in movement.
The images in your book "Dance" were taken in a hotel under construction. There is a dazzling contrast between these leper walls and these bodies in perfect mastery. What was your intention?
I fell in love with the Hotel Lotti, which belongs to Jean-Louis Costes. He is a friend of mine and he wanted to show me the progress of his work. I had worked there as a set photographer and I was very intrigued. I fell madly in love with the central staircase and I asked Jean-Louis if I could do a photographic project there. He told me that I could do whatever I wanted. But what could I do? I'm at a certain point of my career when I've done thousands of portraits of famous people: I want to do something else. The year before, I had done some pictures during a Dior fashion show. The girls looked like dancers. This staircase inspired me to work with real dancers. I didn't know anyone in the business. It was the dancer Eugénie Drion who opened all the doors for me. And as for Marie-Agnès Gillot, I had presented my project on Instagram to her and she replied: "I'm coming tomorrow".
And this is how the dancers of the Paris Opera offered you a show that was given only once…
I would have liked to be two people: the photographer and the viewer. This is my only regret. It went by so quickly! It was very cold. It was very uncomfortable for the dancers because the floor was made of concrete and that's bad for their feet. They took risks. Marie-Agnès did acrobatics on the stairs. They were all so kind! They gave everything.
It's so difficult to stop the movement of a dancer because the perfect posture only lasts a few seconds. Did you have to strafe with your camera?
I always try to step into the people's shoes. That way I can anticipate. But I have to go very fast. I wanted to make this series of photos using silver film, but that wouldn't have been possible: it would have taken too much time.
There is a savagery in certain postures, especially when Marie-Agnès Gillot is on her knees in the roses and throws back her head. Does it help to have someone in front of you who knows the true beauty of a gesture?
My quest is not harmony. What's important is that the person gives the maximum of what he or she has deep inside. Otherwise there will be nothing in the picture. I wanted strength, madness. It's up to the photographer to deal with all this, to find, to capture the beauty. Marie-Agnès had asked me: "Can I do what I want to do? "I replied: "Yes, of course! "I always let people do what they want and I am happy when an alchemy is created.
Photographing dancers is photographing freedom. Do you work in the same way with them as with actors, who have more control over their image?
No, it's the same. Except that dancing for me was an unknown factor. I was even more amazed. It gave me incredible strength. I was dazzled by the show: as if a ballet was being created in front of me.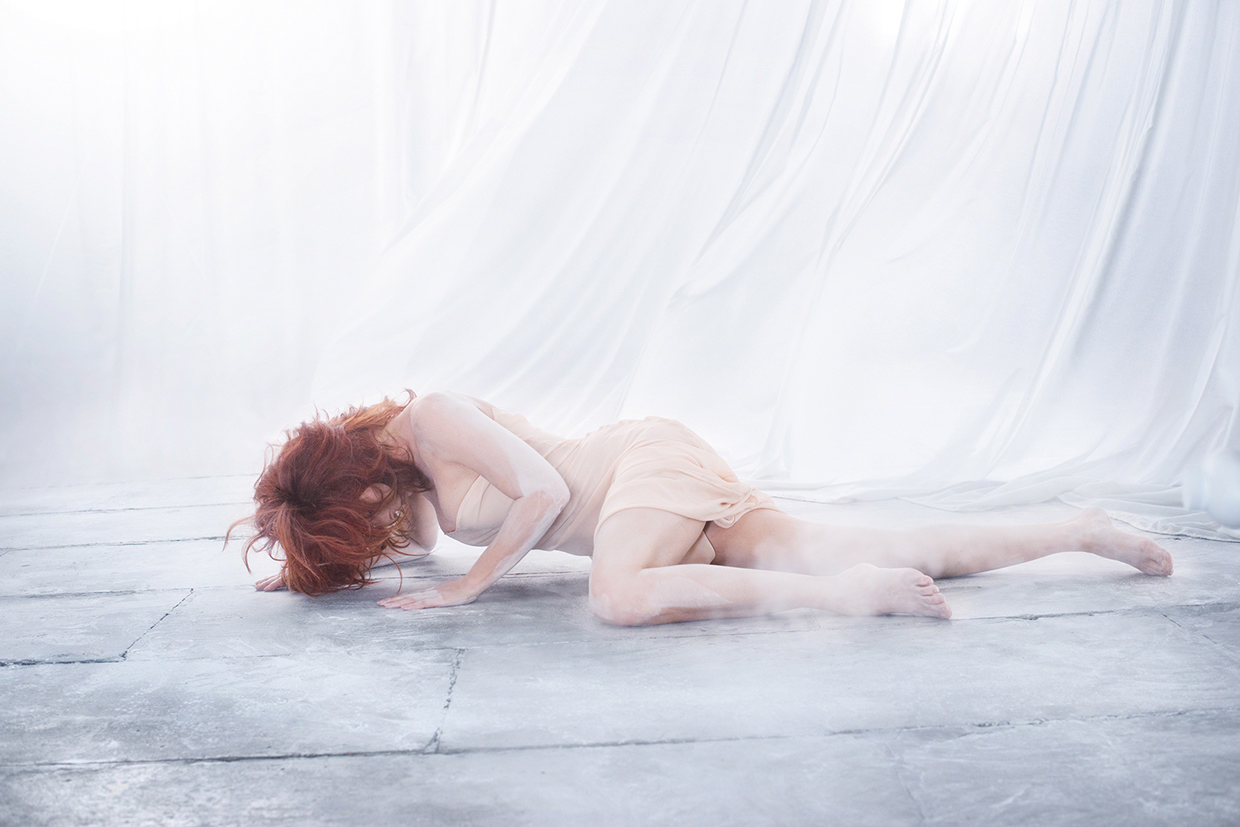 For the book Fragile, about Mylène Farmer, you laid her in plaster. Is it because this material reacts organically with light?

We made the images in a studio, exceptionally. It was a very cold winter and I couldn't do that shooting anywhere else. We constructed a set, and I wanted to stain her with plaster, to remove her too perfect side. I wanted I wanted to give her different look. Nothing to do with the usual magazine covers. She is not wearing make-up, I wanted to get the opposite of what she shows when she is on stage. Mylène Farmer had warned me that if she didn't like these images, she would put them in the waste bin. Which she didn't do.
With Mylène Farmer you used plaster, with the dancers, you played with the dust from the building site. Is the whiteness of the skin, which seems to seduce you, a way of disembodying the characters?
(She laughs). It would be unconscious then… I'm very attracted by these effects, the clouds of powder, of smoke, it inspires me. There's a magical side to it.
You directed the advertising film on the scent L'Eau, by Serge Lutens. How did the shooting go?
It wasn't the first time we'd worked together. We had made images together for Elle magazine. It was in Marrakech, he was to direct the staging and I was to do the images, but he wanted to direct me as a photographer. He told me: "Do this, do that ». At one point, I looked at him and I told him that I couldn't take a picture I didn't like. We made up in two seconds. He was a wonderful stylist and it was fantastic working together. Later we met again. We even went to Japan together, always for Elle. The film for L'Eau came later. He allowed himself to be filmed entirely. I have the feeling that I have captured some of his multiple facets. He is so demanding. You have to surpass yourself with people like him.
Are you used to the whims of stars?
I'm used to their "no". When I started out as a set photographer, I was lucky enough to meet Louis de Funès. I was very young, very shy. He was at the end of his career. I had been warned: he could fire you after one day of work. I replied that I didn't care, because photographing him for a day would already be great. I was lucky. It was his last movie: Le Gendarme et les Gendarmettes. And I had such a great time!