Yohji Yamamoto, in praise of shadows
The Japanese designer presented his autumn-winter 2022-23 men's collection in Tokyo on 20 January. It will be a few months before it arrives in shops, but here is a glimpse of his vision of a season to come. The collection is born from the past and draws a possible future, of a strange beauty, which sings the values of the passing time. A paradoxical stance in the fashion world that swears by Millennials. Photos: Takay. Isabelle Cerboneschi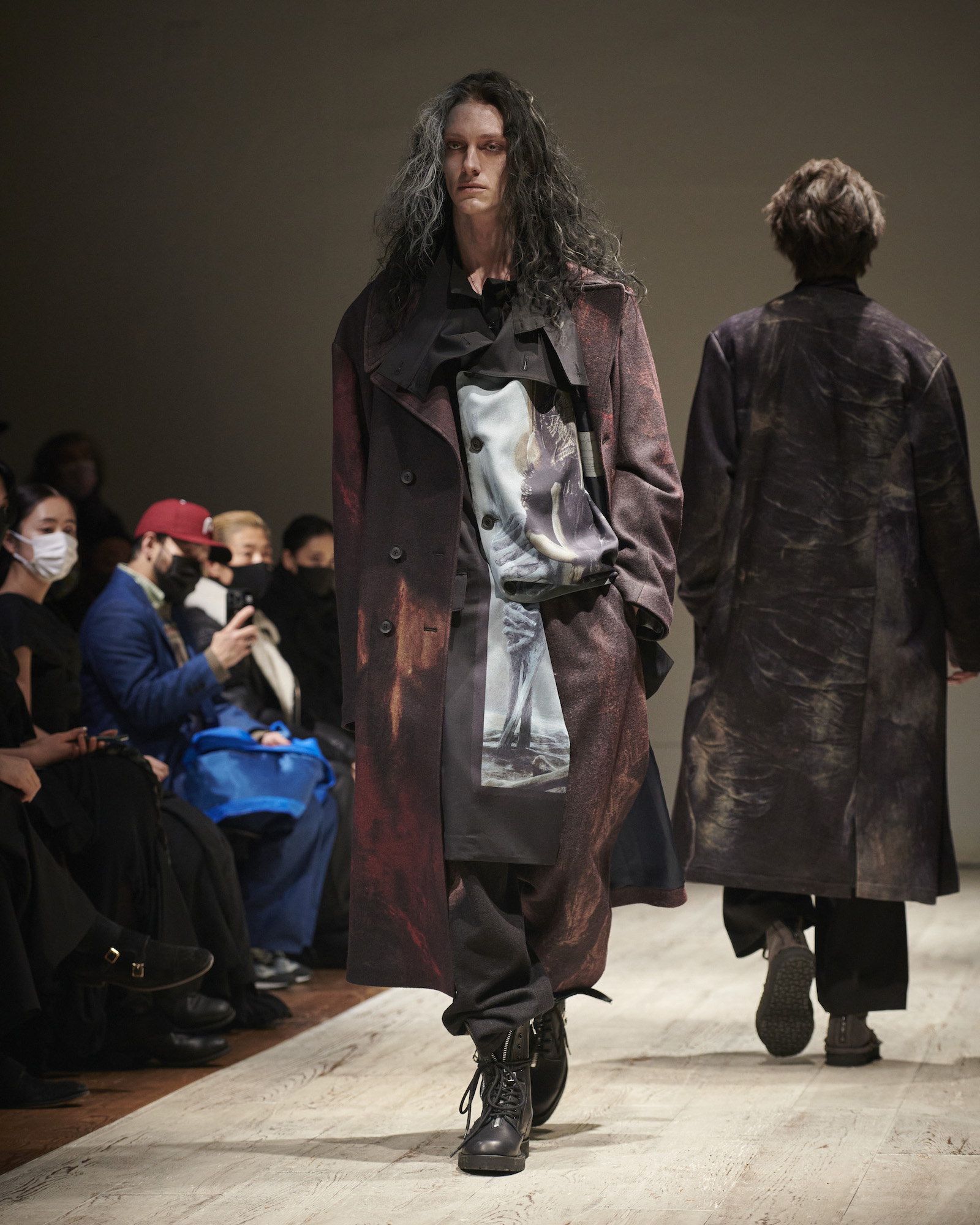 This is what the fashion of the aftermath might look like, like the autumn-winter 2022-23 collection that Yohji Yamamoto showed in his flagship shop in Aoyama, Tokyo, worn by men of overwhelming beauty, including five Japanese actors. Something between the silhouette of Edward Scissorhands, Charlot and all the characters from Twilight.
The men passing by wear two pairs of trousers stacked on top of each other with an overly wide waist, as if they were clothing the starving of the crisis of '29, except that it is only '22 of the next century.
They are dressed in black, grey, white and every possible shade in between. They wear three-piece suits, waistcoats, white high-necked shirts and George Brummell scarves, like perfect dandies of the present time. And on top of all that, they wear large coats printed with works by Polish painter Zdzislaw Beksiński. On the back of the latest overcoats appear phrases in calligraphy: "I think it's over between us" or "Beginning of the third age". Perhaps as a reminder that fashion is not just for Millennials.
The clothes seem to have a patina of time, reminiscent of Jun'ichiro Tanizaki's wonderful book, In Praise of Shadows, which explains so well that the passing of time adds value to an object, rather than taking it away.
Yohji Yamamoto does not drop the masks: in collaboration with the brand Riefe, he turns them into jewellery, precious accessories of a masculinity that no longer seeks itself.
The designer invites us into his parallel world: he looks to the past, the 19th century, to write a hypothetical future.
When he presented his first women's fashion show in Paris in 1981, he threw models onto the catwalk wearing loose-fitting, black, unstructured clothes with chalked-up faces. Many critics hated it: "Hirochima Chic", "intellectual tramps", "rigorous miserabilism", everything was said. Yohji Yamamoto (like Rei Kawakubo) wanted to take on Western fashion. Today, Yohji Yamamoto weaves his legend with great beauty.