BA111OD VS Aston Martin
The BA111OD watch brand was born in October 2019 almost by chance. Created by a watchmaking professional, Thomas Baillod, to prove the viability of a revolutionary distribution principle, the brand has since enjoyed exponential success. So much so that one of its customers has had a unique Aston Martin made in the colors of his watch. If the latter costs 400 chf, the car is worth a thousand times more. Isabelle Cerboneschi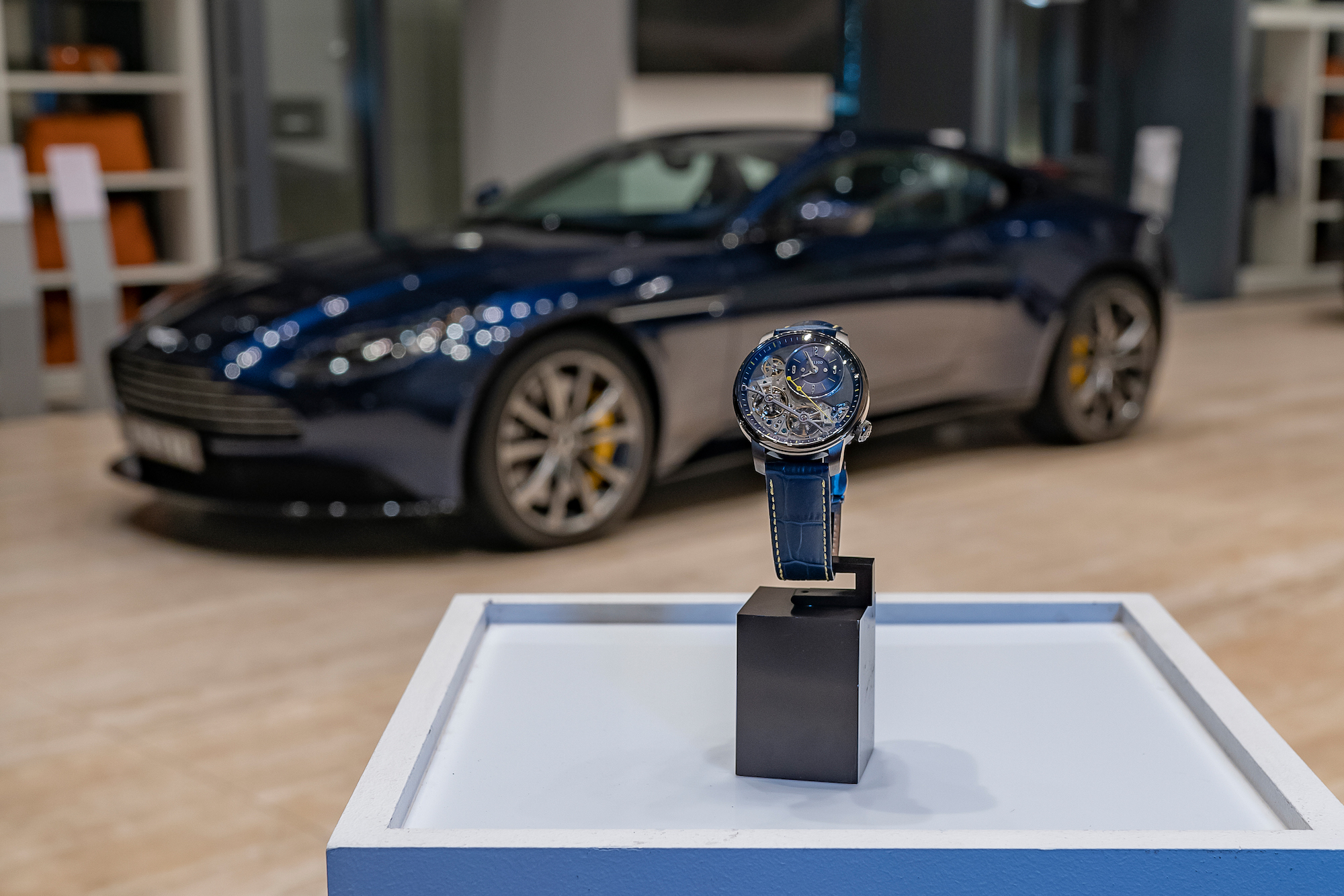 This story is improbable and if it were not true, I would be suspected of having made it up.
We are in the spring of 2017. While studying digital strategy, Thomas Baillod, a professional in the watch industry, had a kind of epiphany. What if the retail industry were to follow the example of the digital world? In other words, what if, just like user-generated content, sales could also be generated by the customer, who would then become the center of the entire system?
We took these courses together, and while I was dozing, unable to integrate abstruse vocabulary and concepts, Thomas Baillod wasn't missing a thing. During the coffee break we had passionate conversations, he on his intuition of disruptive distribution, I on my project of ALL-I-C magazine. His ambition to revolutionize this world was still in its embryonic stage, but the idea had been planted. All that remained was to make it bloom.
For three years, he patiently developed his "phygital" sales strategy, both physical and digital. He invented the concept of "Afluendor", a neologism derived from the terms ambassador, influencer, and salesman. By buying a watch, the customer acquires the right to sell a certain number of watches, and in exchange, he receives one free of charge. "It's the buyer who does the storytelling: no need for marketing or advertising costs," explains Thomas Baillod. "My model disconnects the service  and the action of selling, and therefore guarantees a fair price." His concept could enable some watch companies to recover part of the margins absorbed by intermediaries. Pretty sure of his formula, Thomas Baillod proposed it to many companies, but met with just as many refusals.
Nevertheless, to prove that his ideas were sound, he decided to create a watch, not out of bravado, but to test the accuracy of his proposal. Because he is not the head of a huge fortune, Thomas Baillod decided to have a model made in China, "to ensure the greatest possible delta between perceived value and cost," he explains. He chose a nice and not too expensive watch, made in a workshop with which some famous houses, who make comfortable margins, work but who will never admit to having their products made in China.
He announced the sale of the first watch bearing the encrypted name of BA111OD, without advertising, via Linkedin, on October 11, 2019. The success was immediate. By the end of 2020, he had already sold 2,000 watches and his turnover reached 600,000 francs. Not bad for an alibi watch. But he didn't intend to stop there: at the end of 2020 he created a model set with "laboratory" diamonds at the price of 595 francs + VAT and his next model will be Swiss Made.
This success story, almost involuntary, gave birth to a parallel narrative that is quite incredible. Thomas Baillod's clientele is eclectic and he sometimes shares it with major Swiss watchmakers. This is the case of Dr. Saeed Dana, manager of the Aston Martin garage in Dubai. He is one of the first Afluendor of the brand. "When I launched the Black Ice model, he ordered it because he liked the combination of colors", Baillod explains. This Afluendor has a beautiful collection of watches from Swiss manufacturers, but his BA111OD is particularly important to him, to the point of having ordered a unique edition of Aston Martin in the colors of his watch.
The blue of the dial would dress up the car body, and the yellow stitching on the strap would underline the leatherwear. This unique model was delivered to him at the end of 2020 in Dubai. Thomas Baillod, can't get over it. "I would like to be able to buy it, but alas, for the moment it's impossible: the watch is worth 400 francs, the car 1000 times more. That's the power of a customer-centric approach…"